This summer, transforming each room into everyone's favorite spots on the coast would create a relaxed and chilled vibe at home. The truth is, you don't have to live on the beach to feel the summer. Simply incorporating a coastal themed interior into every corner of your home would make a tremendous impact. If you wanted to elevate your space with a dreamy ocean view and breezy feel-good style, Wilcon Depot can make your fantasy of living in a beach house a reality.
living room
Decorate your coastal living room with pale gray and ocean blue tones of furnishings. For a stunning view, paint your walls and ceiling white to contrast with dramatic, bold lines background and striking wall art. Make a contemporary attempt by adding modern lighting that complements your surroundings Sofa and center table Good. For the final touch, hanging long curtains on your large windows will bring a stunning ambiance suitable for your space.
bedroom
Style a calming effect in your bedroom and enjoy every quiet time this summer. A moody background designed and patterned carpets create a nice contrast between your walls and floors. Also by simply changing your Sheets, pillows and blankets in a coastal palette of white, blue, gray and yellow. Finally an aesthetic side table and white gold lamp Add a classic style to your bedroom.
bathroom
Designing an undeniably appealing bedroom happens when you immediately infuse your space with fresh and soothing furnishing materials. Playing with shades of blue and beige can bring you into a charming and tasteful coastal look. Update yours tiles With modern, elegant design, it can greatly improve the overall look of your bathroom. Mix and match a glossy plain and a geometric pattern wall tiles with wood effect floor tiles to effortlessly fill up an eye-catching bathroom area. Bring calm to the coastal design by adding a fancy sink, modern faucetsand clean white tub for an upscale bathing experience this summer.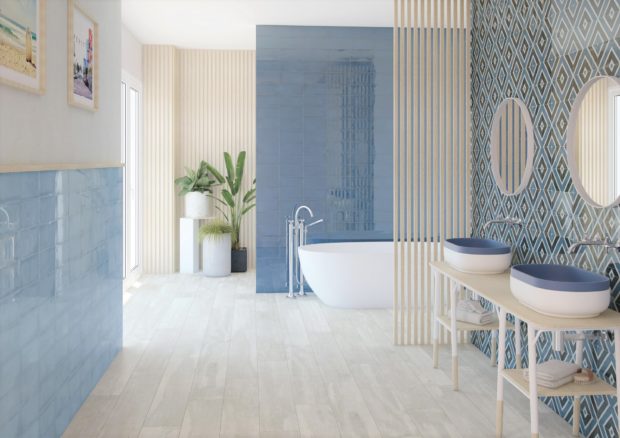 kitchen
Pops of color create unexpected beauty and style in your kitchen spaces. Make a glowing statement with your choice that reflects the blue of the ocean tilesand choose an accent Wall decorations and art for an inspired corner. Recreate your cooking experience by upgrading your kitchen landscape and installing a modern one bathroom sink and water tap. Add to bar tools and pendant lights would be interesting details for the interior design of your entire kitchen area.
Mini work/study area
With clean lines in white and blue background to your designated work and study space brings perfect summer beach vibes. Give your room a classy, ​​cozy makeover and be productive at work, even at home. A charming corner by the window allows you to maximize your space. Choose the right one table and chair which are not only convenient but also space-saving. Add to Wall shelves and organizers will complete the bright and cheerful interior design of your space.
Bring coastal style to your entire home and discover all the amazing home furnishings you need to complete your desired look with Wilcon Depot. Shop for home improvement and construction supplies at one of 74 stores across the country or shop online at Wilcon online store by visiting shop.wilcon.com.ph.
For more information about Wilcon, you can login www.wilcon.com.ph or follow their social media accounts Facebook, Instagram, and tick tock. Subscribe and connect with them viber community, LinkedInand youtube.
ADVERTISING
Subscribe to our business newsletter
continue reading
Subscribe to INQUIRER PLUS to get access to The Philippine Daily Inquirer and 70+ titles, share up to 5 gadgets, hear the news, download as early as 4am and share articles on social media. Call 896-6000.
For feedback, complaints or inquiries contact us.