The right laundry room cabinet ideas can turn a messy space into a clutter-free one.
With all the soaps, sanitizers and stain removers needed for a decent load of laundry, it's easy to pile clutter on top of the washing machine or on a crowded shelf. When you combine that with piles of dirty clothes, laundry baskets full of clean ones, and small appliances like irons and steamers, closets quickly become a must-have laundry room idea.
How you plan your laundry room storage like shelving and cabinetry depends on the size of your space, the type of washer and dryer you have, and your style preferences.
"Think of function first," says Julie Khuu, an interior designer in Orange County, California. "Measure the space and understand what your priorities are. A closet to store detergent, dryer sheets and washer/dryer accessories should be high on your list, after that a place to store linens and towels would be a plus."
Laundry room cabinet ideas
The laundry room cabinet ideas below are suitable for all types of homes. Give your laundry room a much needed facelift with the best laundry room shelving ideas and cabinets.
1. Add tall cabinets for cleaning supplies
If your laundry room is on the large side, consider adding a few tall cabinets to your layout. "We always try to have some sort of floor-to-ceiling closet to store longer cleaning or ironing products," says Cara Fox of The Fox Group, who designed the space above. "We love that the cabinets around the washing machines feel as integrated as possible."
2. Have fun with your laundry room cabinet ideas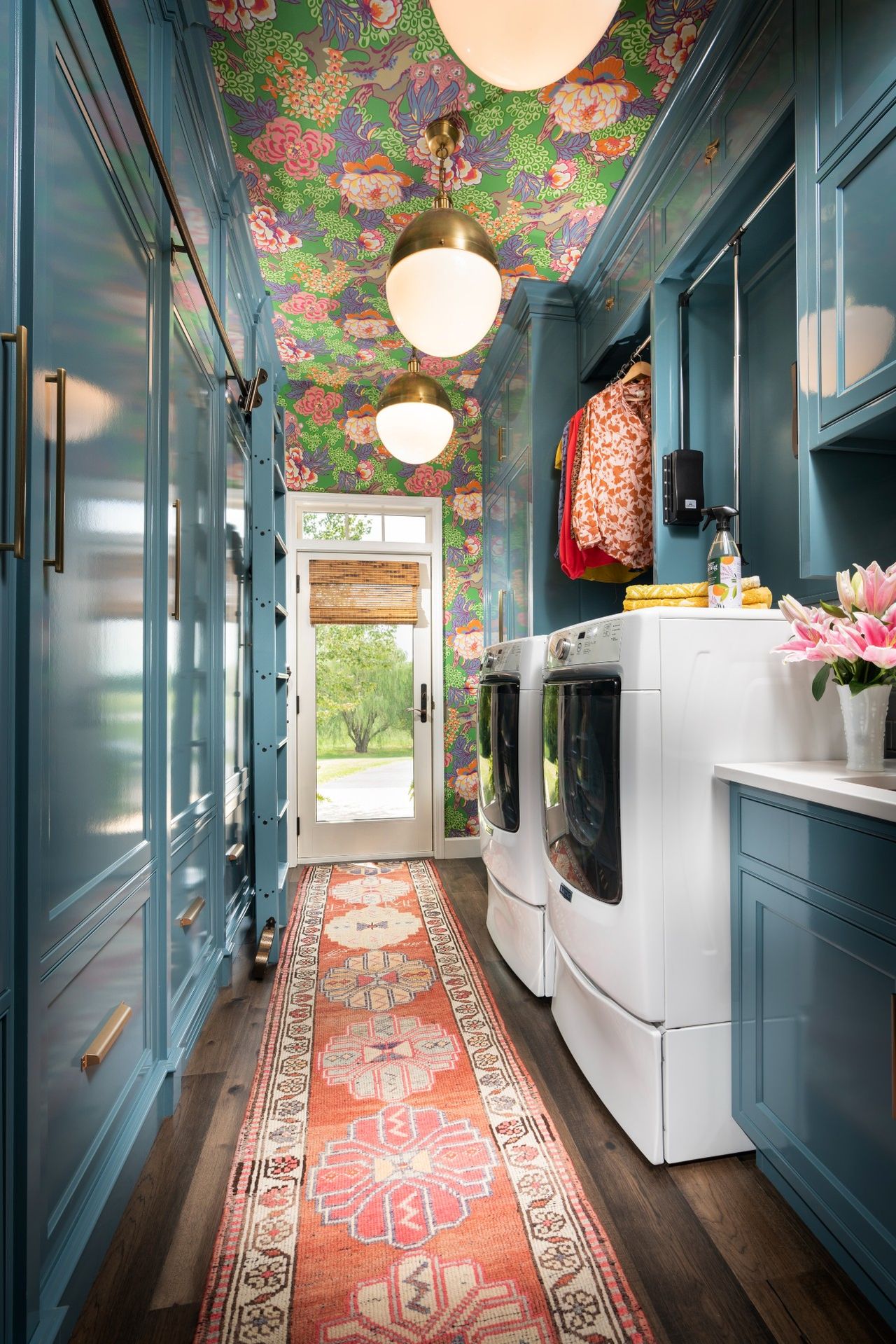 Nathan Taylor, owner and lead designer at Obelisk Home, decided to come up with an unusual idea for this narrow, small laundry room. The high-gloss blue furniture painted in Sherwin Williams' Refuge is an inspired choice.
"We took an ordinary laundry room and turned it into a colorful dream space that makes housework really enjoyable," says Taylor. 'Completing the wow factor is a high gloss blue finish and eye-catching wallpaper on the ceiling, adding drama and a touch of whimsy.'
Khuu supports this approach. "Have fun with color and style! Your laundry room cabinets don't have to match other cabinets in your house," she says.
3. Use window cabinets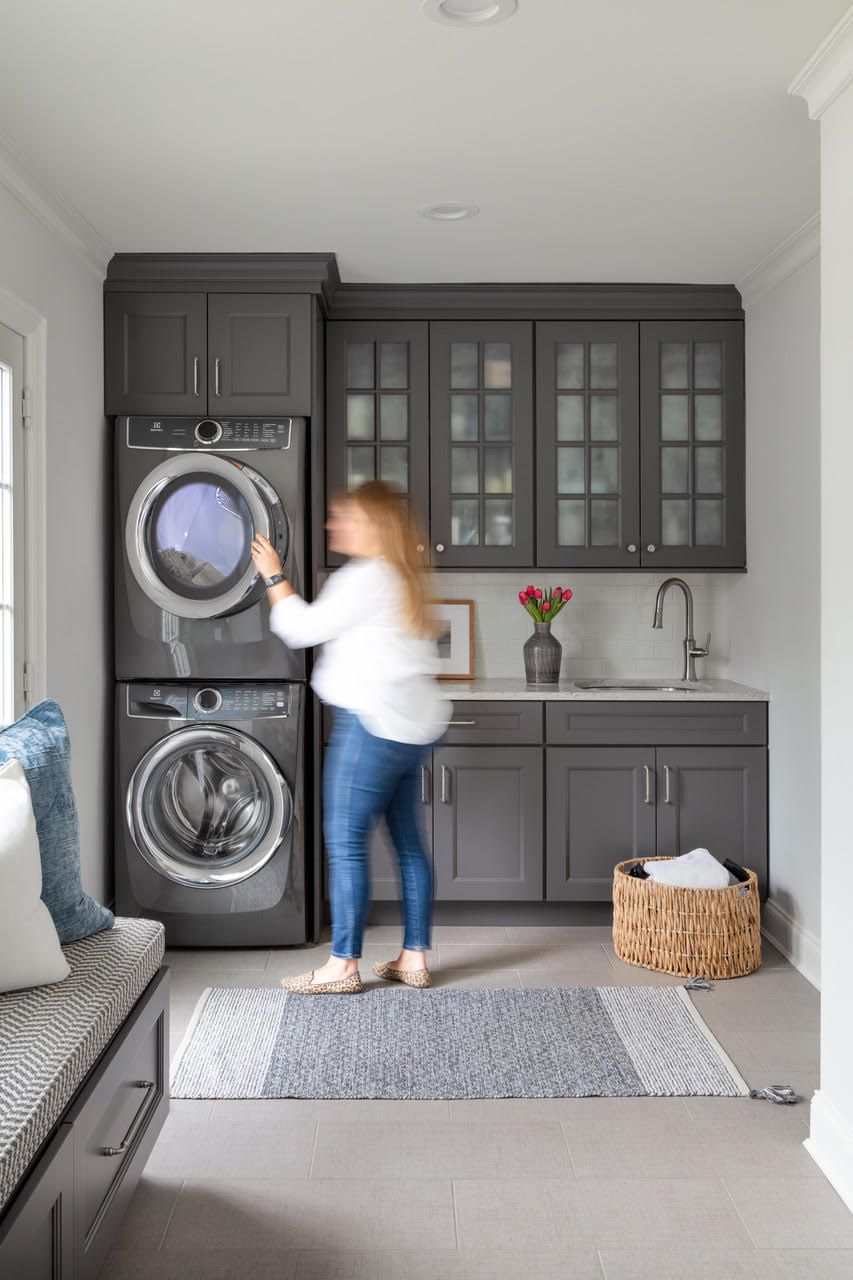 Closet doors with windows are a happy medium between open and closed storage. They allow you to see what's where in your closets, but the door screens and frame help hide any clutter.
The choice of cabinet door also added an aesthetic value to the space. "We loved how the windowed cases opened up the facade and lightened the wall unit while reflecting light throughout the space," says Courtney Sempliner, the space's designer.
4. Move upper and lower cabinets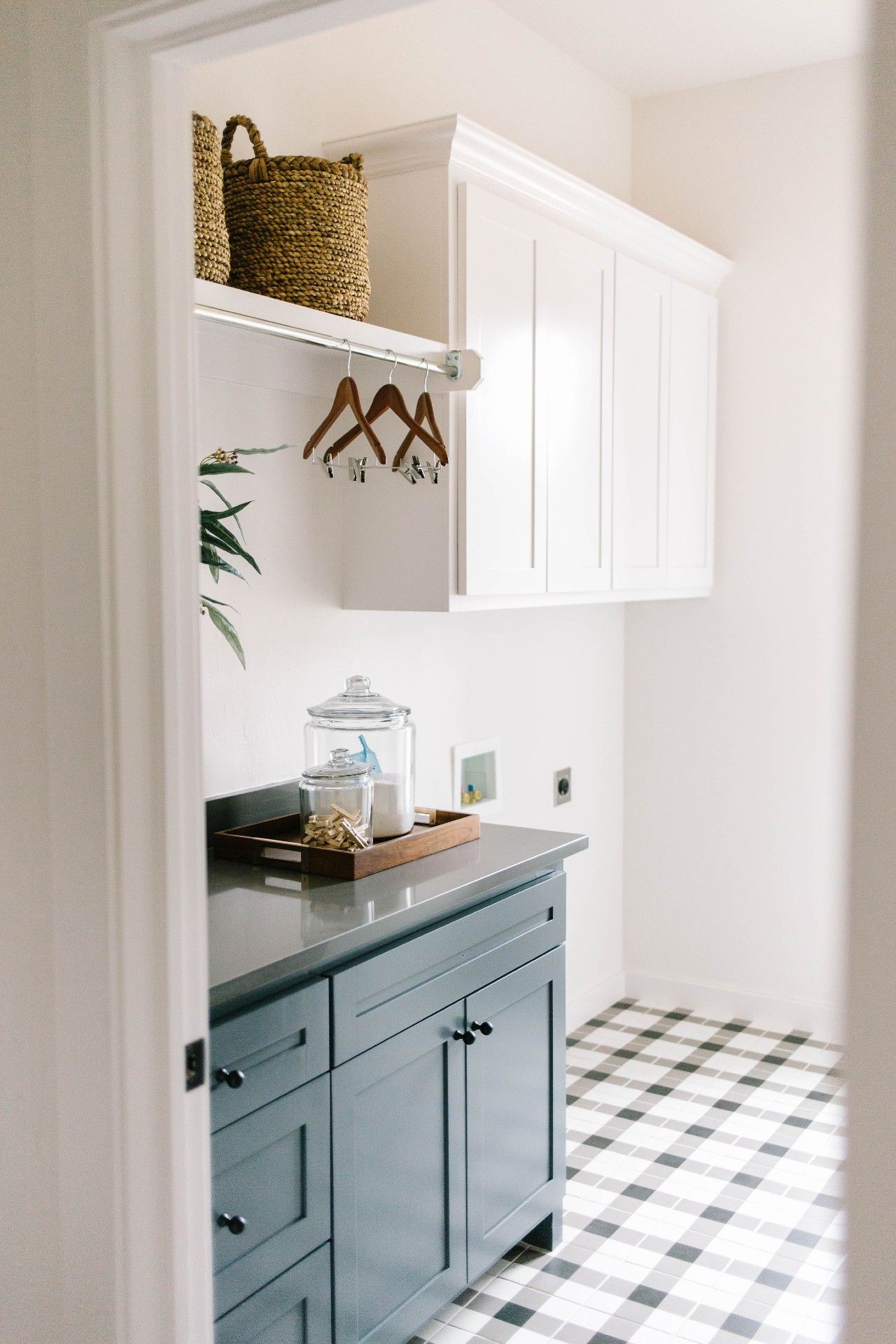 When it comes to organizing a laundry room, the focus should be on the laundry room cabinet. Designer Kelsey McGregor of Kelsey Leigh Design Co. offset a series of upper and lower cabinets along one wall to maximize laundry room function. Upper cabinets are handy above the washer and dryer to store soaps, detergents, fabric softeners and the like. The addition of a row of base cabinets on the diagonal provides additional storage space and a useful idea for a laundry room countertop, while still leaving room for a handy clothes rail.
5. Maximize a large laundry room with custom cabinets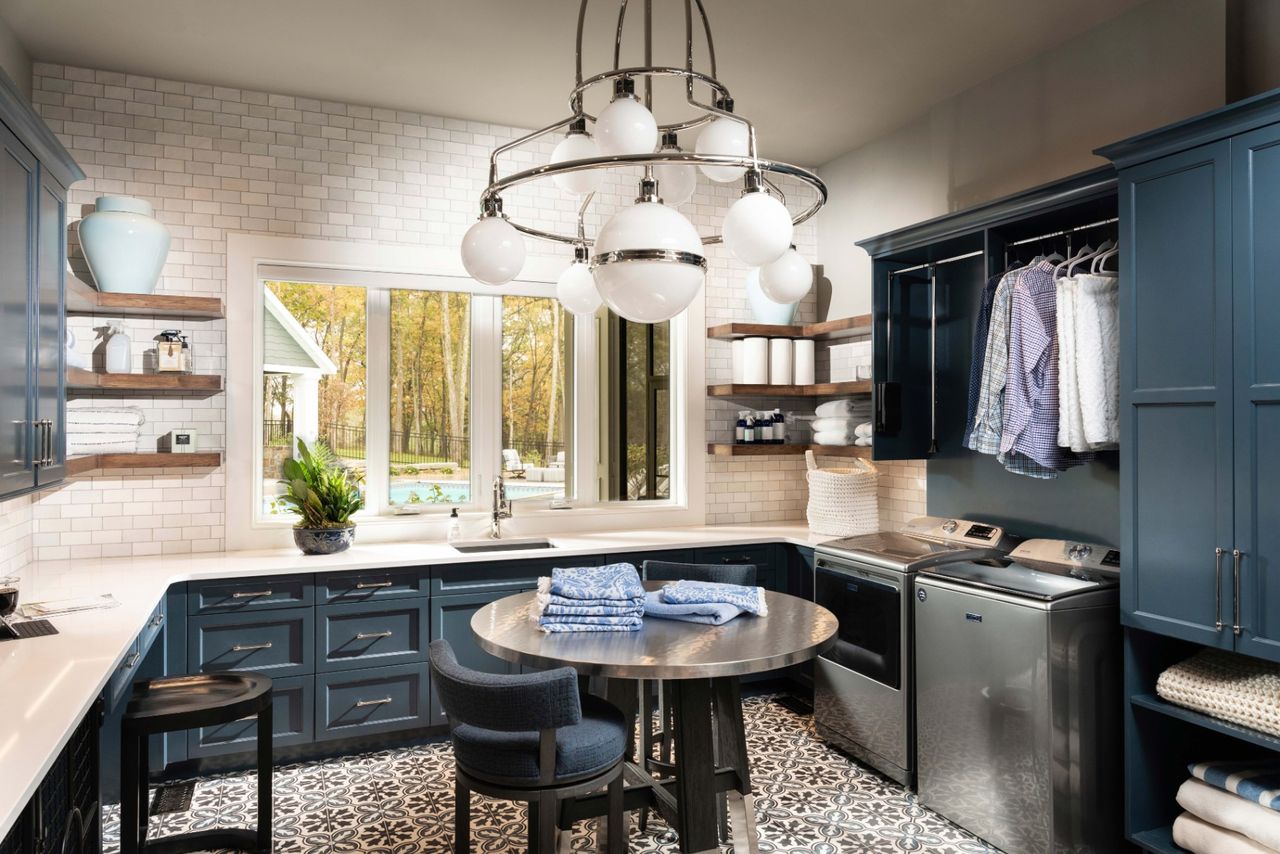 Working with an extra large room? In that case, consider enlisting the help of a professional designer who can help you organize a laundry room with custom cabinetry.
"When they drew the house plans for this client, they wanted a washroom that was also versatile," says Taylor, whose company Obelisk Home also designed this space. "The result was one of the most desirable rooms in the house. Generous ideas for linen closets offer plenty of storage space. There really is room for everything in this laundry room."
6. Get creative in a small laundry room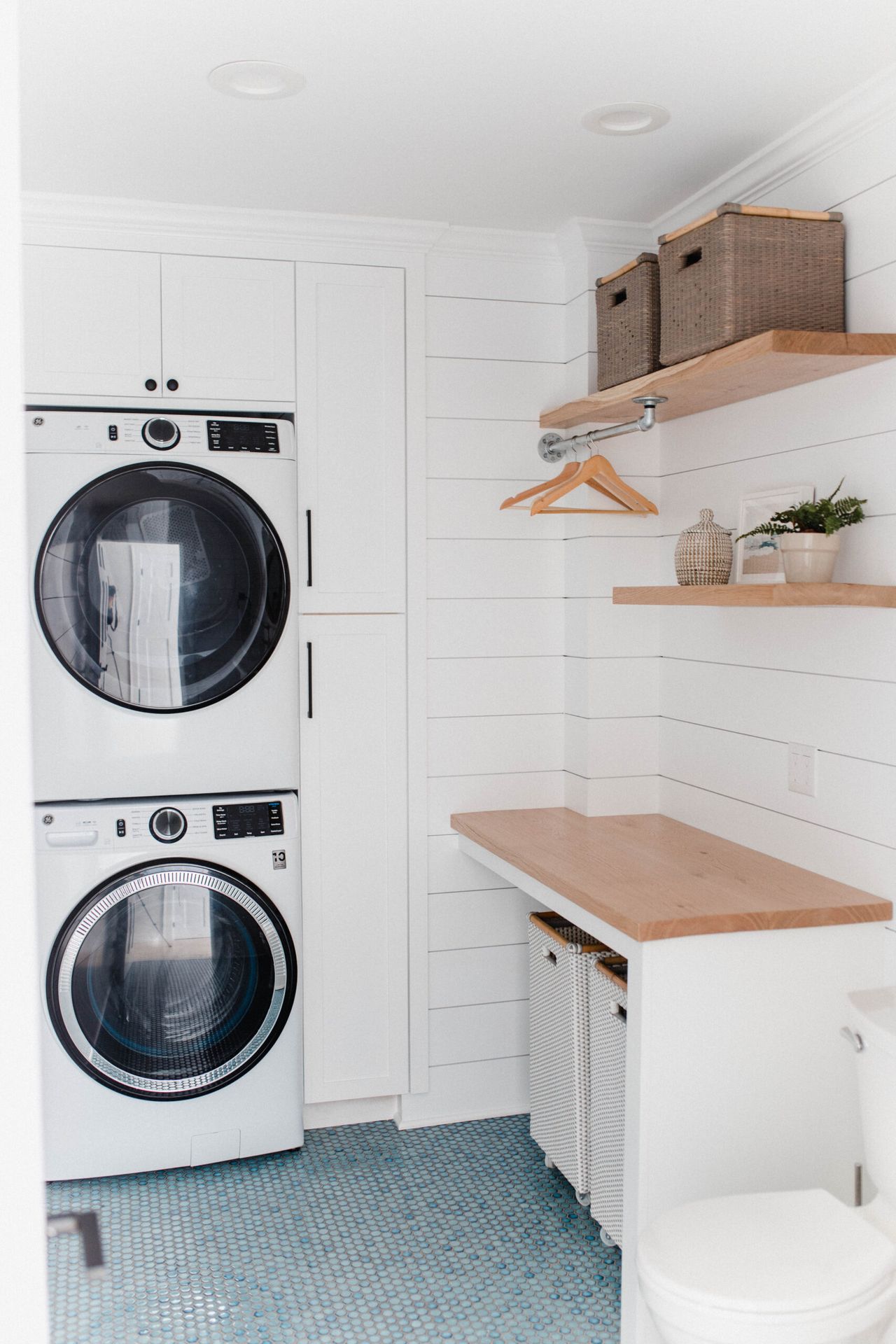 Looking for closet ideas for a small laundry room? Even if you only have space for one stackable washer/dryer, Lauren McBride proves you can still make closet space. Instead of leaving the dead space around her washer/dryer open, the Connecticut-based blogger turned them into practical closets that can hold everyday laundry essentials.
7. Hide your laundry room with cabinets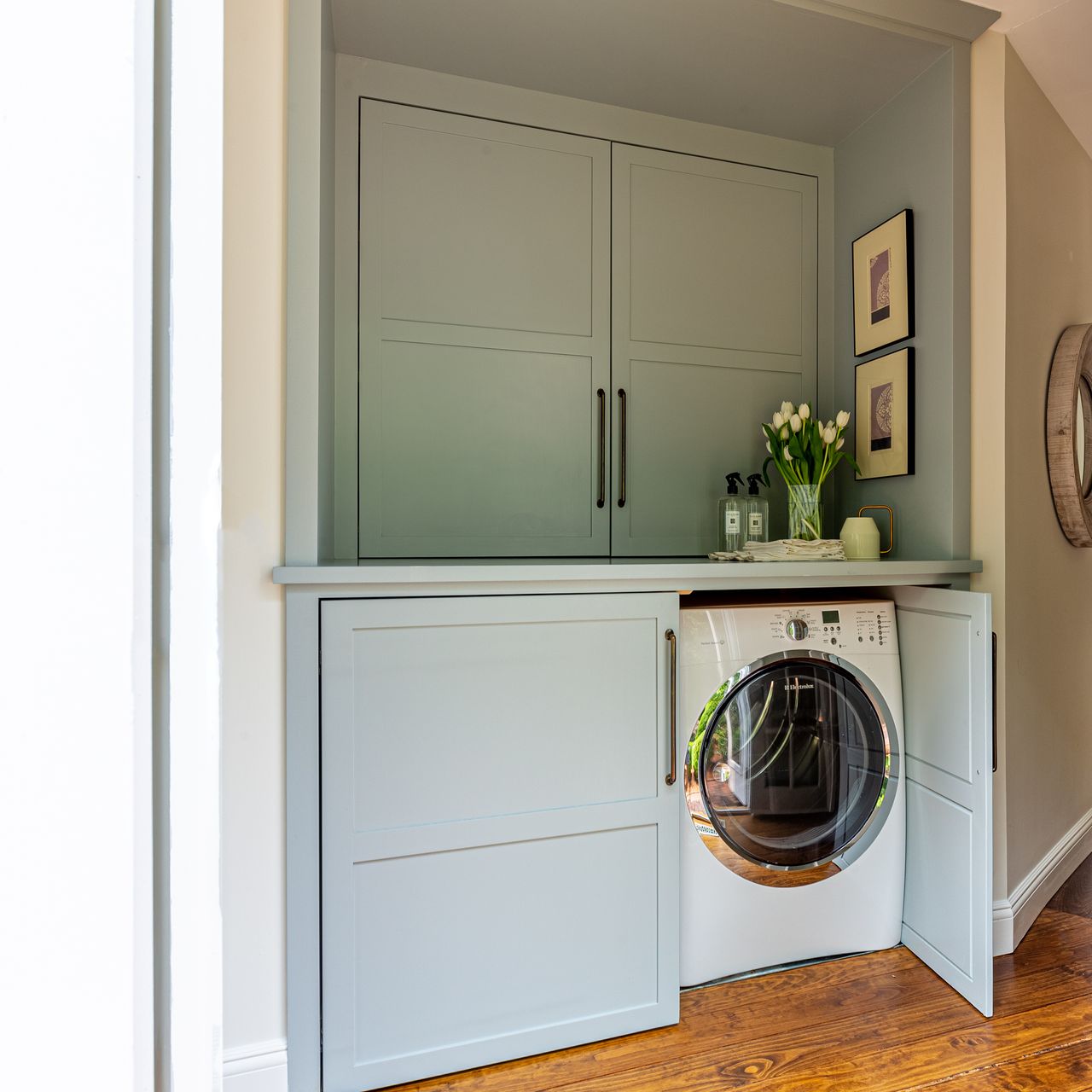 If your laundry room shares space with another room in your home, such as the laundry room, a bathroom, or a hallway, hide it with built-in cabinets. This look also works if you just want to hide any hint of doing chores while not actually doing them.
"This used to be a double-door closet in a narrow hallway," says Jeanne Barber, whose Connecticut-based firm Camden Grace designed the space above. "We wanted to create the illusion of more space, so we removed the header and went to the ceiling to create height."
8. Tuck a closet into a corner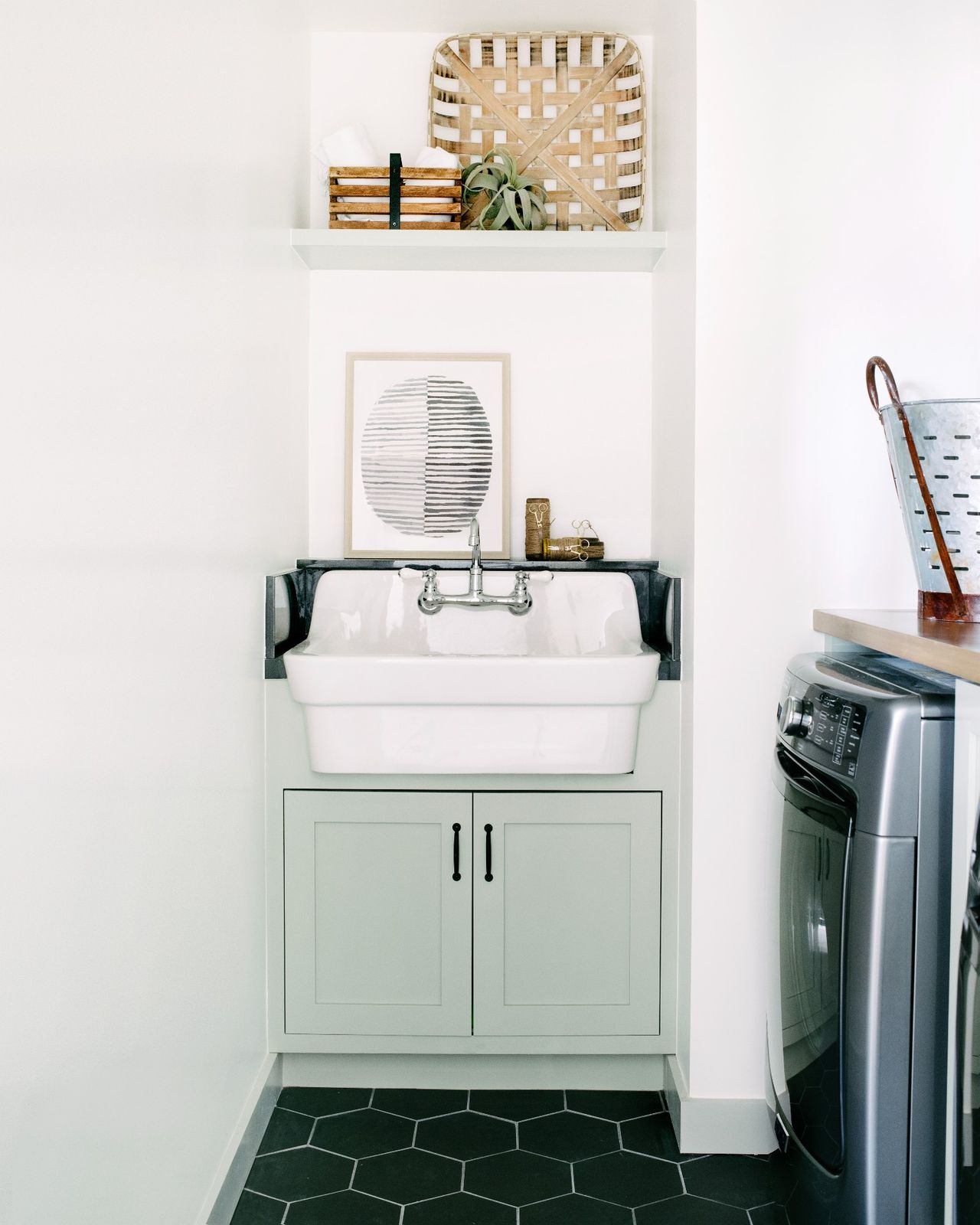 Sure, it's nice to have built-in closets around your washer and dryer, but it's not feasible in every home. If your laundry room has a small or awkward floor plan, place the cabinets against an opposite wall instead. Designer Kate Lester has even made room for a vintage sink here.
9. Choose two-toned laundry room cabinets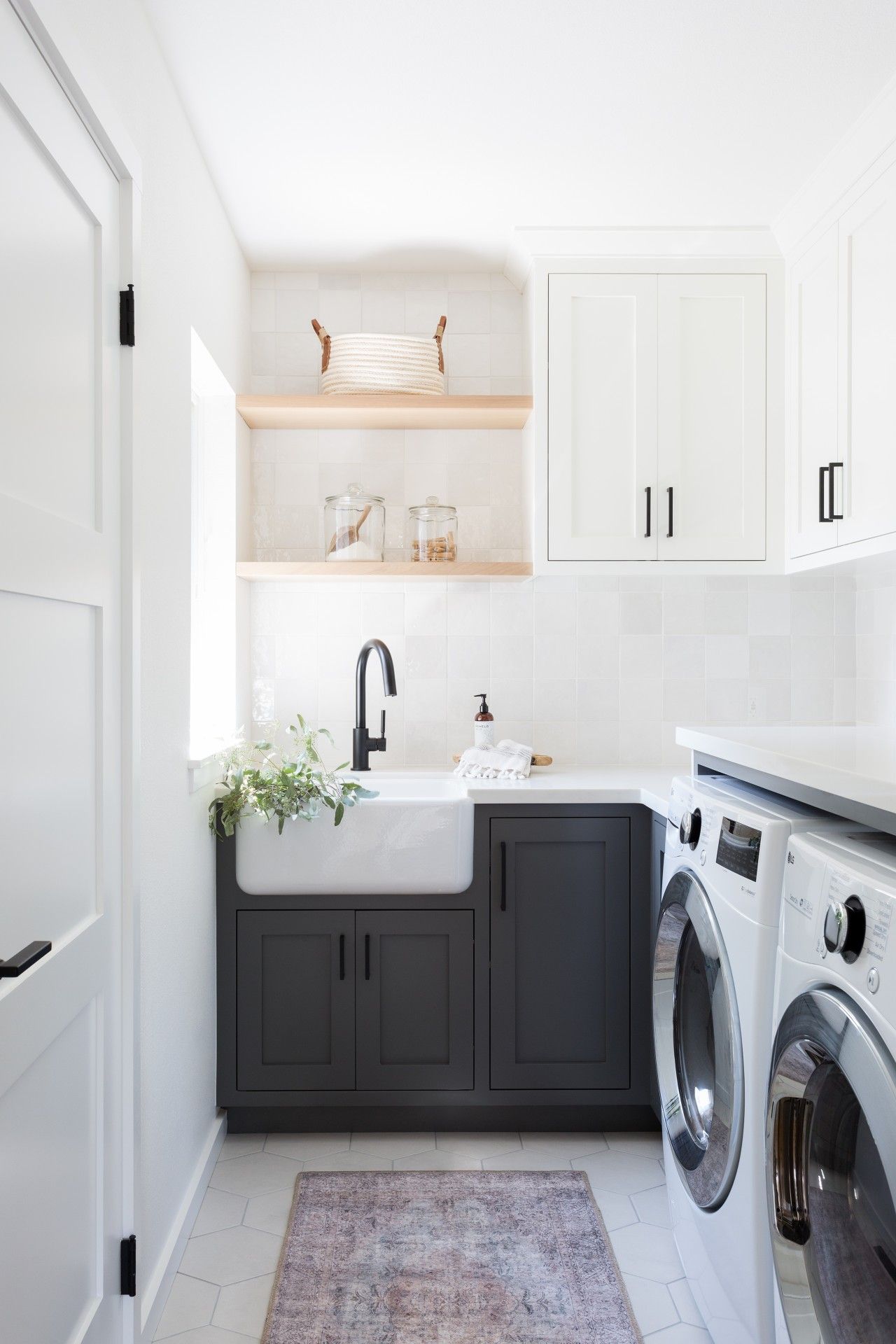 Love the look of two-tone cabinets but can't commit to your kitchen? Try the idea in your laundry room instead. The smaller the room, the less bold the choice, and it's not as costly to update if you decide to try a new look in the future.
Can you use kitchen cabinets in a laundry room?
In a word, yes you can use kitchen cabinets in a laundry room. Many hardware stores sell special kitchen cabinets that you can use as-is in a laundry room. A standard kitchen wall cabinet can be fitted directly above the washer dryer, or a base cabinet and countertop can be installed alongside.
These cabinets tend to come in limited standard widths and heights, so they work best when you don't need a lot of cabinets or aren't looking for a built-in look (unless you're lucky and standard cabinets fit perfectly). for your room). If you want to customize the look of your laundry room, opt for unfinished cabinets and add your own color and hardware.
When choosing store-bought kitchen cabinets, you should also make sure you choose the right materials.
"In terms of material, it's fine to use an inexpensive MDF core with a wood or laminate veneer, but watch out for thermofoil," warns Khuu. "Thermal wrap is a popular, inexpensive choice for laundry room cabinets, but be careful that the plastic coating can melt if exposed to a lot of heat or moisture."
How deep should a laundry room cabinet be?
The reason kitchen cabinets work well for laundry rooms is because the ideal depth is the same for both. Upper kitchen cabinets are approximately 12 inches deep, which provides ample space for laundry detergent, cleaning supplies, etc. Lower kitchen cabinets are typically 24 inches deep. From a design standpoint, this works well next to a washer or dryer as both are typically 25″-28″ deep. From a functional closet, in such a deep closet you can store such items as laundry baskets, a steamer or a bucket for soaking soiled clothes.