When Augusta University graduate Scott Hardigree and his wife Stephanie bought their North Augusta home with a lush and sprawling yard last year, their majestic garden inspired them to open their doors to a unique opportunity for local art students.
"I was an art student at Augusta University, but when I started, it was Augusta College," said Hardigree, founder and CEO of Email Industries, an Augusta-based email marketing services company. "Actually, I was a communications major with an art minor. My goal was to cobble together a graphics degree, which I did pretty well. I graduated in 1997 and at the time it was Augusta State University. Then I started my first company in 1999."
Over the years, Hardigree has remained connected and involved with the local arts community, particularly in downtown Augusta.
"When my wife and I moved into our home in North Augusta, I started thinking, 'Wow, wouldn't it be great to reach out to the art department and work with the students to get some cool sculptures for the garden.' Hardigree said, explaining that the home's gardens were landscaped by the former owner, artist Mary Alice Woodrum. "She had a passion for landscape architecture and really transformed this property. I think we have about 1,800 species of exotic plants here. We absolutely love it. We feel like living in a work of art."
Hardigree thought that the sculpture students at Augusta University would be equally inspired by the tranquil gardens of his home.
"At first I thought it would be a great opportunity to develop some new sculptures in the garden," he added. "And the other side of that coin was that for the art students, it's a project that would look pretty cool on their resume."
Hardigree began collaborating with Scott Thorp, Chair of the Department of Art and Design at Augusta University, and sculptor and art professor Brian Rust to develop a class project that would allow sculpture students to design a garden sculpture for the Hardigrees' home and to set up.
"We've agreed to donate $1,000 a year for a couple of years, and $750 of that goes to the student chosen to create the sculpture and the rest goes to materials," Hardigree said. "So last semester the students came out and took a tour of the property. After that they came up with their ideas for their sculptures and presented them to me and my wife."
While several of the proposed sculptures were impressive, Hardigree said an art student's project immediately stood out from the crowd.
Senior Art Major Aaron Cummings' design of a giant wave with a base shaped like the roots of a tree simply appealed to him.
"When Aaron was touring the property here, he asked a lot of questions, like what I like about certain things," Hardigree said. "I told him I loved trees and that I grew up surfing in Florida at Fernandina Beach and that I love waves. When it came time for the presentations, not only did we like what Aaron was presenting, he had a 3D rendering of the sculpture, which was cool. You could tell he had put a lot of thought into the sculpture."
After touring the Hardigrees' sprawling estate, Cummings said the idea for his sculpture came quickly.
"As Scott took us through the gardens, he talked about the inspirations he had when they decided to buy this property, and a lot of that came from growing up in Florida near the beach," Cummings said, pointing to the many palm trees and tropical plants that are on the property. "But he also really liked the size of the trees and the density of nature around the house. So I just kind of brought them together."
Cummings said he also made sure the sculpture complemented the landscape and didn't detract from the natural beauty of the gardens. When the Hardigrees announced they had chosen his sculpture for their garden, Cummings said he was delighted.
"When you're in school and in class, you do the homework to get grades, but this was real. That sculpture is now a part of her home," Cummings said, smiling. "And to see my sculpture grow from this 7" 3D model to a 1.5m tall sculpture was amazing. It was really a validation not to do something as a task but to do something in community. It was a great experience."
This is the second time the Faculty of Art and Design has partnered with a community individual to offer this type of real-life opportunity to sculpture students, Rust said. Turner Simkins, president of the North Augusta Riverfront Company and developer of Hammond's Ferry in South Carolina, was the first to work with Rust's sculptural installation class.
"The whole concept behind the installation is often very site-specific, so the students design the sculpture for a specific location," Rust said. "Scott's estate is perfect because it's like a giant botanical garden that wraps around his house."
The garden setting allowed him and his students to study the space and discuss the different elements that could influence an installation.
"In this class we talk about the environmental influences of the space and we talk about the audience when it comes to public art," Rust said. "We ask, 'Who will see a particular work of art?' We talk about the audience and what that means and as a class we discuss the whole field of large format artworks."
This time, Rust says, the project started early enough that the students were able to budget, make a proposal, and design the sculpture within the same semester. After the Hardigrees decided on Cummings' sculpture, the entire class came to help him finish the sculpture on time.
"It was nice that not just Aaron, but everyone in the class got to experience it," Rust said. "They were all able to experience the theoretical end of the creation of a sculpture and its creative elements. The students also got to see that people can actually make a living by making sculptures. There are government contracts in every single state in this country. There are always artists competing nationally and internationally, so this course is about teaching by doing and giving all students a very real experience."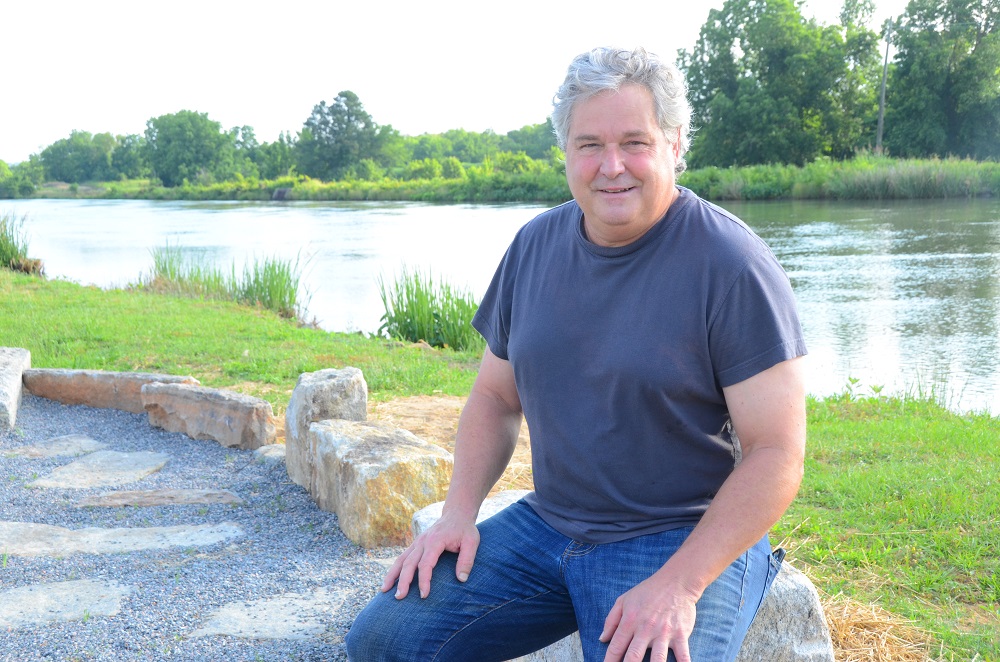 Rust was thrilled to hear that the Hardigrees plan to continue taking the sculpting class and offer the same competition for years to come.
"Scott said he really wanted to do it again because they have such a large property, and he was very happy with the whole process," Rust said. "We definitely welcome the cooperation."
Hardigree said he can't wait to see what the next group of art students will design after visiting his gardens.
"I can honestly say that Aaron exceeded my expectations and this project is very rewarding for me," Hardigree said, adding that his daughter is also a current student at Augusta University. "Looking back, the art department at Augusta University really helped me in my career by teaching me about visual problem solving, so I want to be involved in this sculpture project in a spirit of giving back."
He added: "I think it's important to recognize the people and places that have helped you succeed. And the art department has definitely helped me succeed in life."