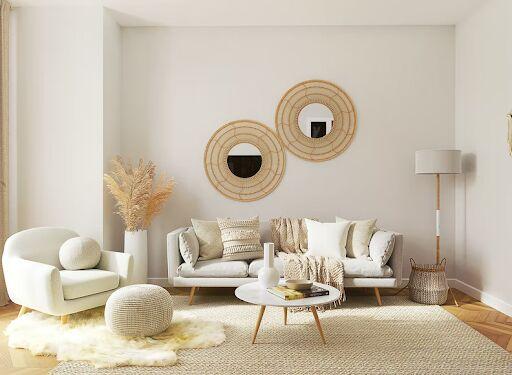 Your living room is one of the most important rooms in your home. Here you can relax, guests receive and spend quality time with your family. The decorating and furnishing your living room is a big decision, and it is important to choose pieces that are both stylish and functional. A few simple changes can make a big difference in the look and feel of your living room. However, it can be difficult to know where to begin. Here are useful tips on how you can give your living room a fresh, new look.
Measure your space
The first step is to measure your living room and determine what furniture you need and where you want to place them. Once you have a good idea of ​​the layout, you can start shopping for the perfect pieces. A couch, a coffee table and a TV table are essential pieces of furniture for your living room, so make sure you have enough space for it. If you have a small living room, consider a futon or daybed instead of a couch. You can also use ottomans as coffee tables and side tables. It's also important to measure doorways and hallways so you can be sure your furniture will fit your home. This is especially important if you are planning to buy a large piece of furniture like an entertainment center.
Choose the right furniture
The most important aspect when setting up your living room is to choose the right furniture. You want pieces that are both stylish and functional. An Ottoman coffee table is a great option because it can serve as a place also where you put your feet or can leave a tray of food. The key is to find a piece that fits the size of your room and you absolutely love. It should be a focal point around which you can build the rest of your living room.
Besides a sofa, you need a few other pieces of furniture to complete your living room. A few chairs are essential for seating, a plush velvet footstool, a coffee table with a TV stand, or a media console that has room for your TV. If you have a fireplace, you may want to consider a mantel or privacy screen to add even more interest to your space.
Set your intentions
What exactly are you hoping for from the beautification of your living room? Make a list of your goals and visualize what you want the end result to be like. This will help you to focus on the essentials and eliminate anything unimportant. It also gives you a roadmap that you can follow if you start rewriting,. However, as with any project, there is always the potential for a few surprises along the way. However, a plan will help ensure that your end result is exactly what you wanted and expected.
Choose your color palette
The first step in any makeover is to choose your color palette. This will be the basis for the rest of your design decisions and will help to bring together all coherent. If you are not sure where to start, look for inspiration in nature, in art or even in your closet. Once you have an idea of the colors you want to use, it's time to think about how you can incorporate them into your living room.
The walls are a great starting point, but do not be afraid to experiment with other areas such as the ceiling, trim or even furniture. This is your chance to get creative and have fun. In addition, choosing the right colors can make your living room feel more spacious, bright, and inviting.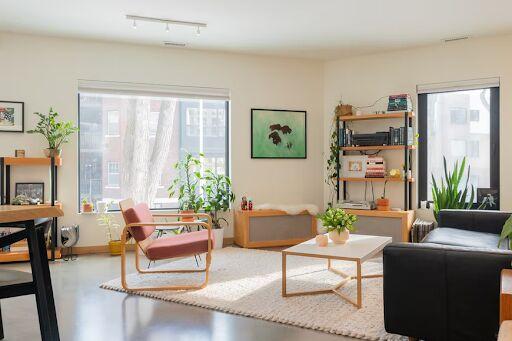 Pay attention to the lighting
One of the most important things you can do when sprucing up your living room is to pay attention to the lighting. Good lighting can make all the difference in the atmosphere of a room. If you have dark corners, you should add some extra lamps or ceiling lights. If you have a lot of natural light, play with different ways to block out or diffuse it. The lighting can really set the mood for a room to determine, so take the time to experiment until you find something that you like. This is an area where it is definitely worth spending a little money. While you don't have to break the bank, just find something you love that will work well in your space.
Avoid the showroom feeling
One of the biggest mistakes people make when it comes to their living room, is the attempt to make it look like a showroom. This is often done by placing furniture in the room that is too large or too small. Instead, focus on creating a comfortable and inviting space that feels natural. The best way to do this is by choosing the right size furniture for the room.
Comfortable and stylish, it should be. In this way, you can create a space where you and your family like to spend time. Decide as much as possible for furniture that have more than one function. To save space and still have everything you need in your living room.
Address your walls
One of the quickest ways to transform your living room is to address your walls. Color is an easy and fairly inexpensive way to transform the entire look of your room. If you're not ready to paint, consider wallpapering an accent wall or even hanging up some artwork. Whatever you do, don't leave your walls bare – it will make the room look unfinished. This is also a great opportunity to fill in nail holes and mend cracks. Because of their high traffic, living room walls tend to get a little damaged. Therefore, repair any damage before you start working on your design.
In summary, these are some useful tips that you can use to spice up your living room. With a little creativity and effort you can easily transform your living room into a more welcoming and more stylish space. If you follow these tips, you can also save money on costly home decorating projects. So what are you waiting for? Get started today and look forward to tomorrow with a beautiful living room.
.