Surname: Holly Williams
Position: Director, Campus Institutional Review Board
Years at Duke: 22
What she does at Duke: All human research conducted at facilities that receive federal funding must meet strict regulations related to safety, privacy, and efficacy. At a university, it is the job of an Institutional Review Board (IRB), a panel of faculty experts and unaffiliated community members, to review proposed research projects, ensure compliance with these federal regulations, as well as other government regulations and internal policies, and identify potential concerns and give the researchers guidance on how to proceed. Duke has two separate institutional review boards – one for medical research and one for educational and behavioral research. It is William's job to oversee the work of the latter, known as the Campus Institutional Review Board.
"We look at every single study and make sure people's privacy and autonomy are respected," Williams said.
Williams leads a five-person team that works with researchers to refine their proposals and develop practices that meet the IRB's standards. With a wide range of research done at Duke, Williams said the types of projects she and her team help with never cease to surprise. She said that one day she could help someone with a routine marketing study, or a study of the brain's response to video games, or a study of gender equality in developing countries.
"What I often say about IRB work on campus is that every single day is different," Williams said. "We look at everything related to human subjects across the spectrum of campus departments, schools and institutes. And that is extremely energizing. After 22 years, almost every day I come across something I've never seen before."
What she loves about Duke: Williams said her job gives her a unique perspective on the science unfolding at Duke. It is always exciting to see how a research project progresses from a proposal to reality.
"Duke is such a large, sophisticated, multifaceted technical organization that has a life of its own," Williams said. "To be able to be right in the middle of it and watch it navigate into the future using state-of-the-art science is just really fascinating to me."
Something helpful in your workspace: Williams has been working from home since the pandemic began. When she left her former workplace at Erwinplatz, she took her high desk with her, which she appreciates every day.
"It's huge because when we were in the office there was a lot of movement, going down the hall, downstairs or down the street to have lunch," Williams said. "But working here full-time is just me, I don't have to move that much. So the standing desk can replicate that."
When she's not working, she likes to do: Williams lives with her horses, dogs and cats on 10 acres of land near Pittsboro in rural Chatham County. She enjoys enjoying the stillness of nature, watching for birds at their feeding stations or looking for deer roaming the space around her home.
"However, I spend an inordinate amount of time mowing grass on my tractor," Williams said. "But it does not bother me."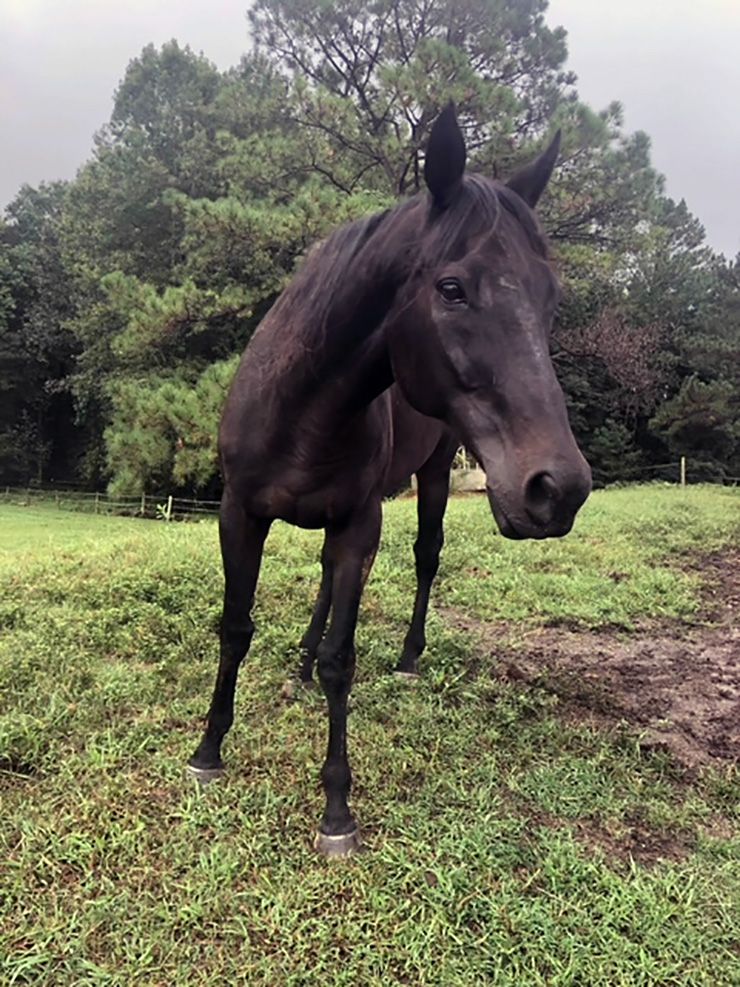 What most people don't know about them: Williams has loved horses since childhood and briefly considered a career in the horse racing industry. But now she has found her passion in caring for her own horses. She has owned four horses over the years, three of which – including her current horse, Brother – were groomed to race at one point in her life.
"A lot of organizations are popping up across the country that take horses off the track and teach them a new job and help them find good homes," Williams said. "This is what I'm looking for."
Lessons from the pandemic: With commuting freeing up about two hours of her day, Williams realized the importance of filling her time with things she enjoys.
"The extent to which I didn't make time for myself was glaringly evident when I was left to manage my time alone," Williams said.
In the last two years she has started to pursue singing. Williams has always been a music fan, but for the past year she's been enjoying taking weekly singing lessons on Zoom.
"I'm not going to get gold records or sing in front of thousands of people, I don't even sing karaoke," Williams said. "I just didn't want people running away and covering their ears when I burst into a song. But now, if someone wants to sing Christmas carols, I feel safe doing it."
Is there a colleague at Duke who has an exciting job or who is committed to making a difference? Nominate this person for Blue Devil of the Week.