Finding the perfect entryway wall decor ideas for your home isn't always easy, but it should be. Whatever your interior style, we have the tricks that can breathe life into your walls and bring out your true personality.
As well as looking inviting on its own, an entryway or hallway should set the tone for the rest of your home – and should be considered alongside entryway ideas and porch ideas to ensure a coordinated feel.
Read on to discover the best entryway wall decor ideas that are sure to add character, interest and intrigue to your home.
Ideas for the wall design in the entrance area
From interior details to inventive suggestions for wall decorating ideas, these design-led entryway wall decorating ideas will inspire your scheme.
1. Choose contemporary art that fills a wall
"There are two really effective ways to make a statement with art in a small entryway," says Camillia Clarke, creative director at Albion Nord. "The first is to play with scale in interior design. Make the most of wall space and choose a large-scale artwork that runs the full height of the wall. It will feel bold and impactful."
"If you have a narrow hallway, another interesting way to make a statement with art is to create an art wall. Play with a mix of artworks of different sizes, colors and genres to create your own personal gallery space.'
2. Keep the color scheme consistent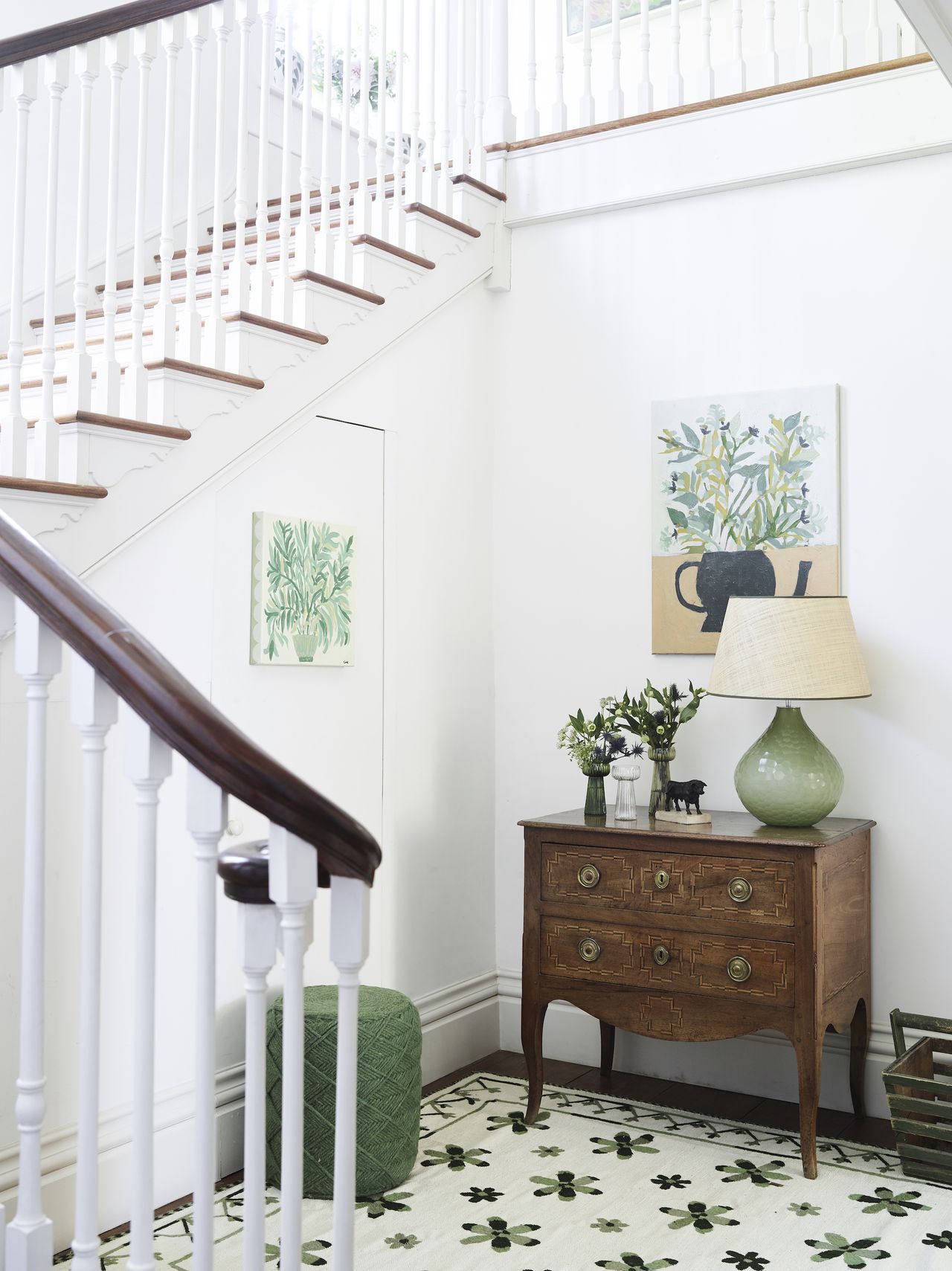 "Home entrance ideas are so important but often overlooked," says Birdie Fortescue, Founder and Creative Director at Birdie Fortescue. "The entrance sets the tone for the rest of the home, so the way it is designed and presented is crucial. Art is incredibly useful in this type of environment as it can be used in tactical ways to either make a strong statement, add personality or introduce colour.
"If you have a spacious entryway or an open staircase, make the most of large-scale work to create impact. Diptychs and triptychs can be very useful on large wall surfaces, as can series of prints or photographs. In this entryway the paintings are by the same artist and the theme continues up the stairs to the landing, creating a strong visual connection between the different areas and anchoring the color palette of greens and natural earth tones.'
3. Install a mirrored wall in a dark entryway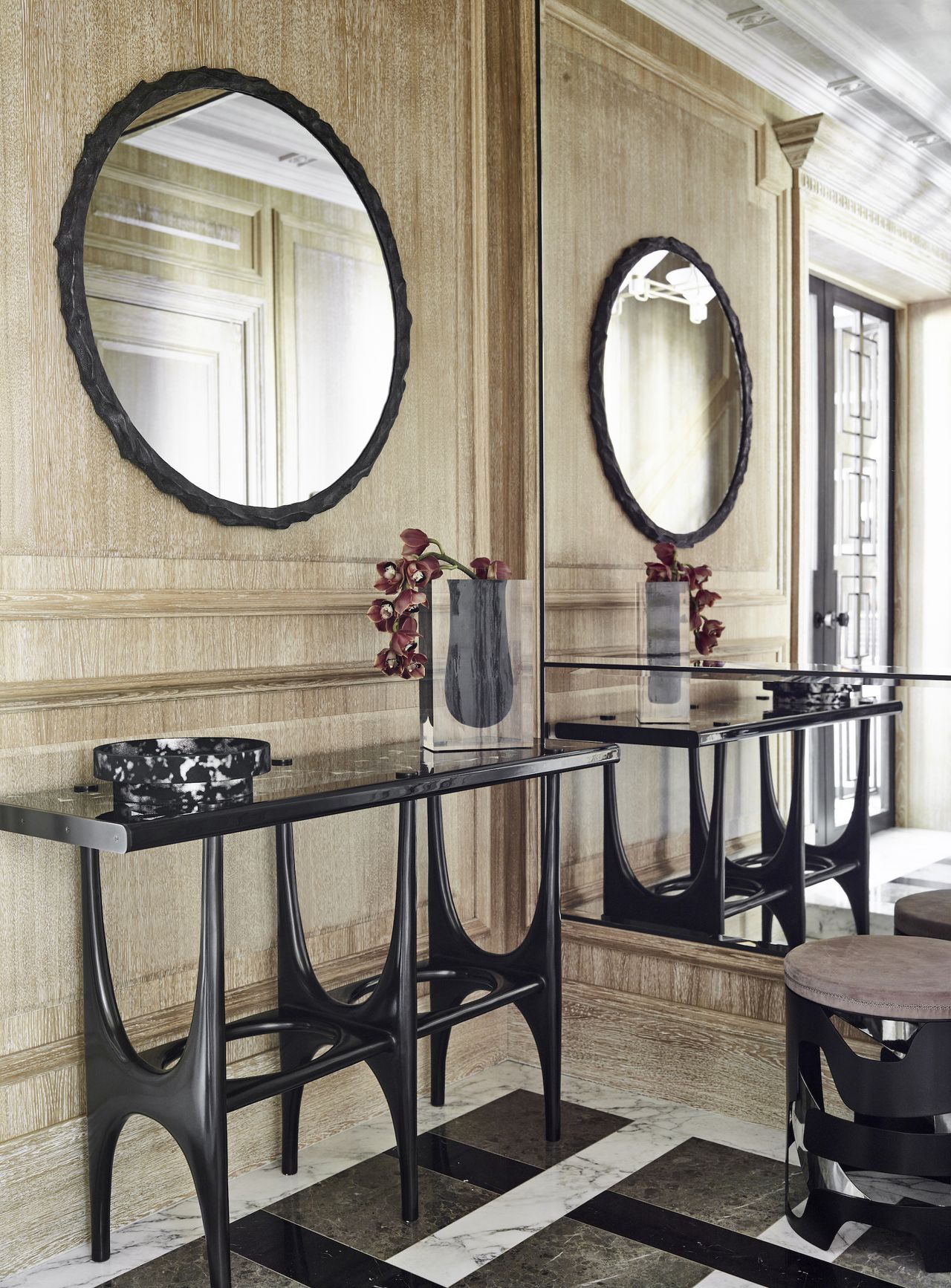 Decorating with mirrors is a wonderful way to brighten up any space, but since small entryways often have limited natural light, they call for reflective surfaces.
Mirrors are a wonderfully versatile design feature that instantly adds glamor and interest while maximizing light and enhancing the sense of space in a dark passageway.
4. Stock up on antique art and vintage frames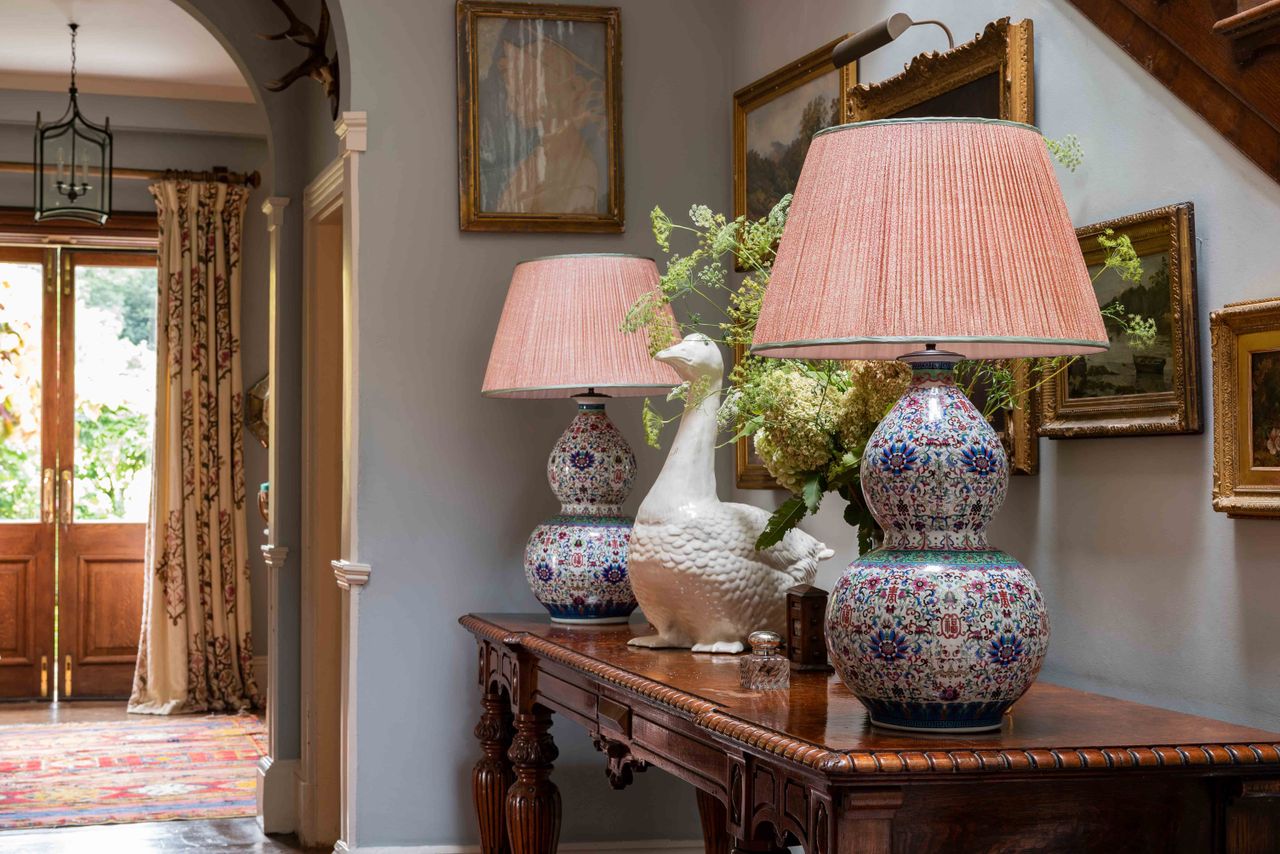 "For a classic entryway, you can't beat old frames that either come with original paintings or that can be used for your own photos or artwork," says Melanie Griffiths, Editor of Period Living. "They come in all sizes, some with more ornate detail than others, but each is a piece to enjoy and use as a decorative element."
5. Keep it simple with a shaker style hook rail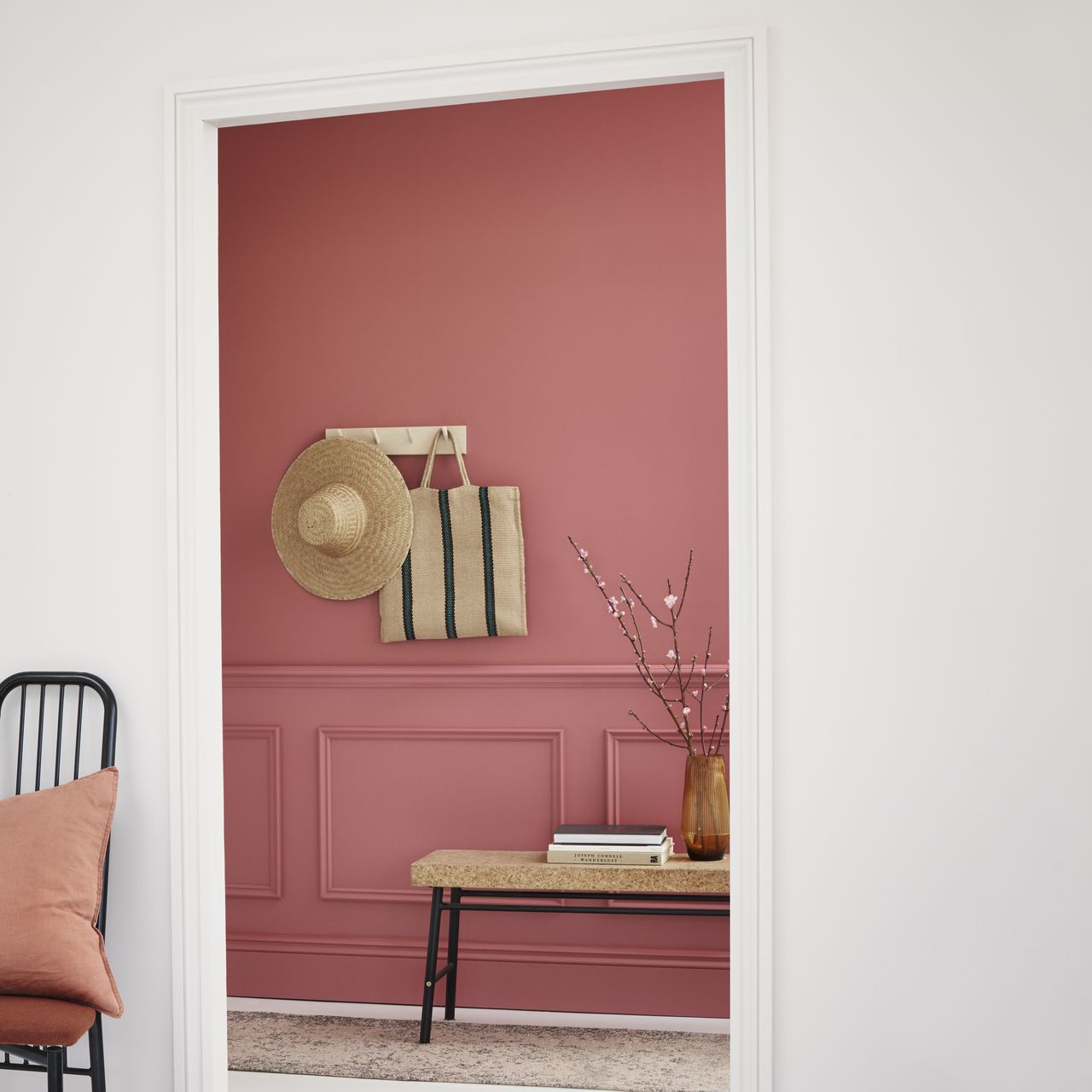 As the main entrance and exit to your home, the entryway is a high-traffic area, especially if you have children and pets, so good entryway storage ideas are a must.
Entryway wall decor can be as simple as a pole rod used for a basket and straw hat. They are all decorative pieces in their own way and can successfully break up a plain but colorful wall.
6. Use shiplap on your wall as a decorative feature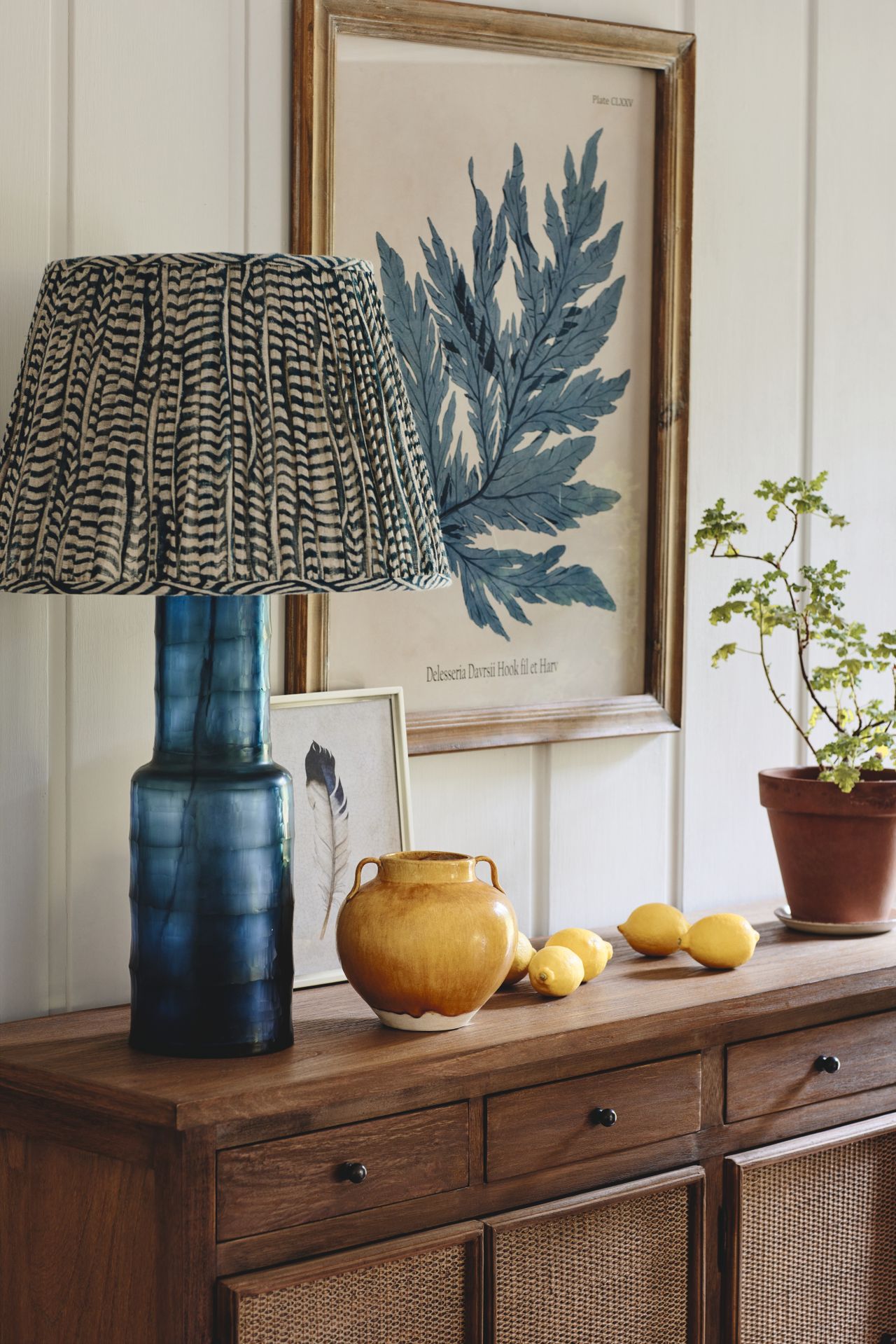 Instead of having plain walls give them an update with Shiplap, it's really versatile, easy to apply and gives a textured look that can break up a tired scheme.
"When it comes to getting your home ready for spring, I think the hallway is often overlooked, which is a shame because this is where we say hello to family and friends. I love keeping this space bright and fresh with lots of color. An easy way to do this is by hanging meaningful artwork on plain walls or adding bold decorative pieces, such as B. our hand-glazed Hongwu pots in bright yellow tones. Try to pick key colors and add shades in matching shades," explains Sue Jones, co-founder and creative director at OKA.
7. Hang an eye-catching wallpaper in an entryway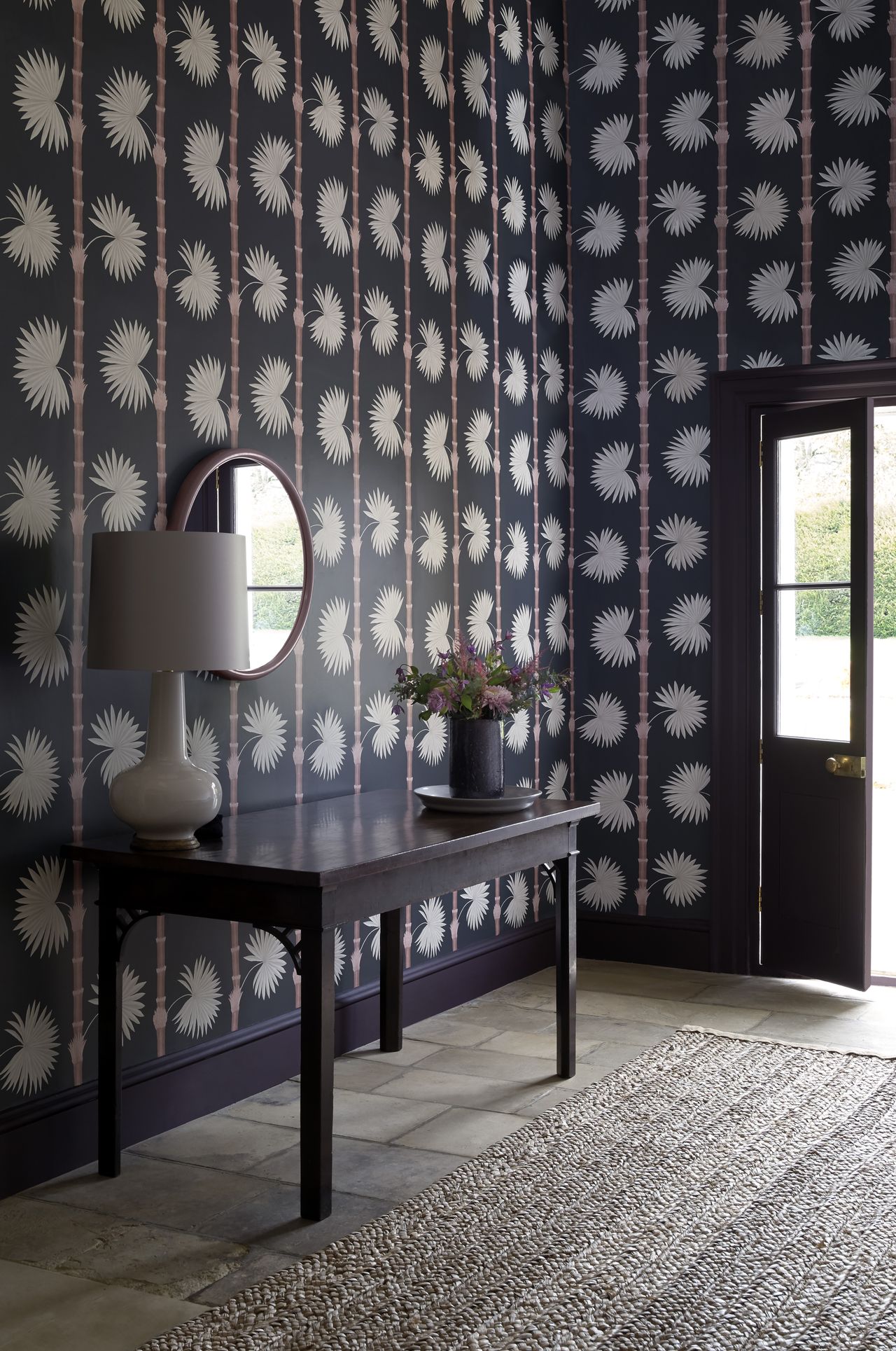 "Apart from considering what colors fit the era of your property and what materials and colors might surround your front door ideas, it is also important to consider the transition into your interior and to link the color choice of your entrance to that of your front door and your interior" , says Andy Greenall, who is dead of design at Paint & Paper Library. "Whether you opt for a classic, deep hue or the contrast of a bolder, lighter colour, an entryway should be viewed as a transitional space that sets the tone for the rest of your interior."
8. Use wallpaper for paneling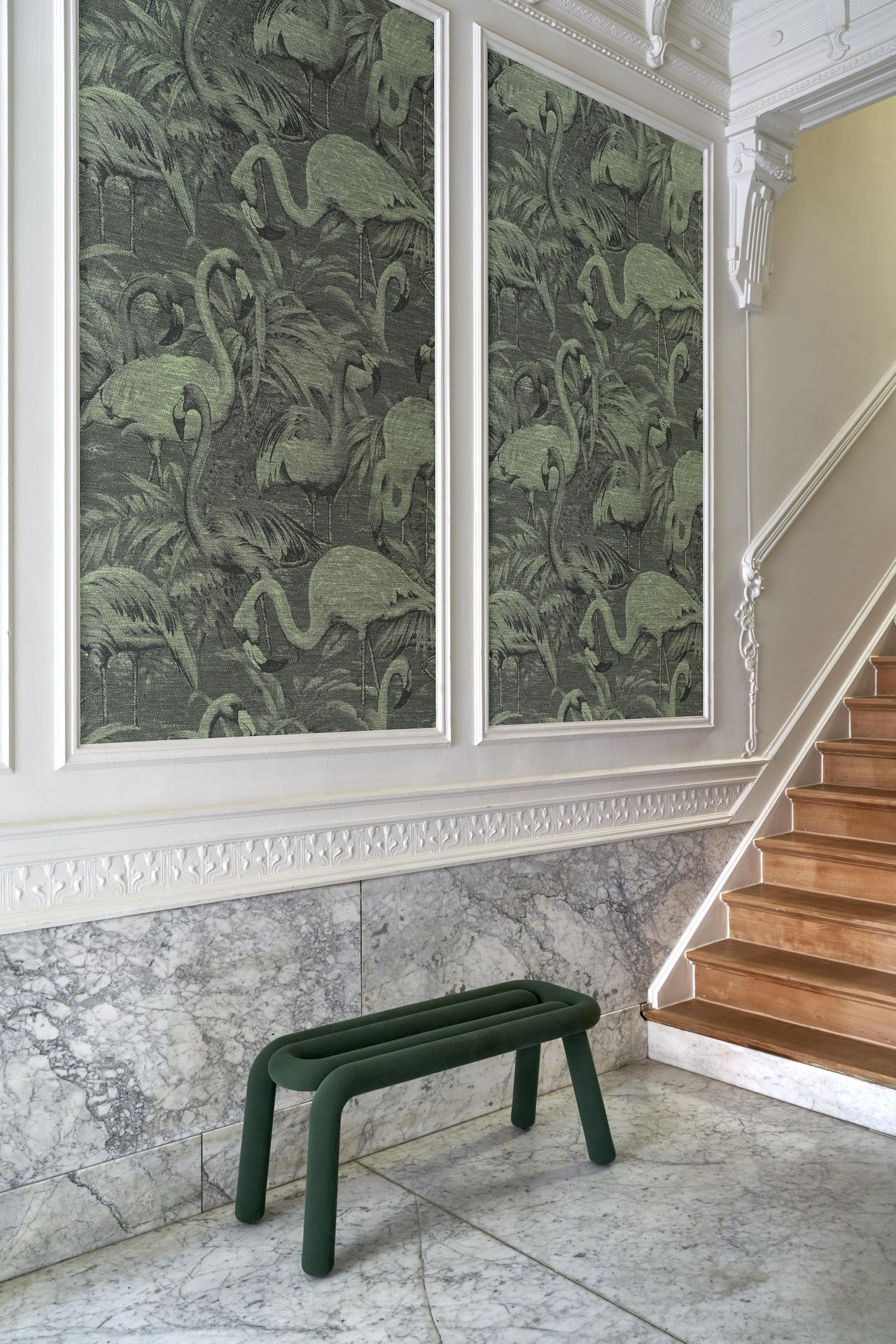 "Entrance areas are often the first space you or your guests encounter when entering your home, and are therefore a fantastic space to create design impact," says Philippe Desart, Managing Director of Arte. "It can be difficult to add design impact to these tight, highly functional spaces with furniture, so wall decor is a fantastic solution that allows you to add colour, pattern and texture without taking up what is often precious floor space.
"This is an area to wander through rather than linger in, so this is where you can afford to be bold with the size, color or texture of your wallcoverings. A great alternative to hanging artwork on the walls, bolder prints and patterns installed in panels add visual interest and an eye-catching design feature. There is currently a worldwide appetite for prints and patterns, and such a wide range of colours, scales and patterns for wall coverings that it's easy to incorporate any style into your entryway walls.'
9. Opt for a sculptural mirror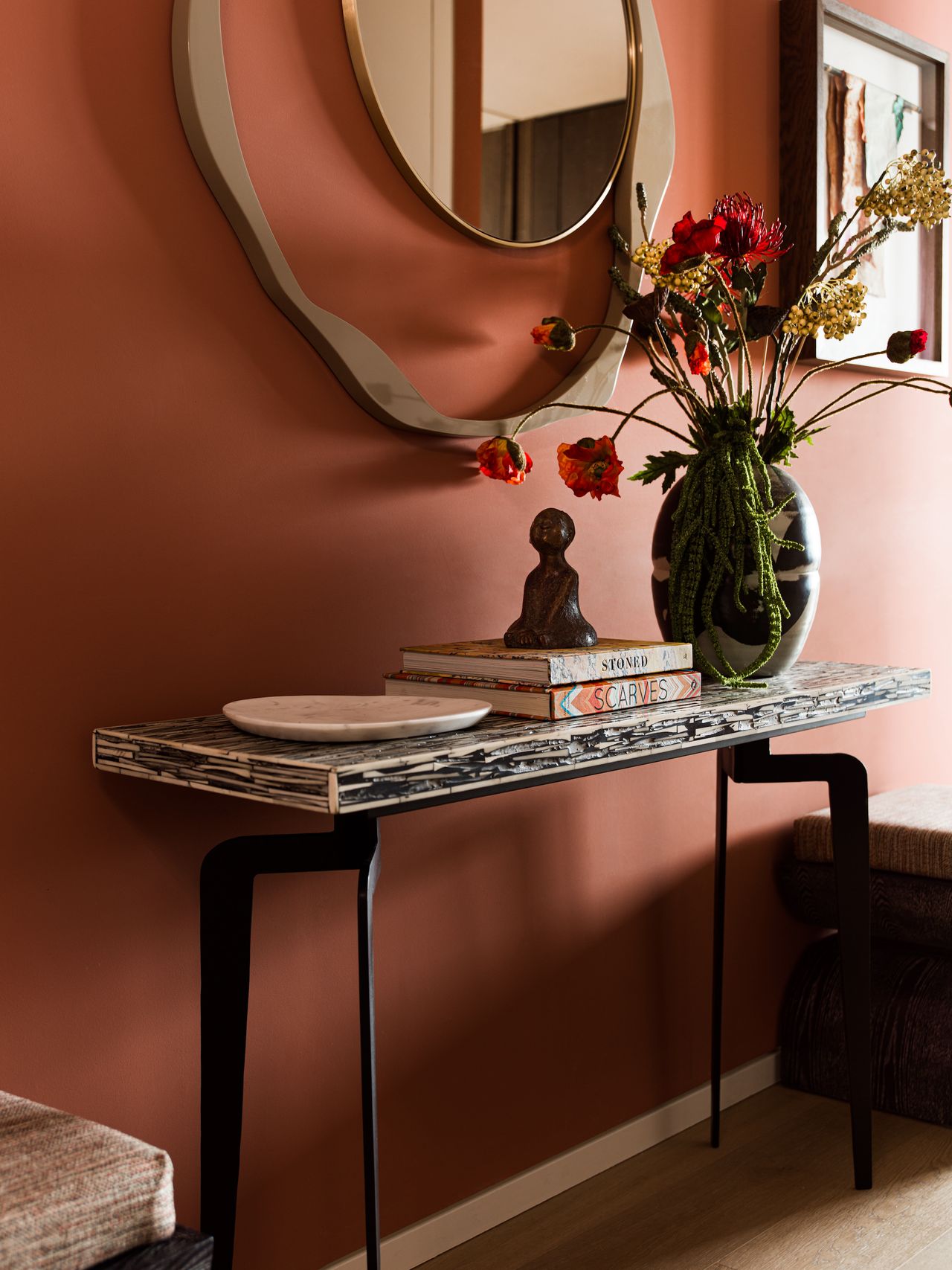 "I always advise using really interesting furniture in an entryway – a beautiful console table or a sculptural piece," says Charu Gandhi, Founder and Director of Elicyon. "It's unexpected, and because it's not a space you're going to sit in forever, you don't have to focus on functionality or even comfort, so you can get away with doing something pretty frivolous. I love putting mirrors in entryways because they can feel quite dark. Also, try adding a floor or table lamp, especially if you're being entertained.'
10. Choose a statement watch for sheer impact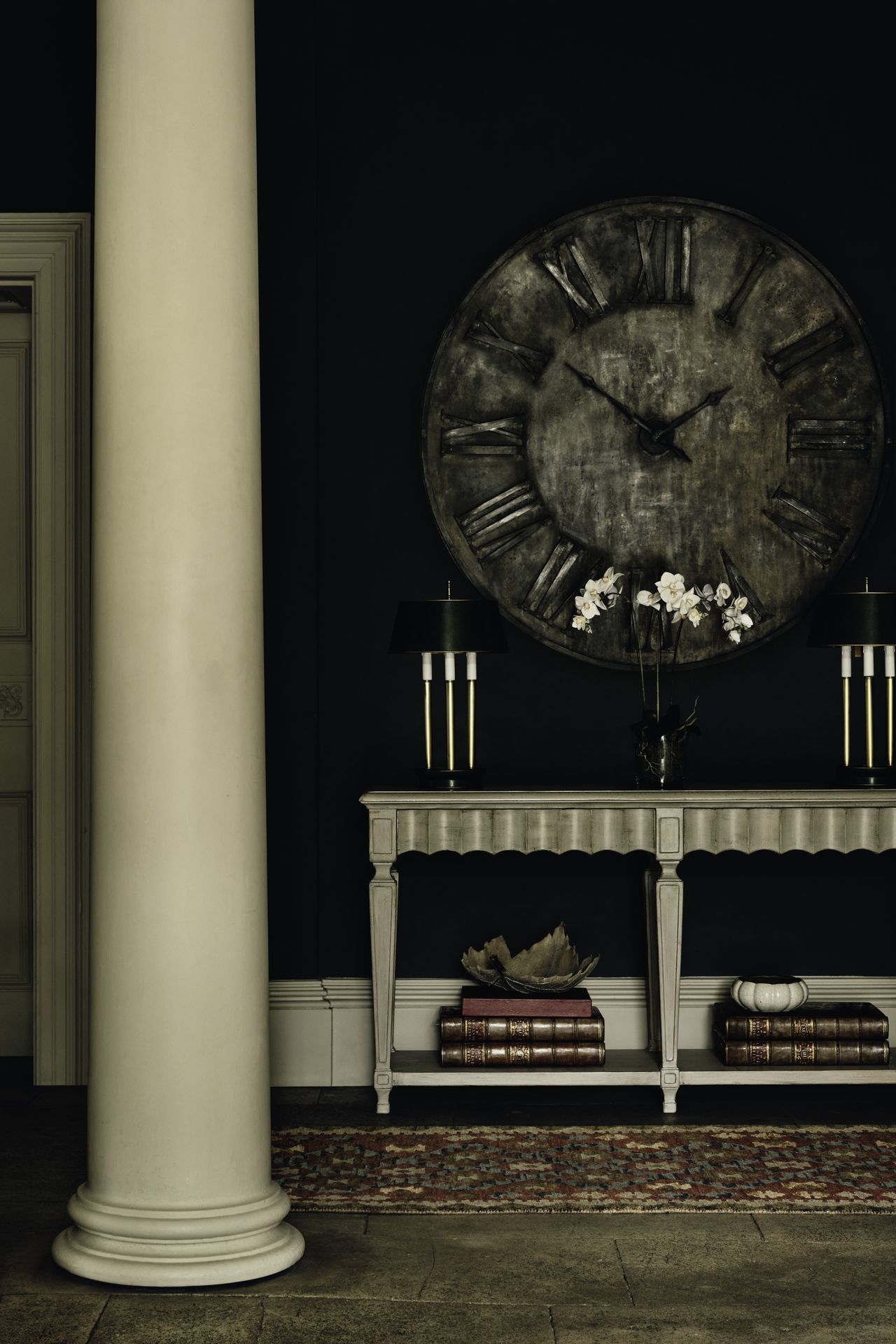 "The entryway is often the first thing guests see when entering your home. So try to create an interesting vignette with a key element or two to make a good first impression," says Sue Jones, co-founder and creative director at OKA. "It can be difficult to create impact when you have a large space to decorate. If that's the case, opt for something that matches the size and grandeur of the space, like our colossal Grenvelle clock. It certainly makes his presence known.'
What should I put on my entrance wall?
Whether your entryway is traditional or modern, there are plenty of creative ways to let your walls do the talking.
Adding impact to your entryway walls doesn't have to be limited to the traditional methods of wallpaper ideas or color ideas either. There are many ways to liven up your entryway, whether you're going for an easy-to-change option like creative wall decals, or investing in a bespoke solution like a wall decal. B. eye-catching photo wallpaper ideas or a delicate trope l'oeil.