Thinking about feng shui front door color ideas to ensure your home makes the right impression? From timeless favorites to more contemporary hues, there is a plethora of shades to consider that employ the principles of feng shui.
Complementing the facade of the house is important, but so is the touch that the color will make, whether it be cheerful and welcoming or more formal and classic. The principles of feng shui can also influence your front door color choices, and the maintenance requirements of a particular choice will likely come into play as well.
Here we have collected a variety of beautiful feng shui front door colors, both classic and modern in their effect, for inspiration and asked the experts to give their advice as well.
Feng Shui front door colors
Feng shui is an ancient practice, but one that has become popular in western interior design over the last few decades, and something we should definitely keep in mind when deciding on the best front door color ideas for our home.
In Feng Shui, the design of your front door is one of the most important areas of your property. This feature also represents the face you show the world and should be chosen with just as much care and consideration as the rest of your interior design ideas.
1. Attracting positive energy to black
A smart choice for north-facing homes, black front door ideas convey positive energy and a renewed connection to nature. It is intertwined with the water element, which represents wisdom, maturity and healing. Water is also linked to your social connections, so black can be a supportive color for building relationships and promoting communication.
For classic good looks, black is a winning choice for a front door color. "A jet black front door is always in style," says board-certified color expert and board-certified interior designer Pattie Kelly of Inspired Home Interiors. Black can be a natural partner for more traditional homes, and it's a hue that stands out and makes the front door a focal point.
2. Use blue to envision new beginnings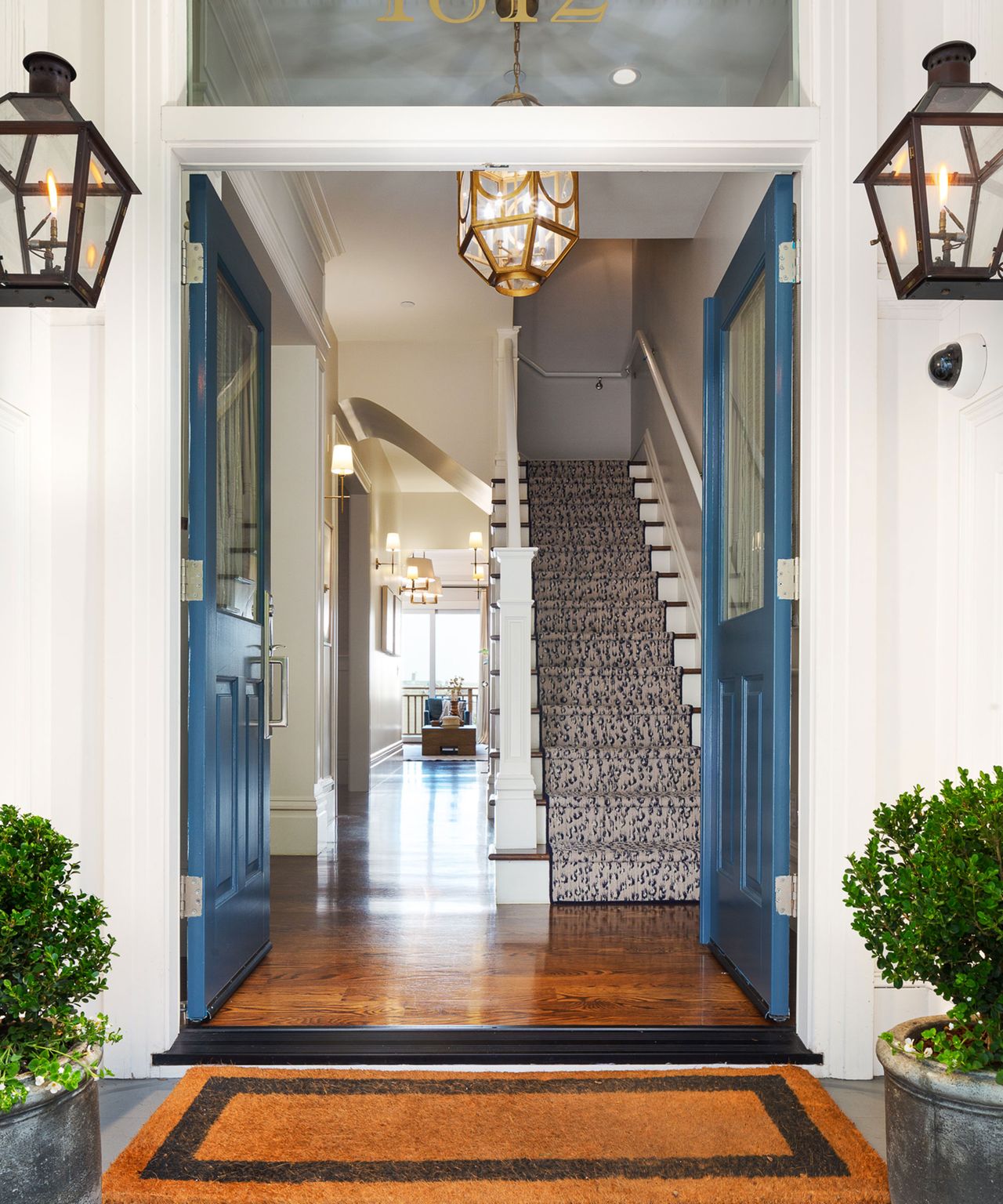 Another great option for north-facing homes is blue. Blue front door ideas – from sky blue to ocean blue to cobalt – bring serenity and calm to any home because they are on the cooler end of the spectrum and look beautiful for both city and front doors.
The color blue also represents the wood element, which supports growth, knowledge and new beginnings. In addition, a dark blue has been found to support mindfulness. Hues like this blue are also a perfect partner for traditional homes, making the front door draw attention but sympathize with the architecture.
"I don't think there are hard and fast rules for blue," says Samantha Todhunter, founder of Samantha Todhunter Design. "Some say it has a froideur. I disagree, it's about the colors you work with it that make the difference. Working with blue is endlessly interesting and playing with tones and textures can transform it from a vibrant jewelry box to a subtle and calm color."
3. Go green for growth and renewal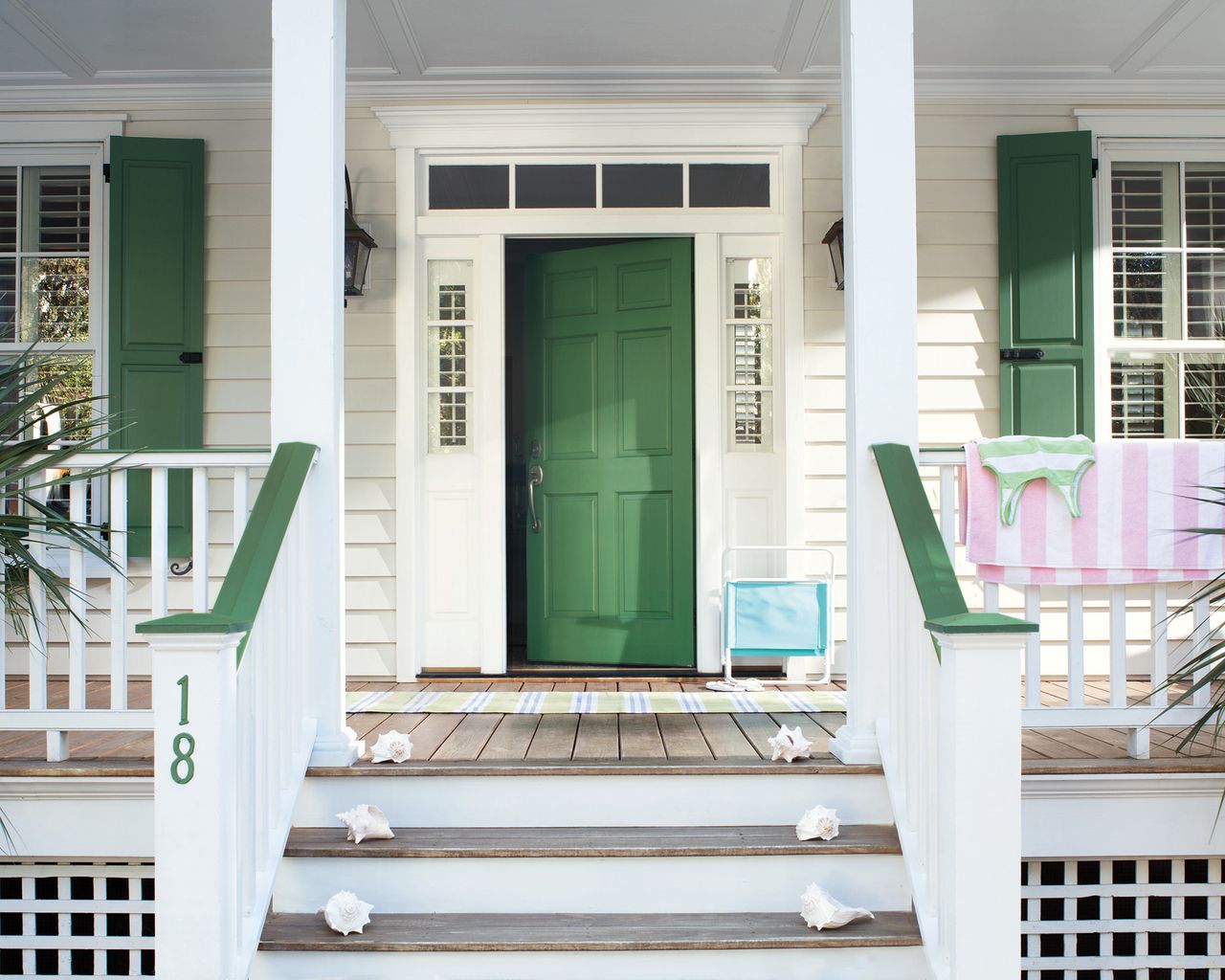 Green front doors promise to renew your connection to nature and are meant to evoke feelings of balance, vibrancy and happiness. Feng Shui principles recommend that you paint green if your home faces east.
Green is generally a calming, relaxing color. As the color that represents nature, it is one that makes us feel good and positive. "The poet and philosopher Goethe described green as a useful color, a good color to have around," says Francesca Wezel, founder of Francesca's Paints.
In conjunction with the wood element, a green front door will invite new possibilities into your life and encourage growth, expansion and friendliness. Additionally, this green and upbeat color trend blends beautifully with leaves placed by the front door or in nearby borders for a harmonious look.
4. Paint with gray if your lot faces west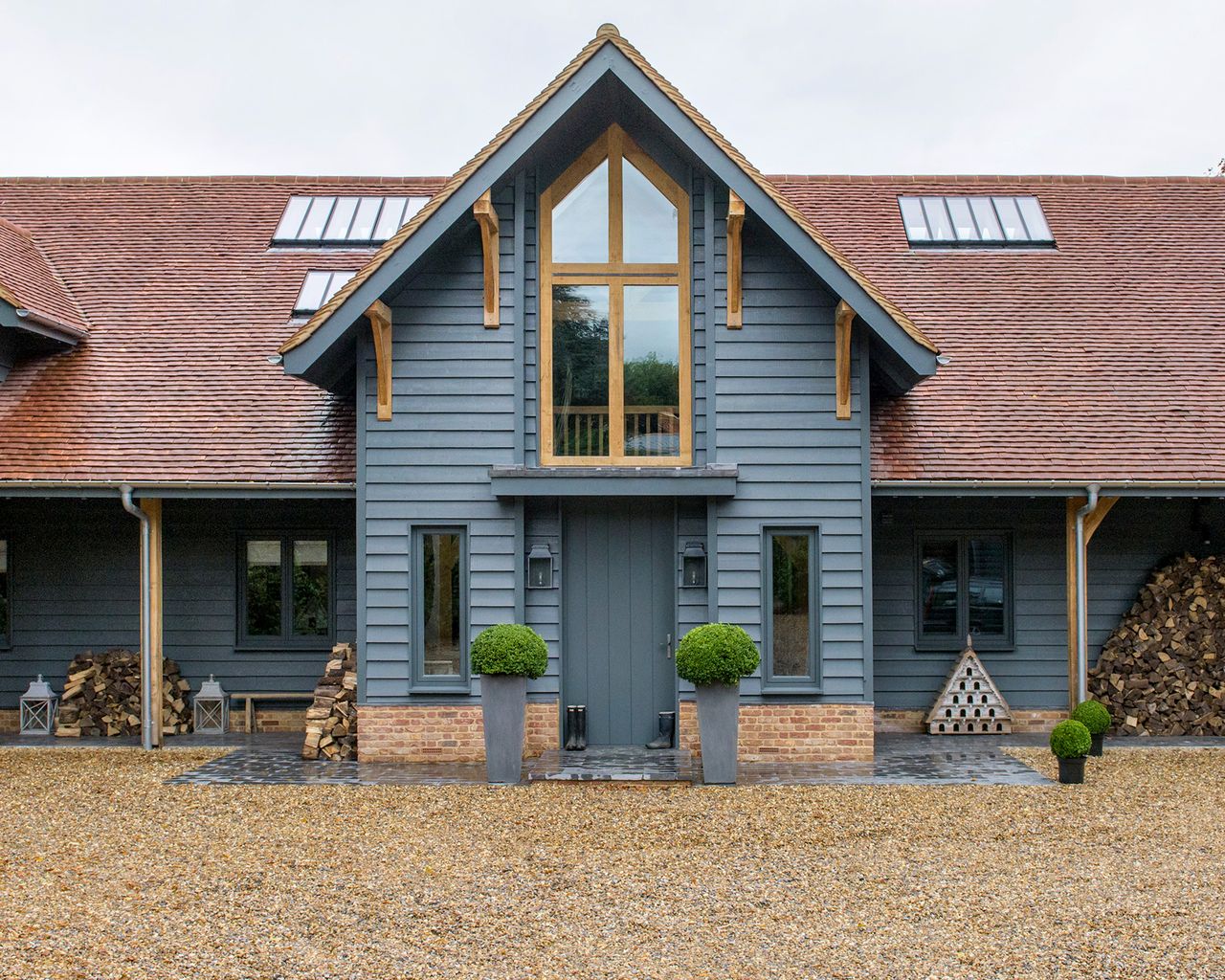 Decorating with gray has become de rigueur in interior design. This cool color is undeniably the new but enduring neutral color to bring a contemporary edge, elegance and sophistication to a front door and is a must have for anyone wanting an easy to live tone.
The best choice for a west facing front door, gray also represents the metal element hence it is a color scheme associated with determination, confidence and sophistication. In addition, it is the color associated with travel and help.
5. Convey purity and cleanliness with white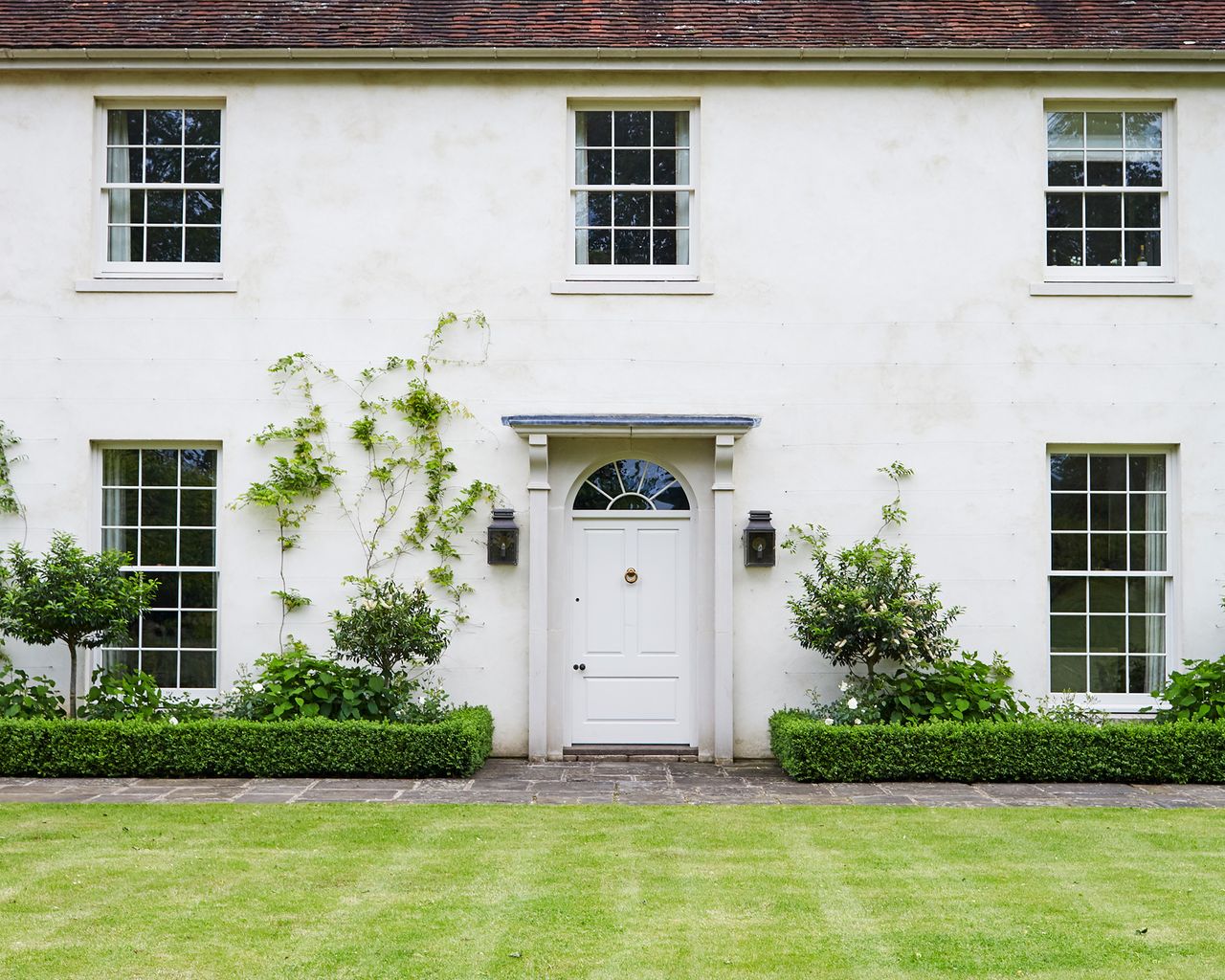 White evokes purity and cleanliness alongside confidence and sophistication, and is a wonderfully versatile color for both the interior and exterior of your home. Associated with the metal element in Feng Shui, white also represents precision, communication and luck. The west orientation is also linked to this element.
For an elegant yet subtle entrance, follow this home's example by painting the doorway to match the facade. Remember that cleaning a front door is a more regular task the lighter the color of the front door.
6. Warm up with red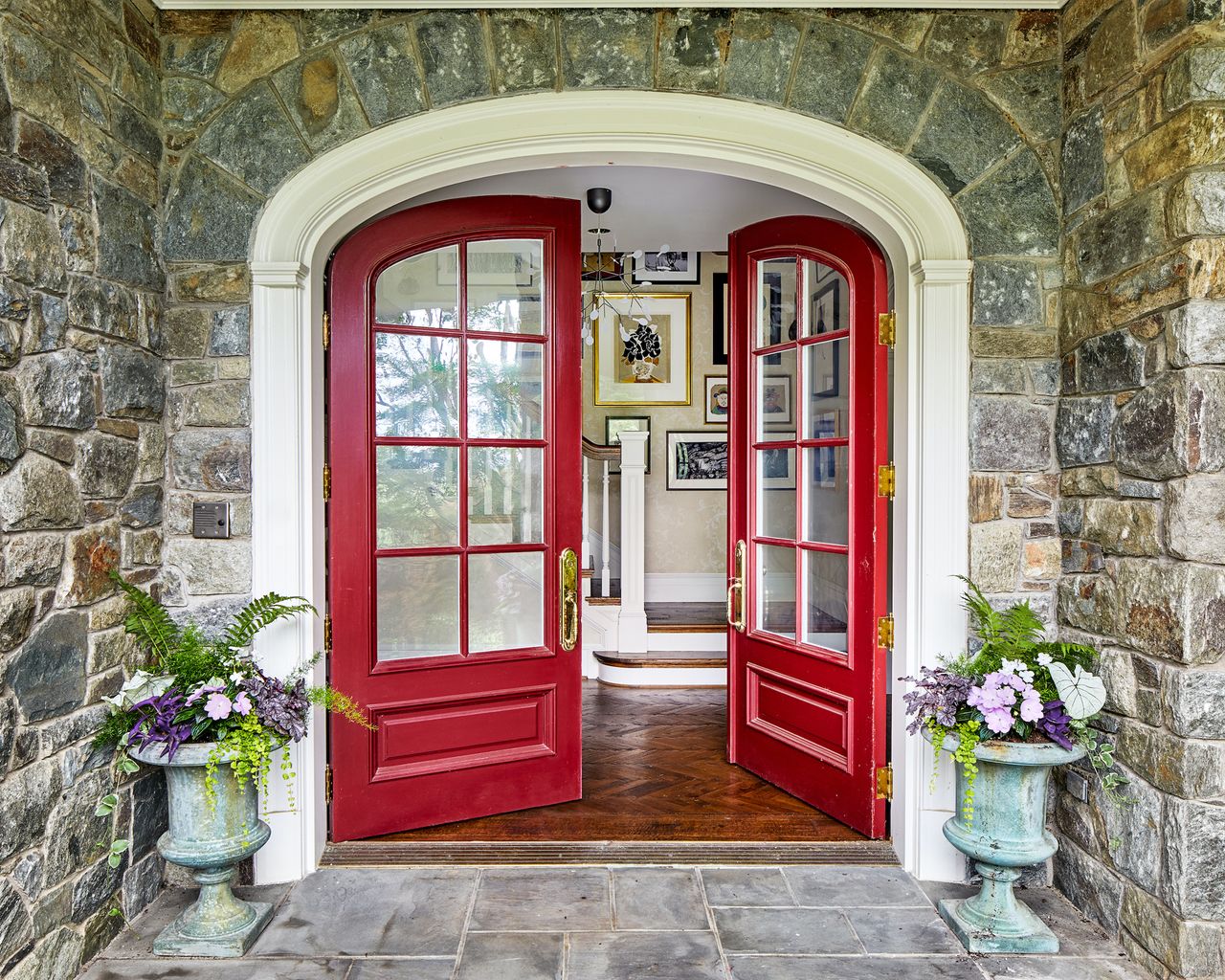 Thinking about red front door ideas? While the color might sound like a dramatic choice, it's actually a shade that's easy to live with and definitely worth considering.
Red is the most prosperous color in Feng Shui as well as a compelling and dominant color choice for negative energy transformation. Red is also associated with the element of fire, which represents passion, aspiration, and warmth.
As with any color used in decorating, there are many variations of red to choose from and it's a good idea to consider which direction your room is facing when making your choice. The principles associated with feng shui suggest that this color is best suited for south-facing doors. It's also a fantastic color choice for those living in colder climates.
7. Perky with pink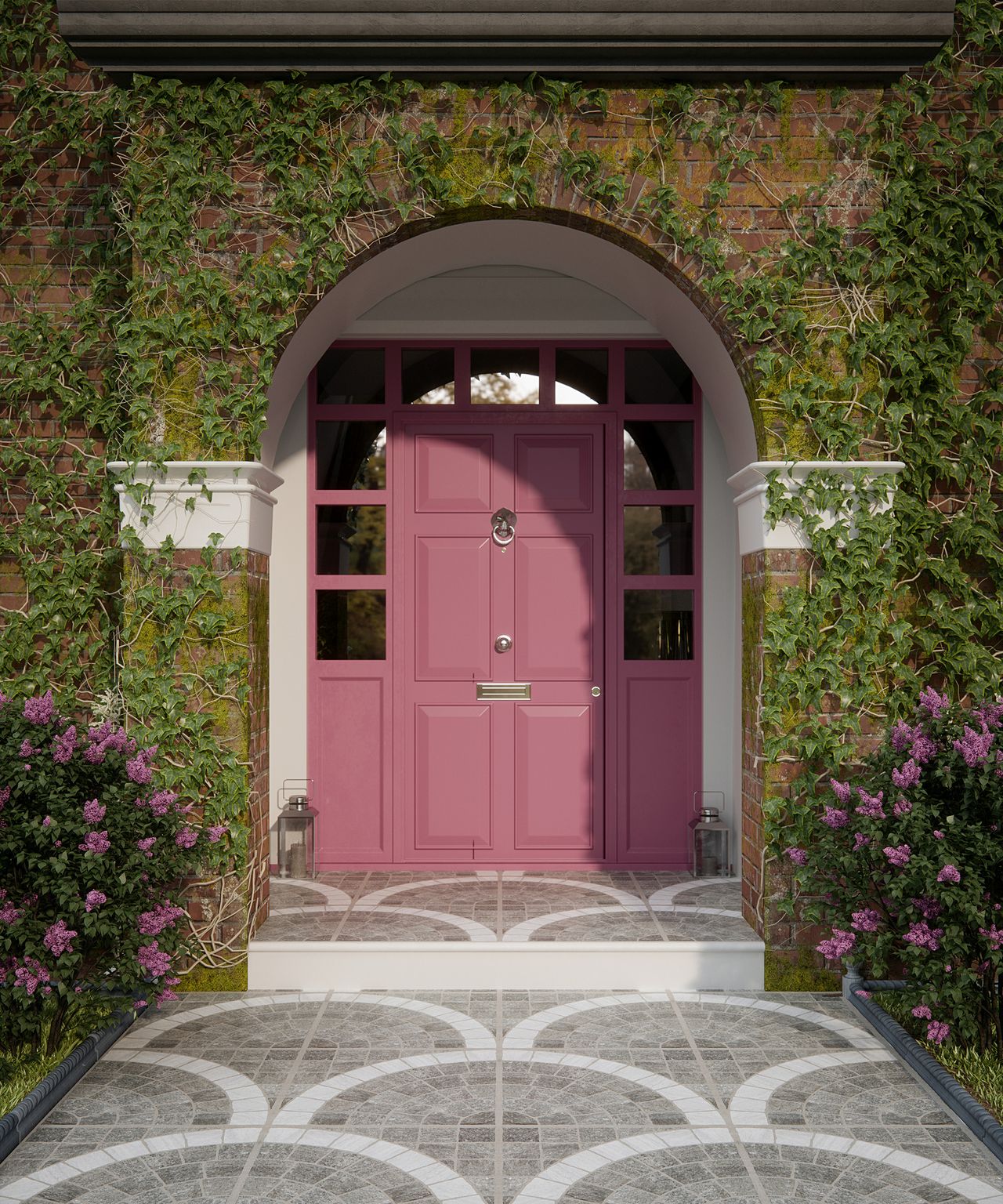 Pink front door ideas really work, especially if you own a south-facing home. This controversial hue can actually make a dependable door color that channels everything from a contemporary to a classic country style, as long as you find the right tone for your home's exterior. Not everyone would risk using pink for their front door color scheme, but the right shade can make any room look fresh, modern and very mature.
Color evokes different reactions in everyone, adds designer and decorator Sarah Fortescue. "For me, pink warms my heart, it cushions my whole body and I feel its warmth and comfort. There is an infinite spectrum of shades of pink, but shades of pink can vary greatly depending on the style of front door you are decorating, the history of the home, its size and function."
You will be satisfied too; Decorator Nicky Haslam has long believed that pink is the most flattering color for doors and walls. It's definitely worth considering the colors you use besides pink. Pink can also look wonderful next to black. Balance is key – but neutral colors alongside pink always make it look elegant.
8. Ground your space with brown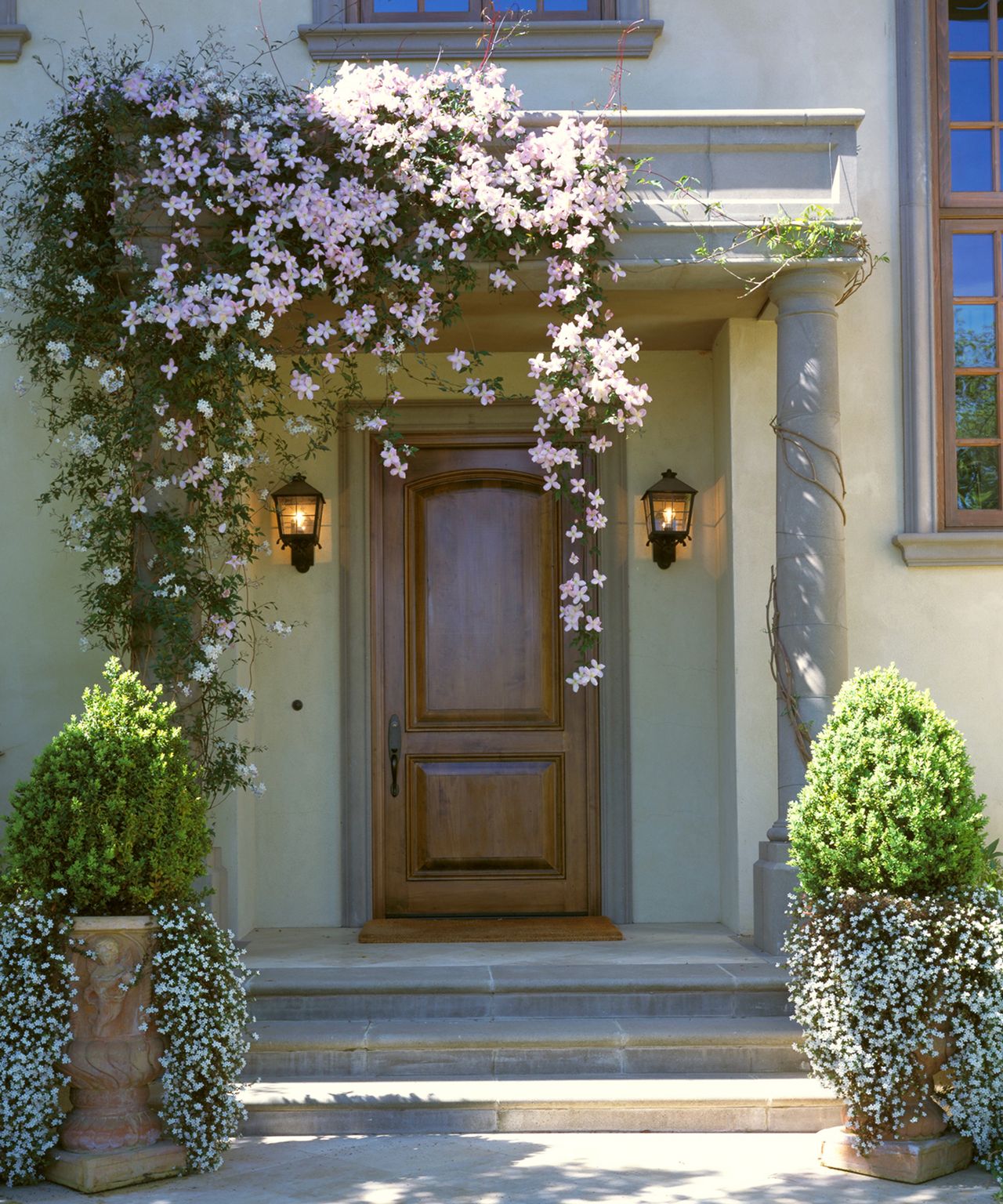 The return of the 1970s is influencing exterior and interior trends for 2022; with a palette of either a warm taupe or a light brown that blends beautifully with the surrounding nature. This season, there's a return to simple, understated color palettes – and the closeness to nature has evolved from forest green to a soft, neutral palette of fossil tones and natural elements.
In feng shui, brown and other grounding neutral colors are associated with the earth element and are used to balance, stabilize and nurture the occupants of the home.
When it comes to front door color ideas, brown is probably not on your decorating agenda, but it's time to revisit this once-loathed hue as the color suits just about any front door style.
9. Inspire with yellow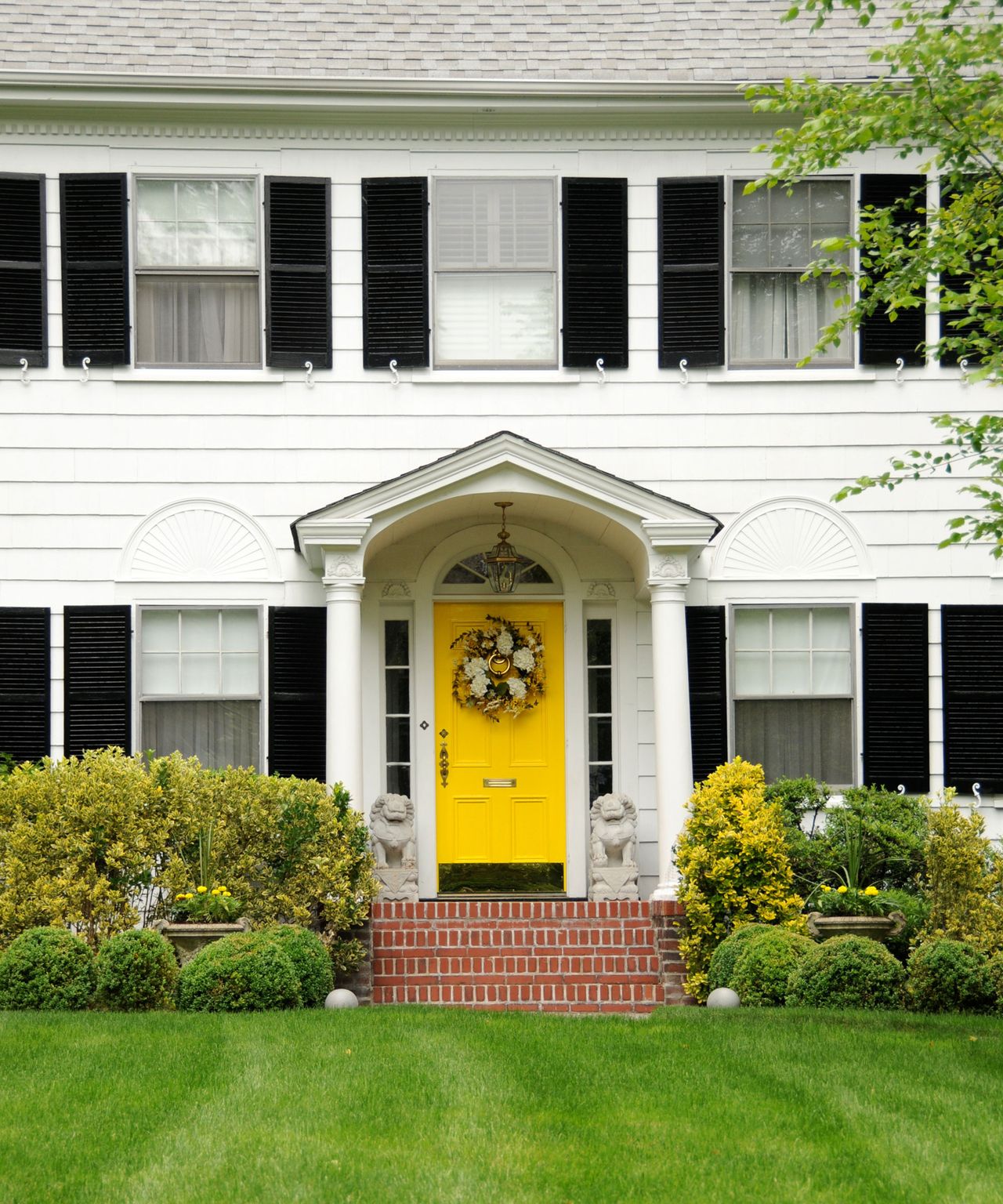 On the brighter, bolder end of the spectrum, yellow is a color of optimism. "The use of yellow can simultaneously create a soft and uplifting exterior. It takes us back to long, lazy, sun-kissed days in the Mediterranean and can brighten us up on gloomy days.
Yellow stands for stability, harmony and rootedness and is associated with the earth element. But yellow can be a difficult color to master, says Mike Fisher, creative director and founder of Studio Indigo. "Especially bright primary yellow, as despite its sunny and positive connotations, it can be quite harsh and childish." He likes to use a darker but richer fall version of yellow in shades of ocher or saffron, which work particularly well on the front door.
10. Make a lasting impression with purple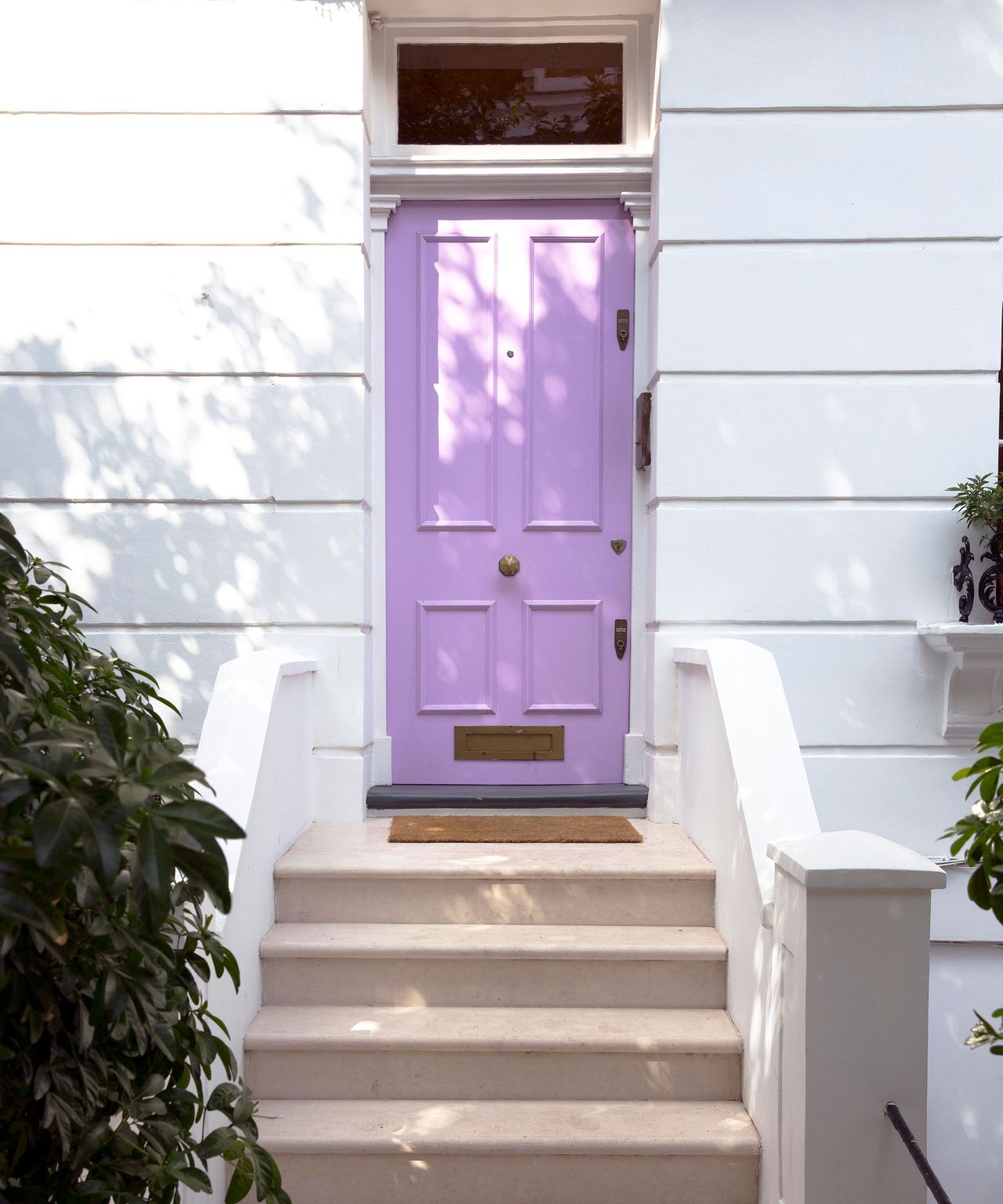 From the deepest aubergine tones and striking royal purples to lavender, mauve and soft lilac, purple is a versatile feng shui front door color that can be used on south-facing front doors to create a bold and beautiful aesthetic. Reminiscent of landscape views, soft lavenders can have a wonderfully therapeutic feel even outdoors.
While bold violets and royal purples like Pantone's Very Peri can be seen as bold choices, they can be great for decorating your home, says Paula Taylor, trend specialist at Graham & Brown.
"Last year we predicted that the eye-catching blue-purple would be a big player on the color scene – a bold splash that creates the vibrancy we so much need in these uncertain times."
What color brings luck for a front door?
The color red is considered a lucky charm for a front door in the sense of Feng Shui. Red represents good luck, protection and symbolizes fire energy. It's also a color of power and authority – an exceptional choice for those of us who want to make a bold statement.
How do I design my front door according to Feng Shui?
The principles for choosing the best feng shui facade paints are as follows:
North side door
Feng Shui Element: Water
Choose: Blue, Black, White and Gray
Avoid: Green, brown, yellow, red, purple, and pink
door to the south
Feng Shui Element: Fire
Choose: Red, Yellow, Pink and Purple
Avoid: Black, blue and brown
door to the east
Feng Shui element: wood
Choose: green, brown and neutral colors
Avoid: white, grey, yellow, pink and purple
West side door
Feng Shui Element: Metal
Choose: White, Gray, Yellow and Tan
Avoid: black, blue, red, purple, light yellow and pink