By Valuentum analysts
Demand for home improvement and construction jobs remains strong, according to one of our favorite income growth ideas, Home Depot Inc (NYSE:HD). When Home Depot reported its fourth quarter Earnings for the 2021 financial year (period ended January 30, 2022) in February 2022 the company beat both consensus top and bottom line estimates while issuing encouraging guidance for fiscal 2022.
Home Depot also announced a 15% sequential increase in its dividend in conjunction with its most recent earnings report. The new quarterly payout is $1.90 per share, or $7.60 per share on an annualized basis. HD stocks are yielding ~2.4% as of this writing.
Results update
In the fiscal fourth quarter, Home Depot's comparable revenue rose 8.1% (with U.S. comparable revenue growth of 7.6%), driven by a 12.4% increase in average ticket size, the one Compensated for a 3.4% decline in customer transactions compared to the prior-year level. Sales per retail square foot increased 8.3% during the period. During Home Depot's most recent conference call, management had the following to say about the company's comparable growth:
Our average comp ticket growth was primarily driven by inflation across multiple product categories. Core commodity categories were positive for our average ticket growth of approximately 185 basis points in the fourth quarter, driven by inflation in lumber, building materials and copper. — Ted Decker, CEO and President of Home Depot
Home Depot does its best to pass cost increases on to its customers, though there are limits to this strategy. Management noted that the number of transactions valued over $1,000 increased 18% in the fourth quarter of fiscal 2021 from a year earlier. This is primarily due to robust demand growth from the professional ("Pro") customer base, as demand growth from the do-it-yourself ("DIY") customer base has cooled after surging in the earlier stages of the coronavirus (" Covid19 pandemic. Overall, demand from both customer segments remained solid.
Here's additional commentary from Home Depot's latest earnings call (emphasis added):
We saw continued strength in both our professional and DIY customers. In the fourth quarter, Pro's revenue growth exceeded DIY's growth. Revenue growth for both our professional and DIY customers accelerated in the fourth quarter compared to the third quarter, showing strong two-year double-digit growth for both customer groups. Revenue utilizing our digital platforms grew about 6% in the fourth quarter and about 9% for the year. In the last two years, sales of our digital platforms have increased by over 100%. — CEO and President of Home Depot
Developing its digital footprint and omnichannel selling capabilities while focusing on improving the economics of its e-commerce operations remains a top priority for Home Depot. Management noted that "approximately 50% of (its) online orders in fiscal 2021 were fulfilled through (its) stores" during the company's most recent conference call. In-store fulfillment options are significantly more economical than home delivery fulfillment options.
Home Depot's GAAP revenue rose 11% year over year in the most recent fiscal quarter as the company benefited from comparable revenue growth, continued expansion of digital revenue, and the strength of its pro customer base. The company's GAAP gross margin fell ~35 basis points to 33.2% as inflationary headwinds took their toll. However, relatively modest total operating expense growth of 4% allowed Home Depot to grow its GAAP operating margin by ~85 basis points year over year in the most recent fiscal quarter.
Aside from economies of scale, Home Depot has benefited from reduced pandemic-related expenses, the absence of acquisition-related expenses (Home Depot closed its approximately $8 billion cash transaction for HD Supply in December 2020), and "sound expense management." to its CFO and EVP, Richard McPhail, during the company's recent conference call. The company's GAAP operating income for the most recent fiscal quarter increased 18% year over year and diluted GAAP earnings per share increased 21% year over year due to a combination of net income growth and a lower number of diluted shares outstanding. Home Depot ended fiscal 2021 on good terms.
cash flow cow
For full fiscal 2021, Home Depot grew its GAAP income by 11% (to $151.2 billion), GAAP operating income by 26% (to $23.0 billion), and GAAP diluted earnings per share up 30% YoY (reaching $15.53). The Company's comparable revenue increased over 11% in fiscal 2021 from fiscal 2020 levels due to modest growth in customer transactions and significant growth in its average ticket sizes. For reference, Home Depot's comparable sales are up almost 20% in fiscal 2020 over fiscal 2019, underscoring the continued momentum on this front.
Home Depot ended fiscal 2021 with net debt (including current debt) of $37.7 billion, a product of recent acquisition activity and its history of executing large-scale stock repurchase programs. We view its net debt as manageable given that Home Depot generated $14.0 billion in free cash flow in fiscal 2021, where free cash flow is defined as net operating cash flow less capital expenditures. Last fiscal year, Home Depot spent $7.0 billion to meet its dividend obligations. Home Depot also spent $14.8 billion to buy back its stock in fiscal 2021, funded in part from its balance sheet.
In our view, Home Depot should consider reducing its net debt by slowing the pace of its share buybacks. Our fair value estimate for Home Depot is $368 per share, derived through our discounted free cash flow analysis process. We believe the pace of management's share buybacks should reflect both balance sheet strength and whether the shares are trading at a discount to our estimate of their fair value. At the end of March 2022, Home Depot stock was trading at a significant discount to its fair value, and a moderate number of share buybacks at this level represents a good use of capital in our view.
The following chart below highlights the key valuation assumptions we used to arrive at our fair value estimate for Home Depot.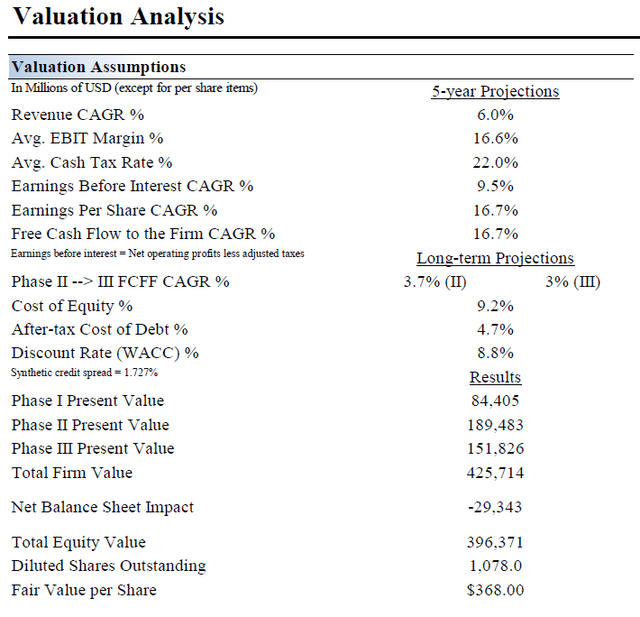 guidance
Looking ahead, Home Depot expects "slightly positive" sales and comparable store growth in fiscal 2022, and its operating margin is expected to be broadly flat with fiscal 2021 performance. We appreciate the resilience of Home Depot's business model, which Margin performance and growth trajectory. Home Depot expects its near-term growth rate to continue to slow, as it did from fiscal 2020 through fiscal 2021, as the home improvement boom tailwinds fade. With that in mind, we appreciate that Home Depot expects to continue to build on past successes (in other words, its comparable sales growth is expected to remain positive in fiscal 2022 after delivering outstanding performances in both fiscal 2020 and fiscal 2021 ).

Home Depot sees itself as targeting a more than $900 billion Total Addressable Market ("TAM") in North America, with half of that coming from its consumer (or DIY) customer base and the other half coming from its professional customer base. Pro operations include the Maintenance, Repair and Operations ("MRO") segment, which was significantly expanded with the acquisition of HD Supply. For reference, Home Depot has stores in the US (including US territories), Canada and Mexico, and a sizable MRO presence throughout North America. The company expects its market share to be ~17%, with ample room to grow that number in the future.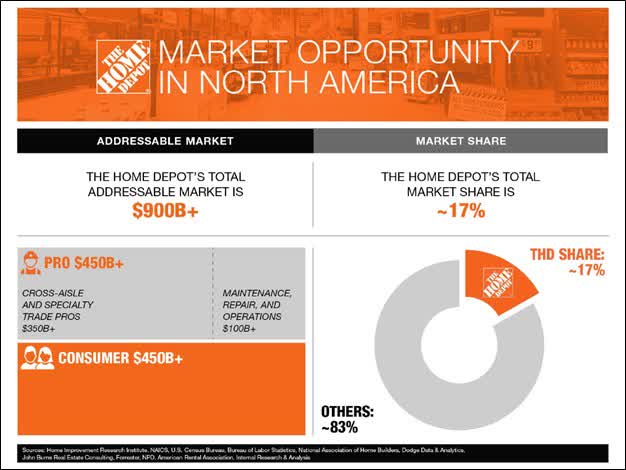 Final Thoughts
We appreciate that Home Depot expects a continuation of its growth story. The company is an excellent free cash flow generator for a large TAM with ample room for future growth, although we'd like to see Home Depot's net debt shift down over the long term.
So far, Home Depot has done an excellent job of offsetting inflationary headwinds through price hikes, improvements in the economics of its e-commerce businesses, controlled growth in operating expenses, and economies of scale. Looking ahead, we expect Home Depot to continue growing its payout at a robust pace. The hardware store stands for a huge dividend growth idea.