Sometimes browsing through laundry room remodels is the best way to get your remodel off the ground. After all, it's not easy to look at a busy, crowded existing space and think of "before" as "after."
So we asked some of our favorite designers to provide a laundry room remodel before and after so we can show you what can be achieved with the right mix of laundry room ideas and advice.
Laundry room remodel – before and after
Below we present realized laundry rooms and utility room ideas with expert commentary from the interior designers who created these stunning spaces. You will see how old laundry rooms that are outdated and cramped are remodeled into light, airy and contemporary laundry rooms.
1. From dark and dingy to bold and eclectic
According to
"I was my own client on this project," says Kim Armstrong, chief designer and owner of Kim Armstrong Interior Design.
"Every time I walked into my small laundry room, I was frustrated with the lack of organization and storage in the laundry room. Also, the room itself was so boring and you didn't feel good using the room. So when it came time to do this renovation, I knew I had to come up with a floor plan that would make better use of space and add a ton more storage space. I also love color and I love the pattern, so I knew the final design had to include those two elements."
"During that time I was working on a couple of client projects and in my pile of fabric options I had a sample of the Celerie Kemble Schumacher fabric and I kinda knew I needed to use that in my laundry room. I wanted to use this fabric in an effective way, so I decided not only to use it as a decorative Roman blind, but also to make a vanity skirt out of it. I wanted to keep the space playful, so I paired the Spoonflower Cocoa Dalmatian Dots wallpaper with the fabric to add a playful element to the room."
"I'm very careful about how I do laundry, so including the sink in this design plan was critical to the usability of the space for me. I also rotated the washer and dryer so they were away from the door to our powdered bathroom, really opening up the flow of traffic into the powdered bathroom.'
2. A new build space is brought to life with pastel blue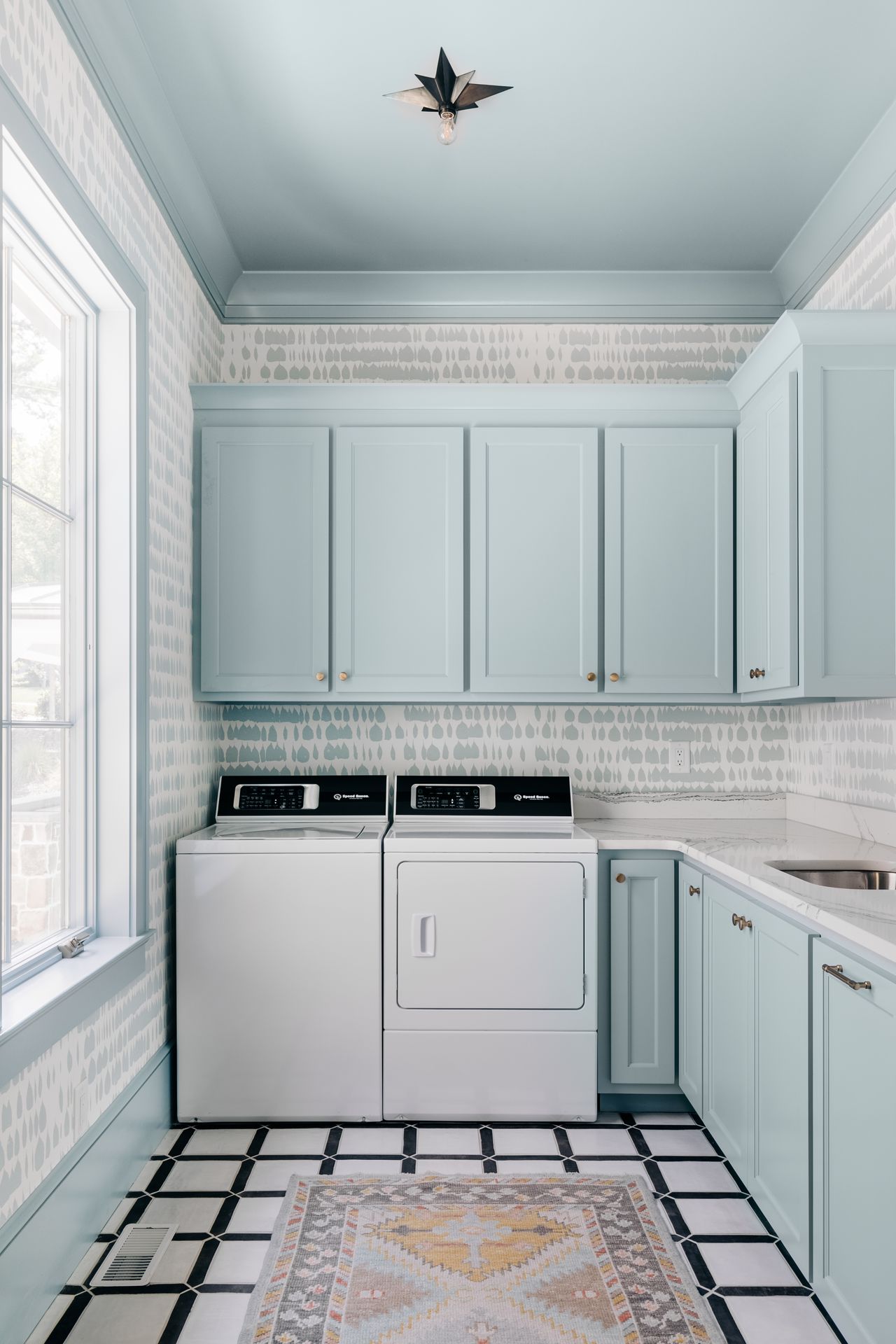 According to
"This laundry room remodel came together beautifully — we picked the geometric tiles first and loved the blue cabinetry and crown molding," says Caroline Brackett, lead designer and owner of Caroline Brackett Studio of Design. "It is a beautiful and functional laundry room. There's a lot going on and a lot of design elements, but they work very well together. The wallpaper adds subtle pattern and interest to the room. It's a nice place to do laundry."
3. From a dark kitchen to a light, airy and practical laundry room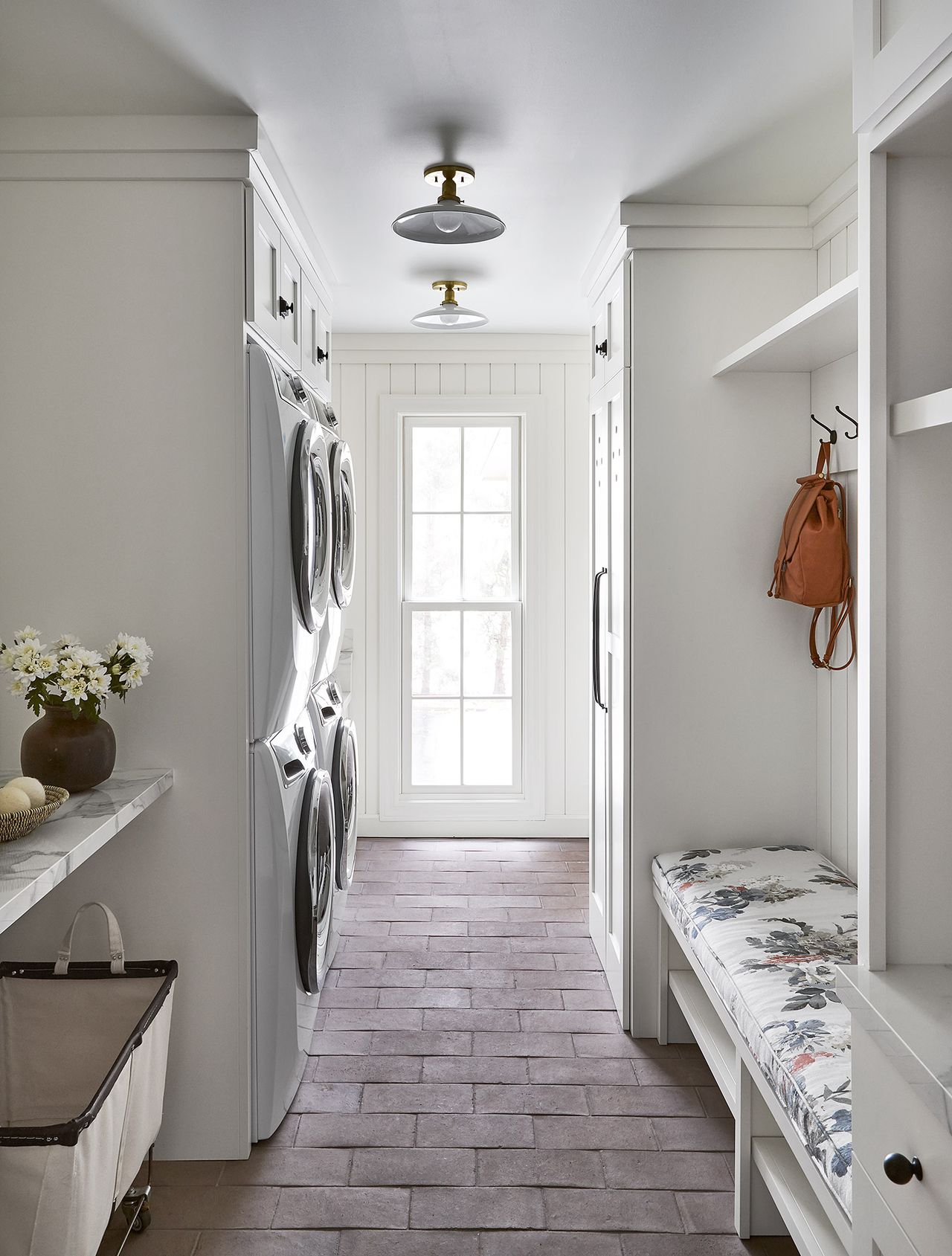 According to
"When designing this laundry room, my goal was to combine pleasing style with functionality, as a laundry room with a multi-purpose sink can really be life-changing; Now, no cleaning task is too small for this homeowner, from bathing dogs to washing large exercise equipment," says Alessia Zanchi Loffredo, owner and designer at reDesign home's Chicago office.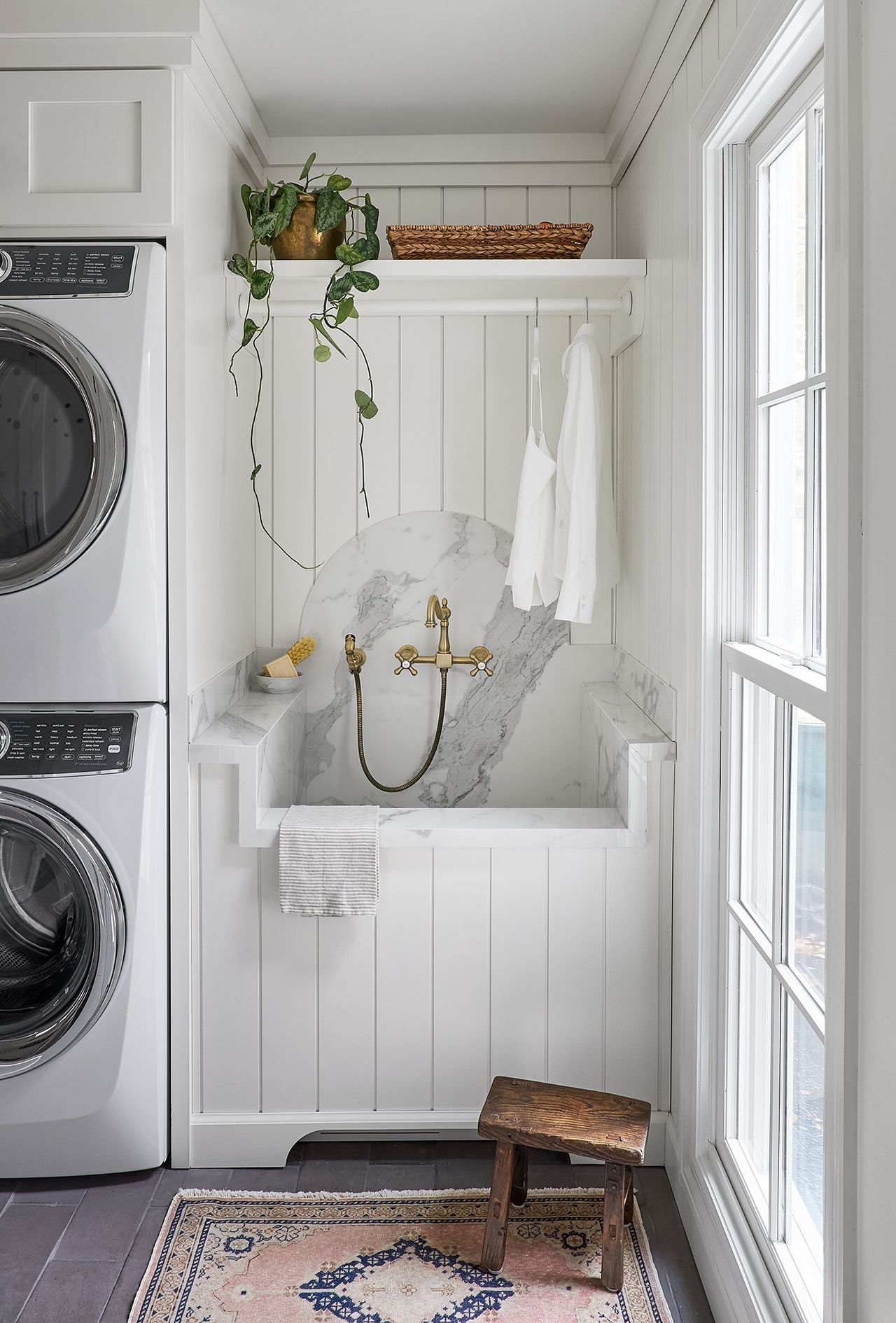 "The main scope of the renovation was a kitchen. To increase the square footage for the kitchen and make room for a walk-in pantry, I flipped the original kitchen layout, including the original mudroom and part of the garage. The new space planning allowed for a large enough space connected to the garage to provide a laundry room and laundry room that not only offers storage but also a dual washer and dryer and a custom oversized sink for multi-purpose functions," continues Alessia away.
4. A storage room becomes a valuable washroom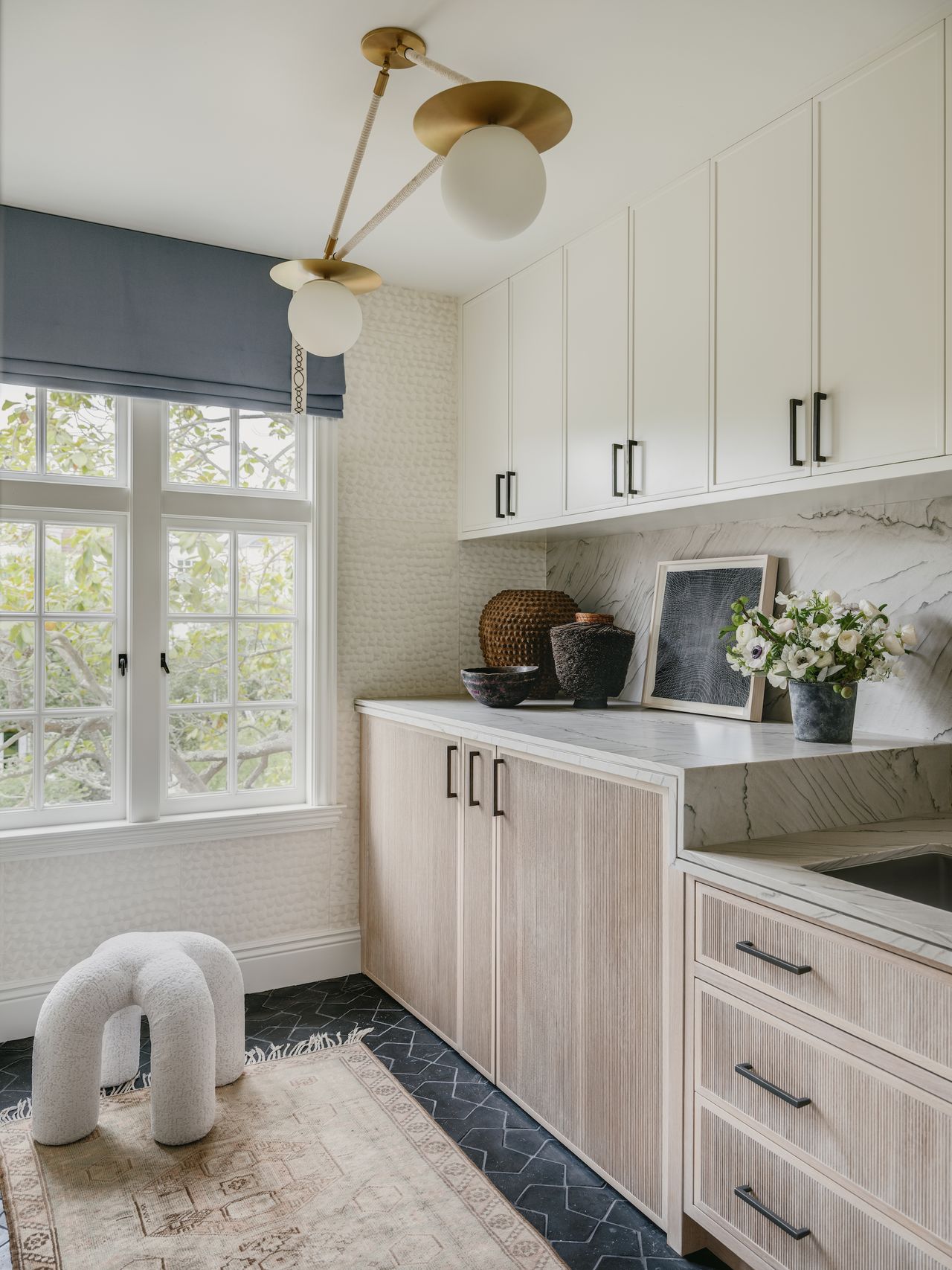 According to
"Laundrying is a chore as it is, why not treat yourself to a functional yet stunning space to take on this mundane task," says Heather K. Bernstein, owner and chief designer at HKB Interior Design. "I wanted to treat this space as an extension of the kitchen or any other space with bespoke, thoughtfully designed cabinetry. The swing away doors reveal the workhorse machines behind, but when everything is closed this is a beautiful space in its own right. Cheers for never being afraid to do laundry again.
5. An outdated laundry room is transformed into a modern space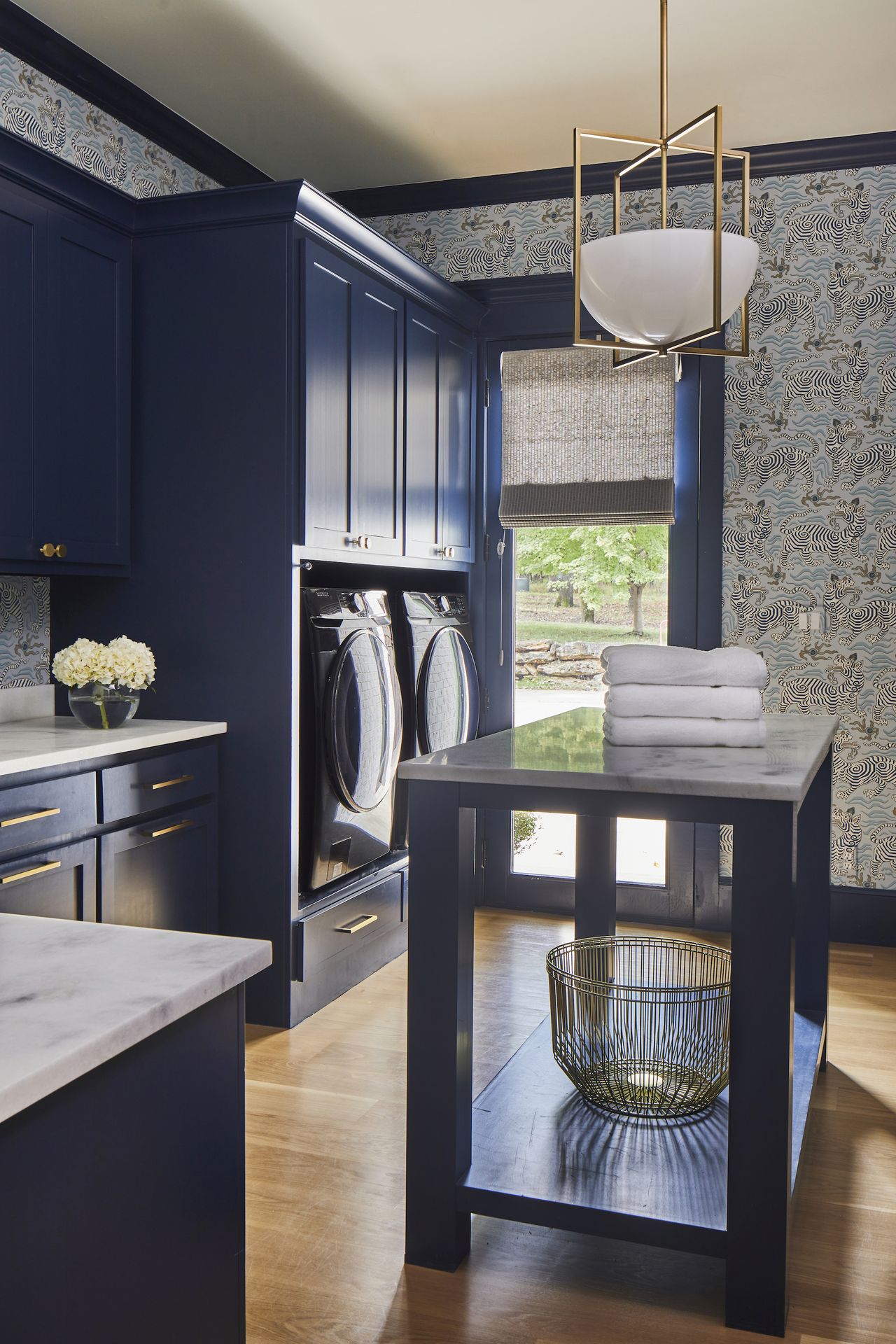 According to
"Small details in a laundry room can make a big impact," says Mel Bean, founder and chief designer of Mel Bean Interiors. "The goal was to maximize the space in a way that is both functional and visually appealing. We added color to the cabinets, put on Clarence House Tibetan wallpaper, gave it a new floor and added a small island to enhance the space.'
6. Poorly configured rooms converted to create a separate laundry room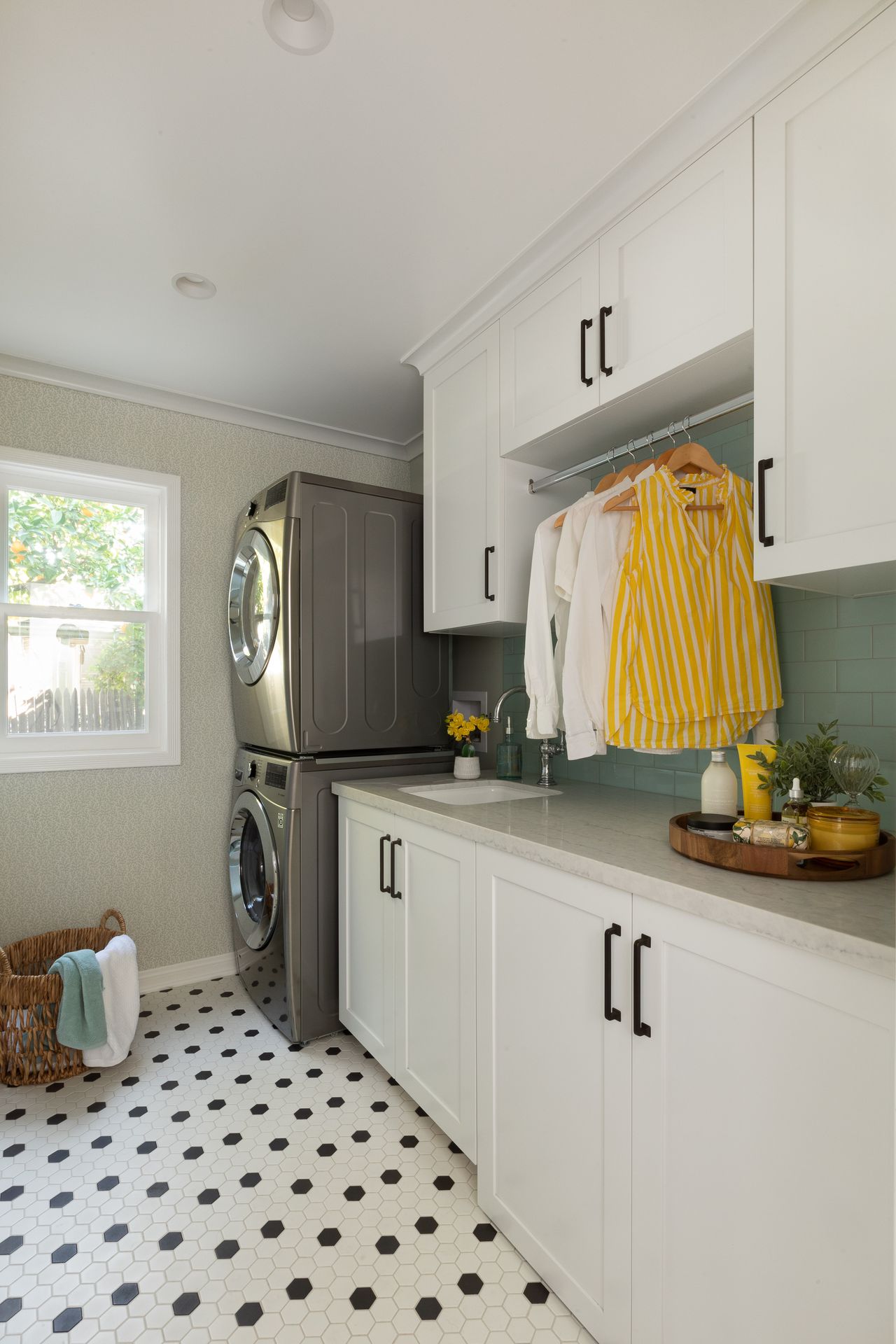 According to
The kitchen was originally in the house, built in the 1940's but very self contained. Amalia opened up the wall between the kitchen and dining room, closed an exterior window and a laundry room door to give homeowners more counter space and laundry room closet ideas—all on a modest budget.
"The laundry room had too many openings (four doors and one window) so we closed the openings to make room for clever storage solutions and added a colorful backsplash and wallpaper," says Amalia Gal, founder and principal designer of Amalia Gal interior design.
How can I update my old laundry room?
There are so many beautiful ways to modernize an old laundry room.
If budget allows, consider updating your laundry room cabinet ideas. Cabinets are a natural part of a well thought out laundry room design. They allow for all the essential washroom storage and good washroom organization while still closing the door on visible messes so they're a great investment. If you need laundry room cabinets but aren't planning a full renovation any time soon, a simple off-the-shelf kitchen wall cabinet is a more than adequate replacement.
However, if you're looking for an instant update, check out the best laundry room color ideas for inspiration. The advantage of lacquered furniture is the almost limitless choice of colors, which gives you free rein.
Color is important in all room designs, and it's all too easy to forget about color when it comes to laundry rooms with the wide range of wood and white schemes available. Likewise, a pop of color can be added by a backsplash in jewel-like colors, or you can focus on adding color with furniture like stools or chairs.