Summer decorating ideas are all about bringing joy and happiness into the home and celebrating the colors and landmarks of the season. Whether at home in the garden or traveling to exotic climes, summer is a happy time that brings fond memories to many, so why not bring some of that happiness into our interiors?
With the backyard in all its glory and full of color, nature is a great place to start when it comes to decorating ideas and inspiration. To bring the outside into play, choose bold floral and rich botanical prints and hot, vibrant colors. To complete the look, make sure to add lots of plants and fresh flowers.
To inspire you to bring some summer refreshment to your home, we've rounded up a range of cheerful decorating ideas that will bring summer magic no matter what the weather.
Decorating ideas for summer
Summer decorating ideas are full of bright and bold colors that will instantly put a smile on your face, so why not bring some of that into your home? Bringing the best parts of summer into your home is a great way to dress up your home and bring a touch of the outside in.
Whether it's bold prints, nautical motifs, the best of summer snaps, or inspiration from nature, there are some really simple ways you can give your home a makeover and add a touch of the summer season to your home.
1. Decorate in sun tones
A decoration with yellow brings summer magic into your home. An instant mood booster that will get you going no matter the weather.
'Decorating choices are a natural reflection of the times we live in, there is a real desire for cheerful, welcoming and upbeat hues, reflected in the emergence of sunny and energetic hues like Indian Yellow and Giallo. says Ruth Mottershead, creative director of Little Greene. "Try pairing it with bold green 'Hopper' and touches of deep summer sky blue to create a vibrant and welcoming interior."
2. Decorate with chinoiserie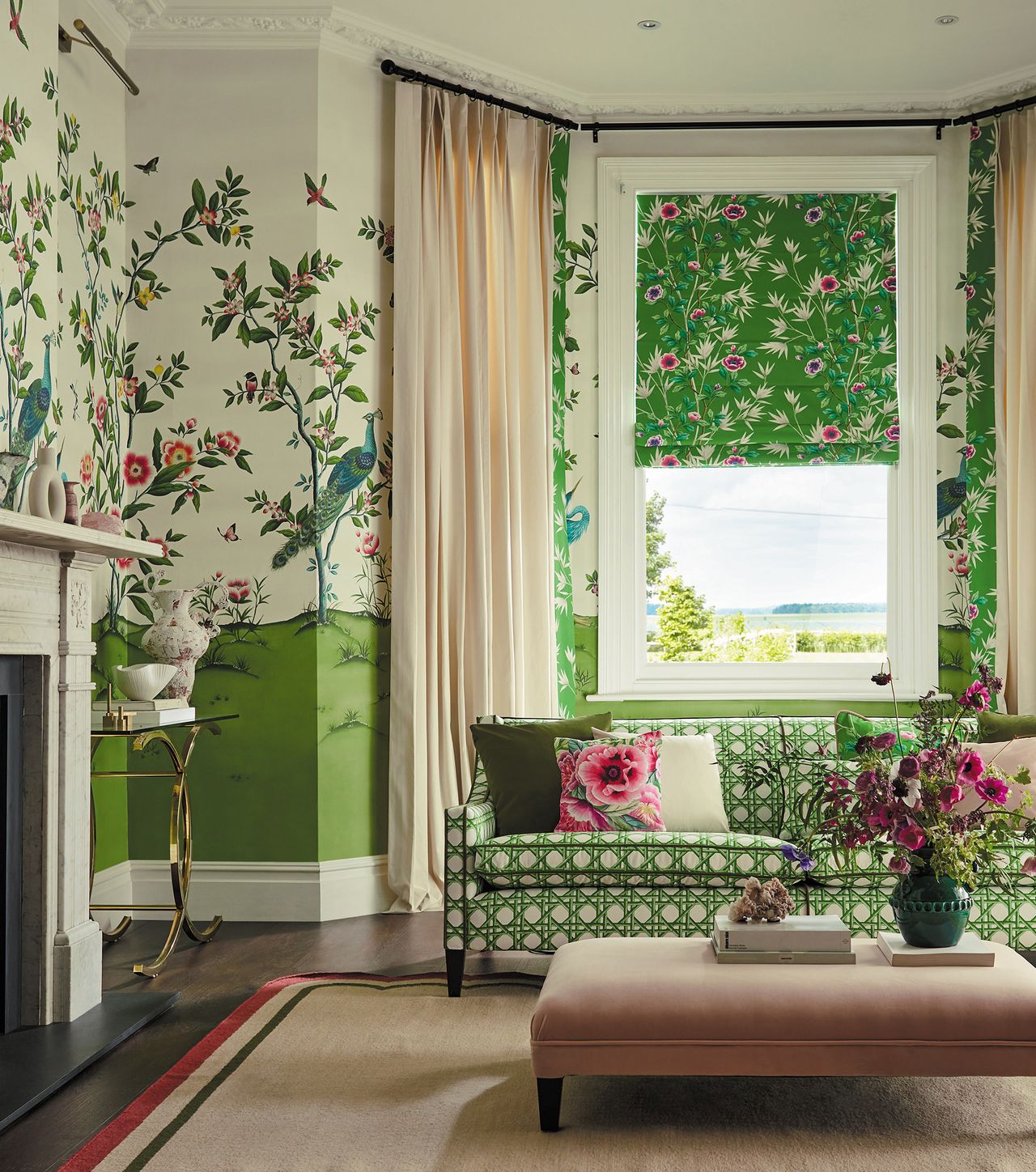 Rooted in the beautiful landscapes of China, Japan and other Asian countries, chinoiserie prints are the perfect way to bring elegance and the exotic into your home.
Dating back to the mid-18th century, the style, often characterized by its sweeping shapes of flowers, birds and leaves, has enjoyed great popularity over the centuries and continues to fascinate interior designers today. While there are companies offering hand-painted bespoke murals, there is a growing number of brands offering printed wallpaper and fabrics inspired by whimsical style.
This season, artist Diane Hill has collaborated with Harlequin to launch a brand new collection of fun prints that celebrate the beauty of nature. Based on Diane's hand-painted artwork, the collection features bold peony prints set against classic chinoiserie designs, offset by simple lattice bamboo-based geometry, all surrounded by a saturated palette of bright jewel tones.
"The collection aims to encourage and inspire people to decorate and own their room boldly and uncompromisingly," explains Diane Hill. "We've based much of the color on traditional 18th-century chinoiserie with a modern twist. The use of royal green, yellow, sky blue and pink was very traditional in the 18th century, so we wanted to draw on that."
3. Add zest to a kitchen with fruit prints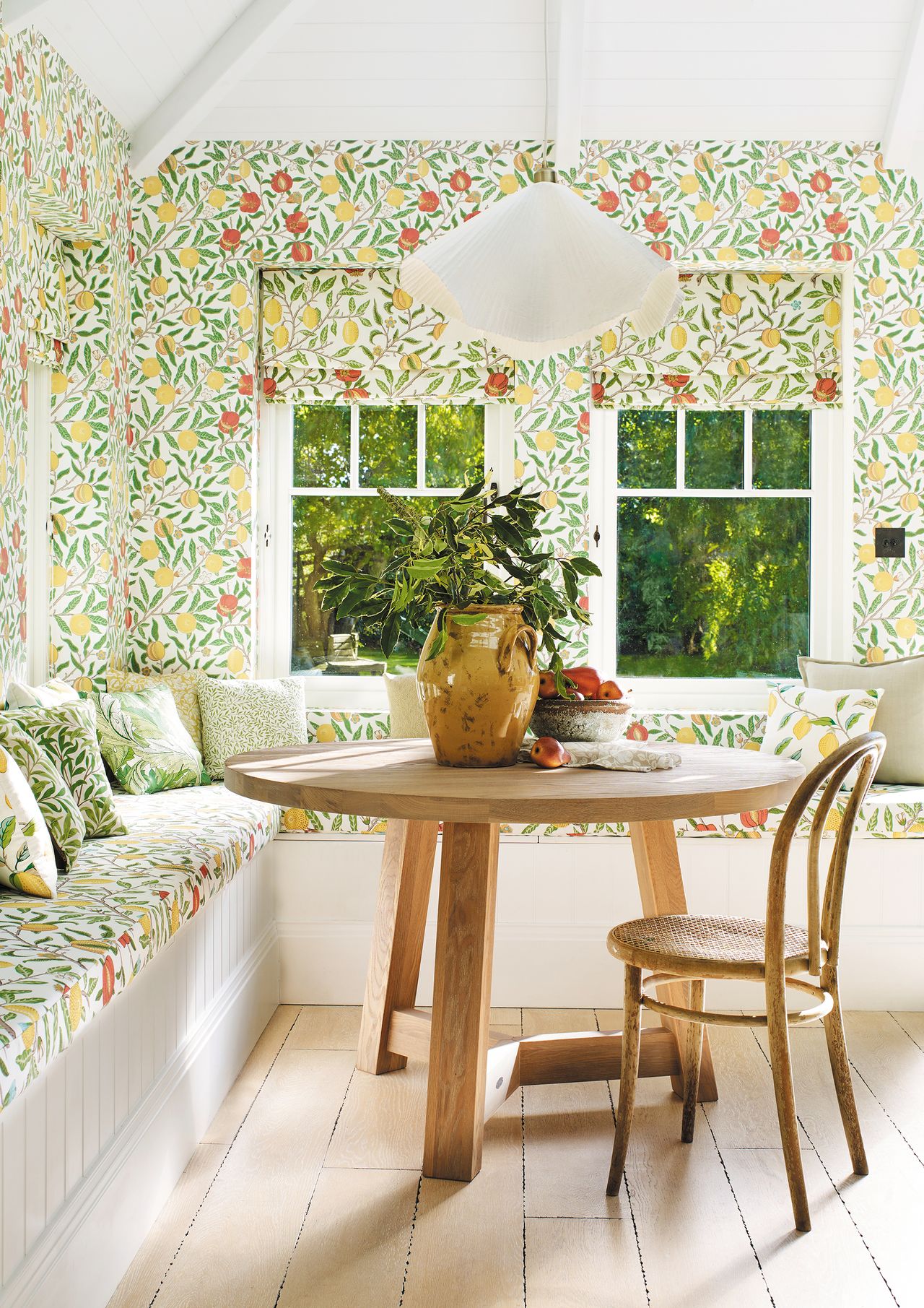 If there's one place in our home that needs to feel joyful and uplifting, it's the kitchen; As an everyday space where we spend a lot of time, it is important that it is a space that makes us happy.
Wallpaper ideas are a brilliant way to instantly breathe life into a eat-in kitchen – for a summer feel all year round try a garden-inspired pattern in citrus tones, like Morris & Co's Simply Morris Fruit design, the with lemons and pomegranates is ripe.
4. Introduce vigorous flowers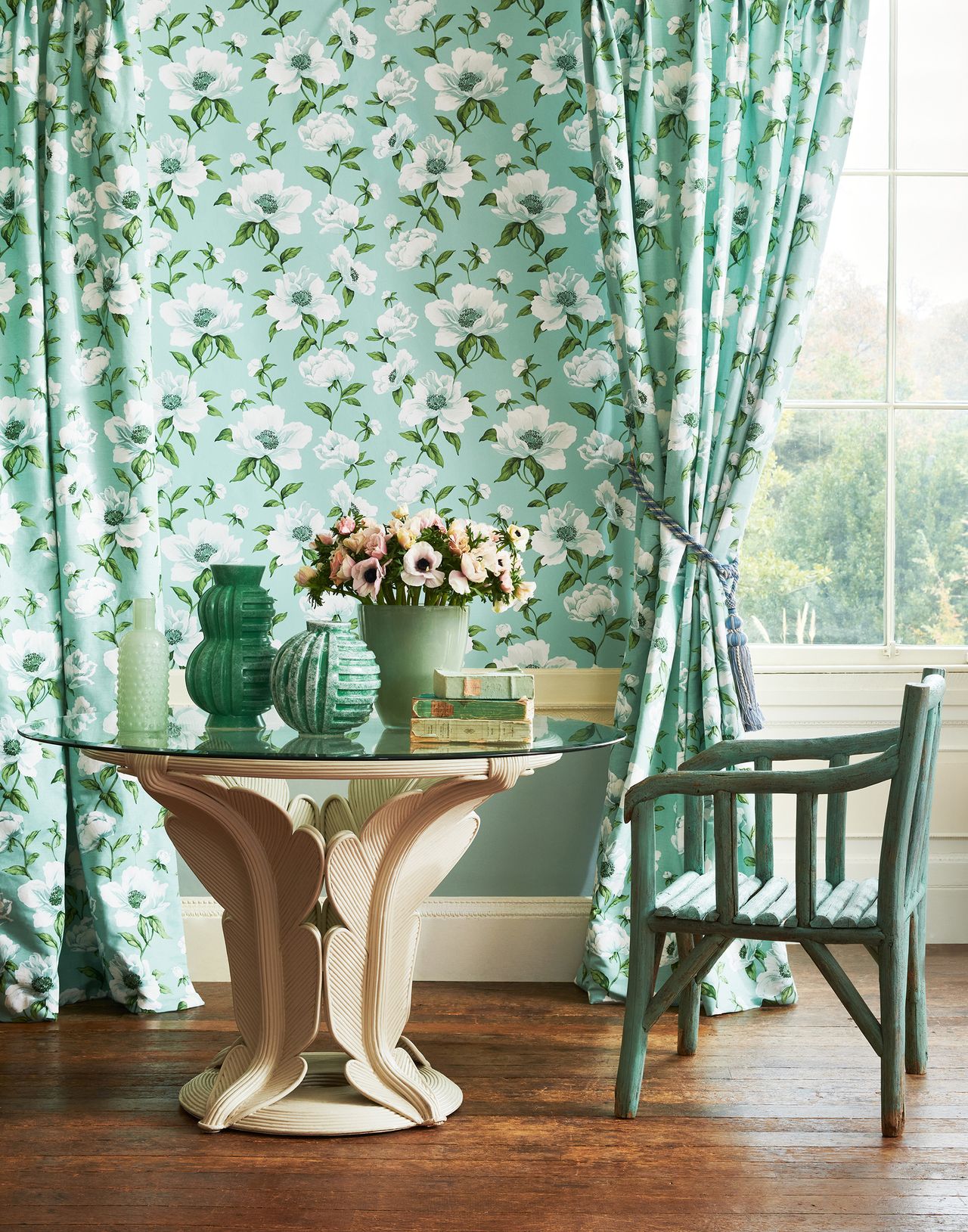 Often occasional spaces set aside for entertaining, dining rooms are a great place to be bold with summery decor, and floral room decor ideas are guaranteed to make an instant statement. For a wow factor, consider wallpapering wall to wall with a large scale floral print – you can even go all chintz by adding matching curtains.
When choosing wallpaper for the dining room, be sure to consider size, advises Ruth Mottershead, creative director at Little Greene.
"Consider ceiling height when choosing your wallpaper, opting for a smaller scale if you have low ceilings and larger, more dramatic designs if you have high ceilings or large wall areas. If you have wainscoting in the room, fill in the panels with wallpaper and paint the woodwork a contrasting shade for a cohesive and layered interior.'
5. Set a pretty table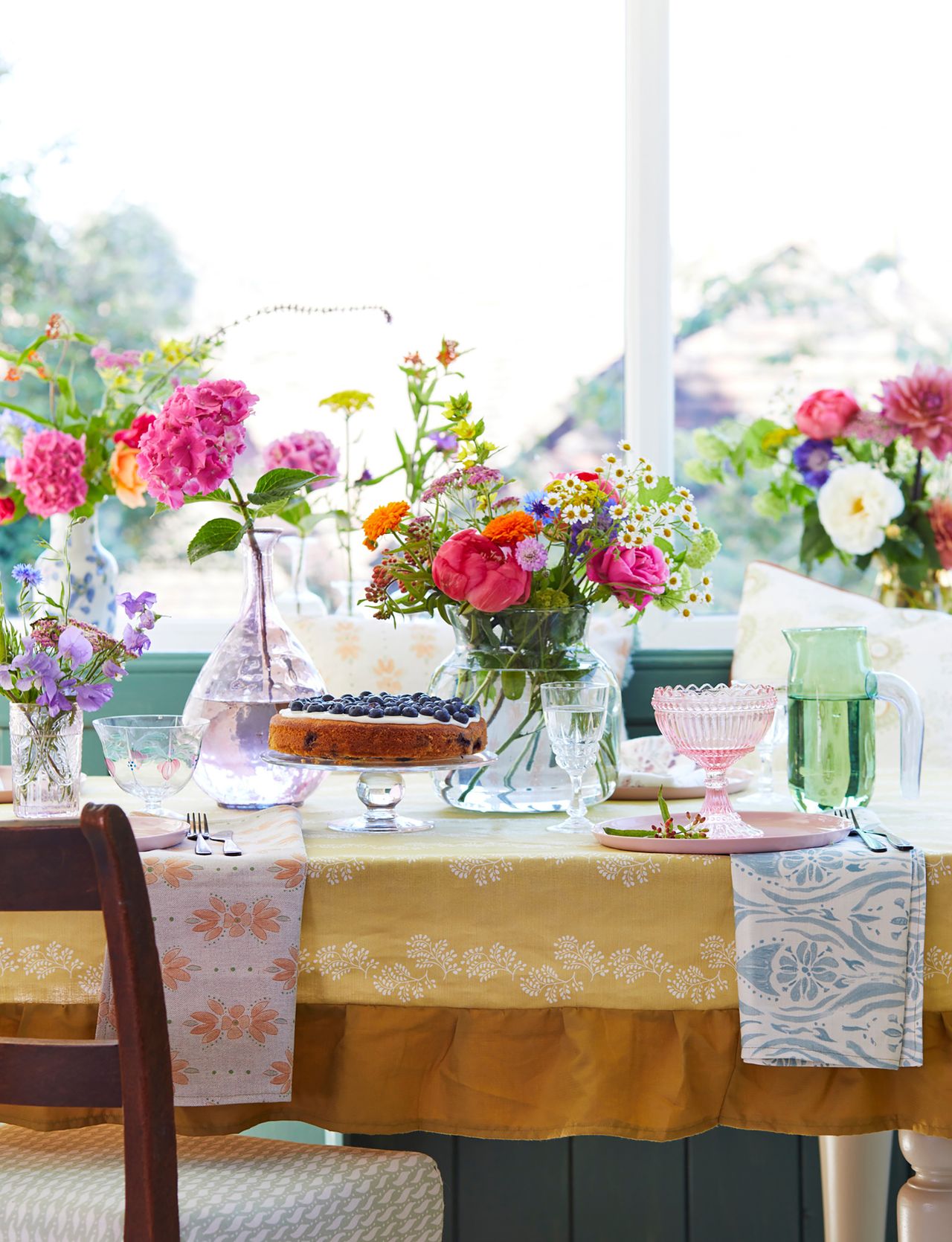 Tablescaping is a way to celebrate summer decorating ideas, and you can create a beautiful backdrop for a summer tea party by layering patterned linens, colored glassware and lots of fresh flowers, suggests fabric designer Pippa Blacker.
"I like to use my fabrics for guests and I often choose a bold color for the tablecloth, perhaps with a pattern that gives a sense of flow and movement. I then layer with linen napkins with a smaller print and softer colors. The look is completed by adding flowers, colored glass and, where appropriate, colored candles. I love a colourful, relaxed and fun summer table."
6. Design a conservatory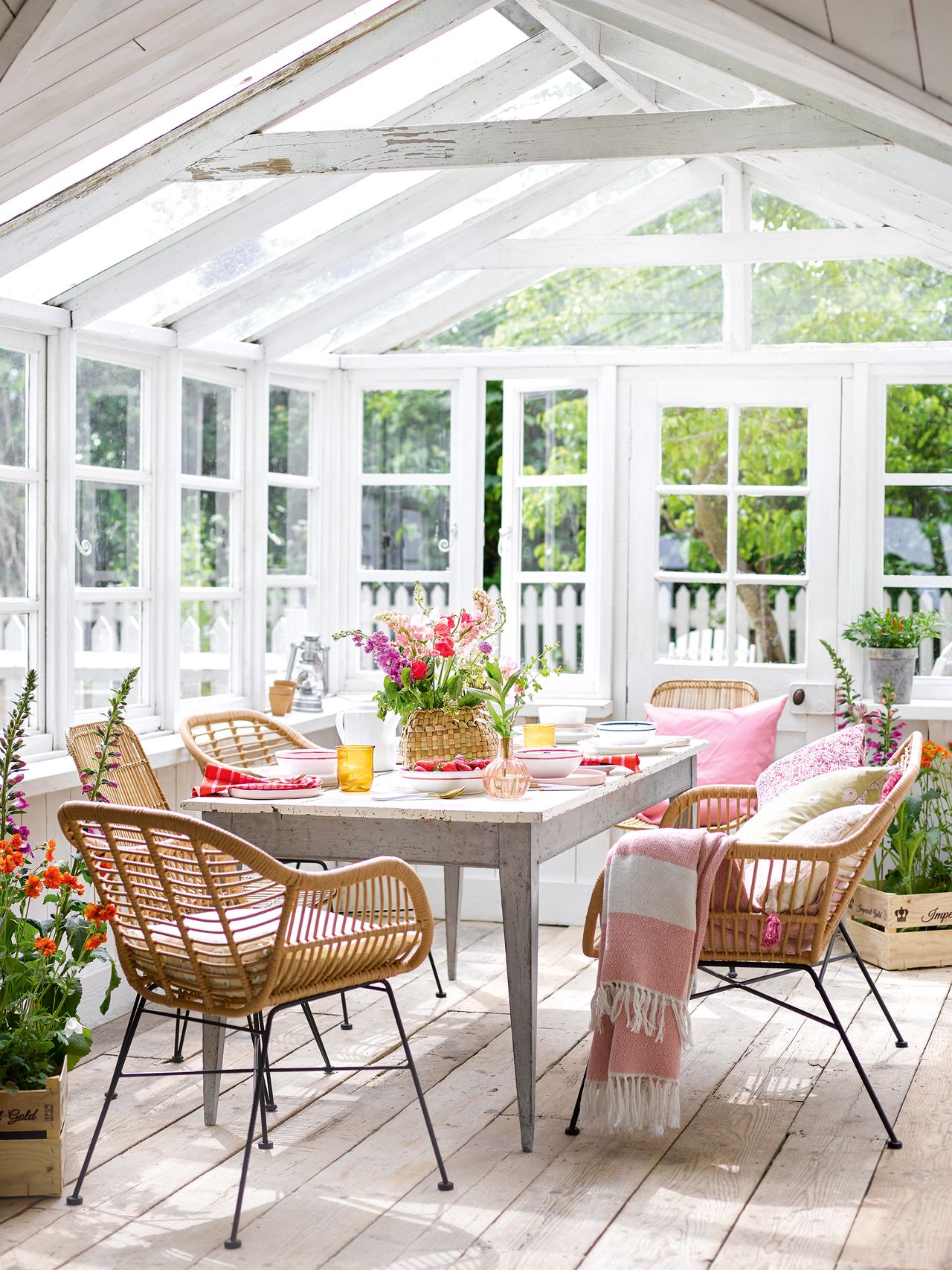 Make the most of the warm weather by crafting your sunroom ideas with summery decor for a dinner party. Rattan chairs are guaranteed to give that holiday vibe, so layer them with cushions in a mix of bright, folksy prints and don't forget throws to keep it cozy when the evening chills set in.
To create an eye-catching table, choose colored glass mugs that come to life in the sunlight and showcase vibrant floral arrangements in woven baskets for a relaxed country feel.
7. Cover a headboard with a cheerful fabric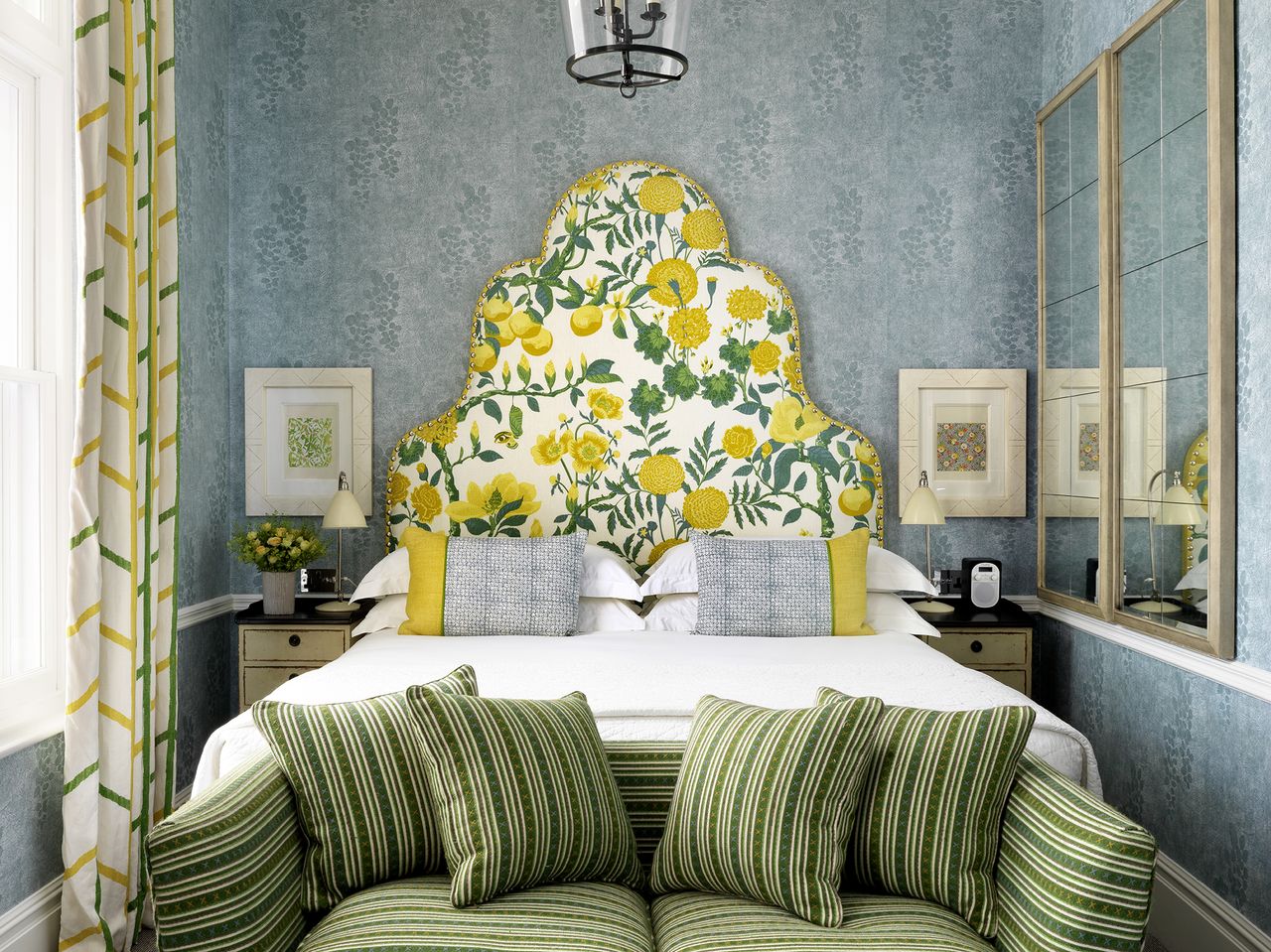 Headboard ideas in cheerful prints are a fabulous way to bring a touch of summer decor to your bedroom without cluttering the space. Bursting with the delights of the Mediterranean, Fanny Shorter's fabric features a medley of chrysanthemums, oranges and geraniums in a sunny yellow that's an apt choice and pairs beautifully with a calming, watery wallpaper.
"We balanced the large-scale print of the headboard with one of our favorite fabrics on the walls called Mudprint, which we designed for Christopher Farr Cloth," says interior designer Kit Kemp. "The blue color scheme creates a tranquil backdrop that transports you to the Mediterranean, while the painted layered quality adds a subtle movement and textured feel to the space."
8. Fill the house with plants and flowers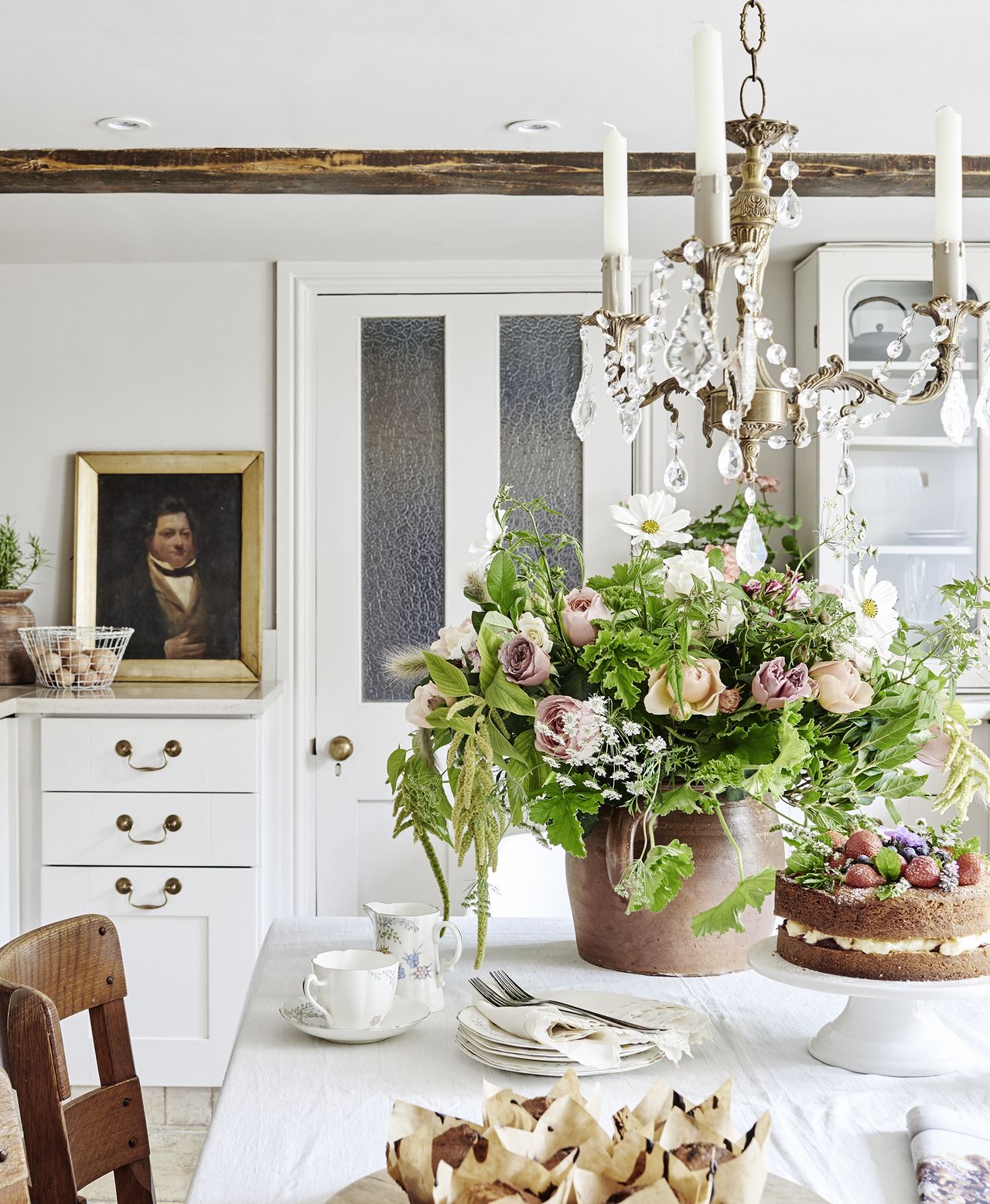 Summer really is one of the most beautiful times of the year, so why not take inspiration from nature and bring beautiful flowers and plants into your home? Not only will you look and smell beautiful, but you'll look good too. Being surrounded by plants and nature is proven to have a positive impact on our wellbeing and will brighten your day in more ways than one.
9. Keep it bright with white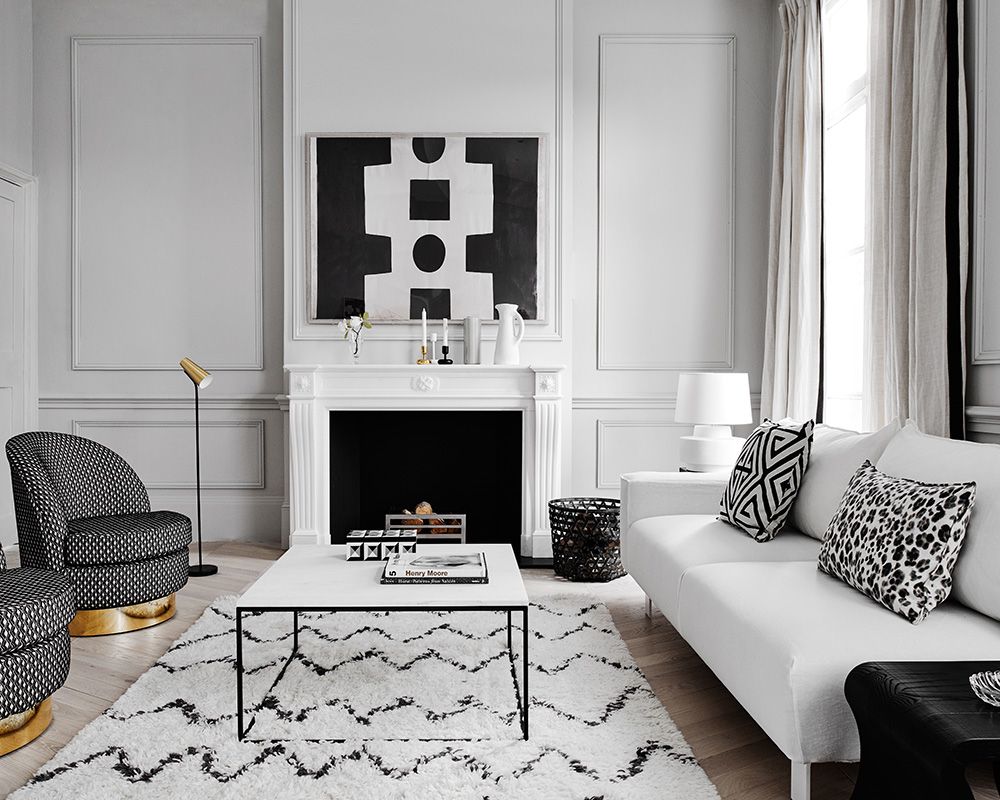 During the summer season, the days are much longer and much brighter, meaning we get more natural light. This should be used to the full when decorating your home. The trick is to get as much natural light into the room as possible, and using white as the base color can really help with that.
Try keeping walls, furniture, and key pieces white or light stone colors, then use wall art and subtle decorative items to add a pop of color. So you can enjoy the natural brightness and beautiful bold colors of summer – the best of both worlds.
10. Try a nautical theme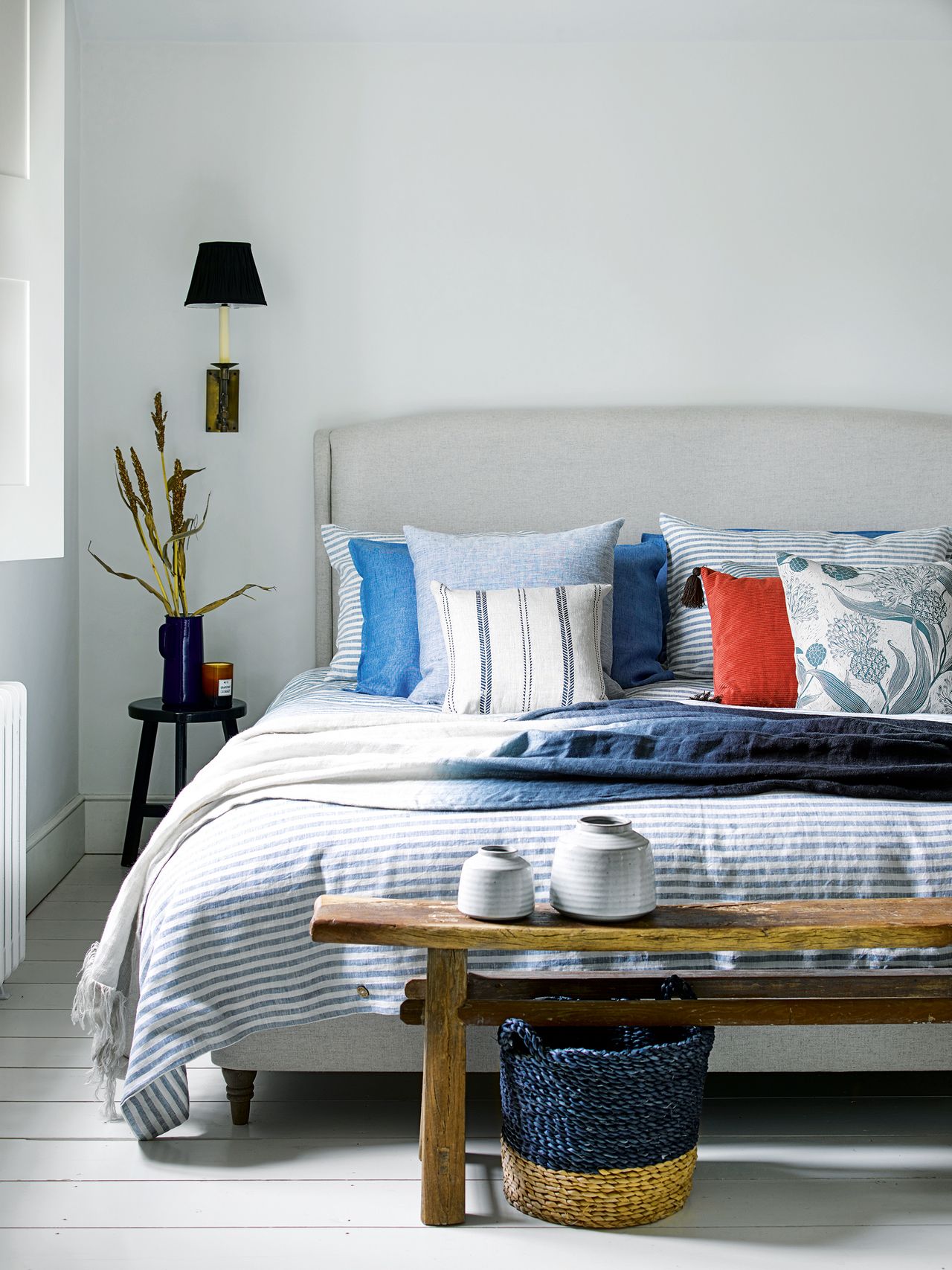 Whenever you think of summer decorating ideas, it's hard not to think of a gorgeous room inspired by the beach, sun, blue sky and sea. Incorporating this type of theme into your interior design is a really effective way to bring the summer season into your home.
There is nothing better than a trip to the sea to soothe the soul. So why not bring some coastal tranquility into the bedroom to create a truly restorative space? Take an understated approach by decorating with simple neutral colors, sleek lines and soft stripes, adding accents of navy blue and rust for a contemporary twist. Coastal living room ideas are also wonderful.
How do I refresh my house for summer?
There are many ways you can freshen up your home for summer. For a lasting impression, try painting rooms in mood-enhancing, vibrant hues like yellow, leafy green and pink, or decorating them with bold floral and botanical wallpaper—both will bring instant summer magic and will bring instant joy.
"Yellow is a hue that brings positivity to a room. It's a color that makes us feel encouraged, happy, energized and invited," says Ruth Mottershead, Creative Director at Little Greene. "Yellow paint colors have an inherent brightness, freshness and warmth that makes them a favorite color throughout the home, creating a sense of warmth and coziness, it's sunshine in your home. "Giallo" and "Indian Yellow" work beautifully in busy, cheerful spaces like kitchens, dining rooms and living rooms."
Alternatively, for a quick update, try styling your kitchen with a cheerful tablecloth, eye-catching floral cushions, and fill your home with lots of fresh flowers.
"Bring in that summer feeling by using fun colors and patterns for your table linens and flowers," says Molly Mahon. "I love to mix and match my tablecloths and napkins to add as much interest and color as possible."