Michelle and Sean Denihan had just moved into their first home after living in an apartment in NYC with their young family. Like most families moving from an apartment to a house, they didn't have enough furniture and needed help to adjust to the increased demands. They also wanted to add personality and color to the larger space.
They asked a local designer to help them move from their small NYC apartment to the new 3,400 square foot, 6 bedroom, 3.5 bath home.
The colorful makeover of the family's Long Island home makes it one of the finest homes in the world. And the design solutions that have helped this family adapt to their increased living space might as well apply to anyone who chooses to expand rather than downsize.
The couple found Manhasset-based interior designer Jennifer Markowitz of JNR Designs, who had some great ideas for adding fun and color to their new home and helping them make the space usable for the whole family.
We've picked out the top 7 design ideas that have made that smooth and happy transition to a larger home possible, ideas that can be used by anyone moving into a larger living space.
1. Choose family-friendly storage that's built to last
Anyone looking for family living room ideas can enjoy the design of this room. Not an ugly plastic toy in sight.
Designer Jennifer Markowitz says, "I knew this family space needed to be tough in this busy household, so a quality, custom built-in toy and board game hideaway was a must. We used a reed wood construction to complement the grass cloth on the walls. And the Lee sectional sofa and Surya rug are both family-friendly and super durable, functional and stylish."
"I really wanted Sean and Michelle to understand the importance of choosing quality pieces that last," adds Jennifer. "Often, people in transitional living spaces choose inexpensive furniture that is readily available. I love educating my customers about quality and why pieces cost what they do and looking at that as an investment.'
2. Make the most of a room's unusual features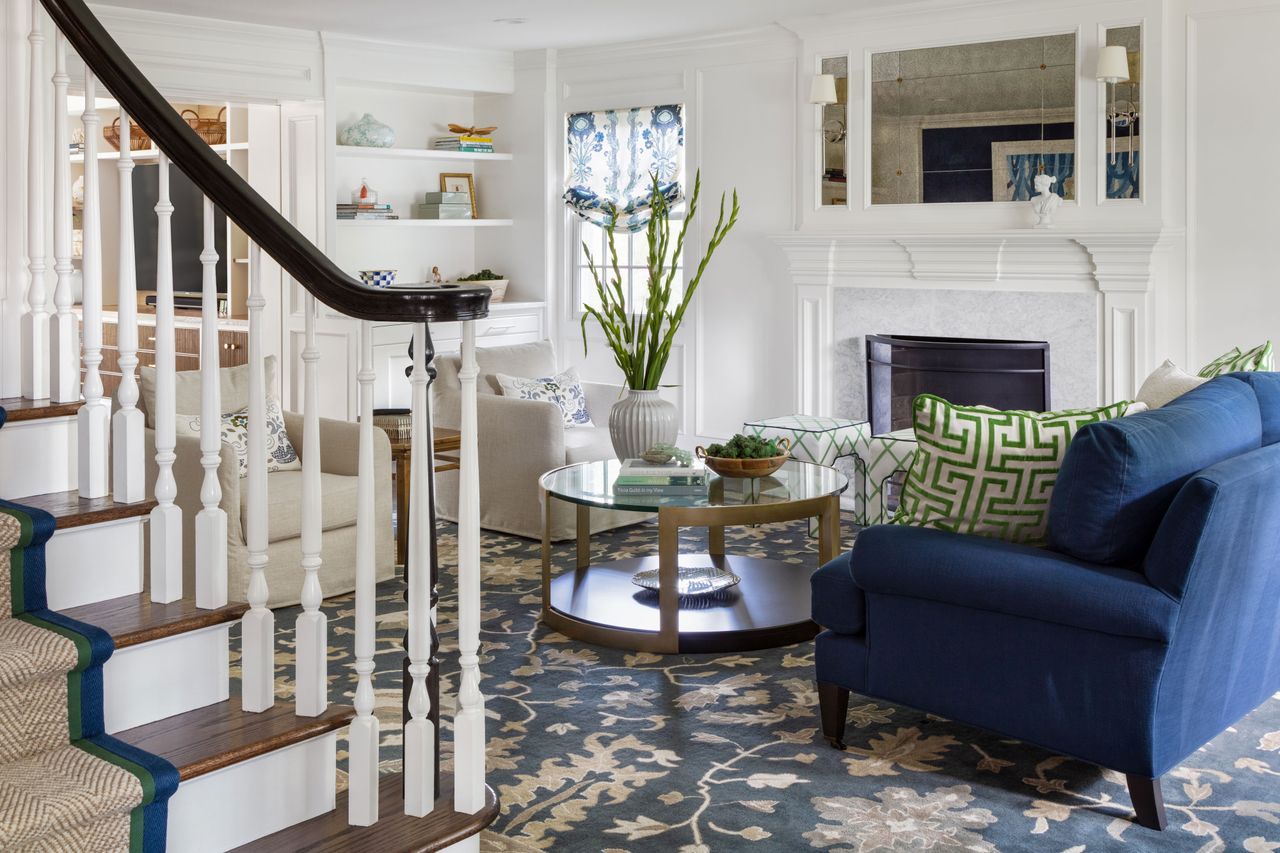 Having a staircase straight out of a living room might be problematic for some people, but Jennifer's clients, who had moved from an apartment with no stairs, liked to make the striking historic staircase an important part of their living room ideas. Along with the original fireplace, the staircase is now part of the main living room's harmonious white and blue scheme with an elegant sisal rug edged with green and navy blue to emphasize the unusual feature.
"We wanted this space to feel a bit more formal," explains Jennifer. "We used traditional elements to stay in tune with the history of the house, but added something whimsical with the fabrics for the curtains and cushions. The sourcing of vintage items kept the home feeling warm and grounded in history. The addition of an antique mirror above the fireplace helped reflect the light beautifully.'
The coffee table is from Caracole and the rug from Surya.
3. Use pattern bags to break up white walls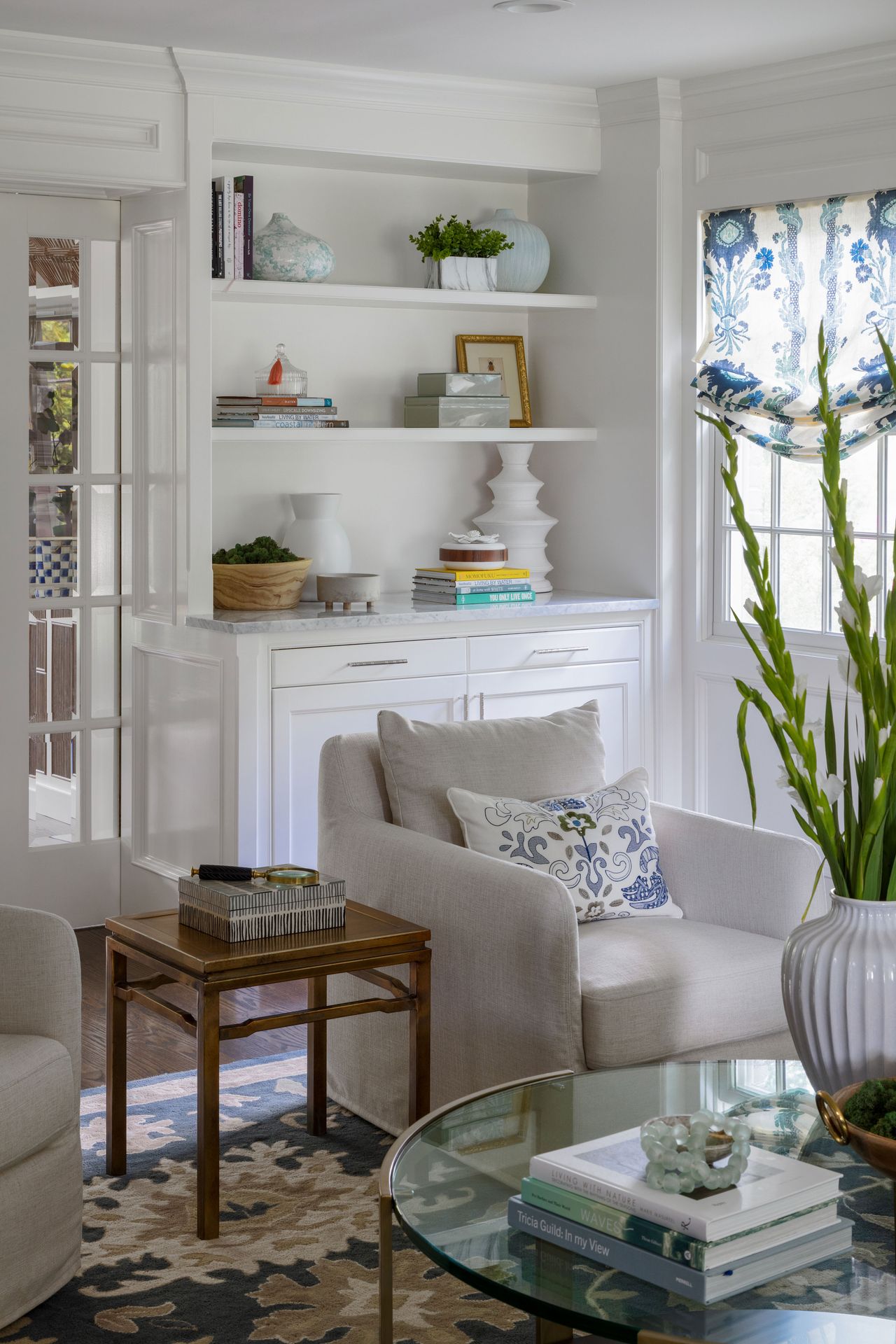 The living room's white walls, plush white armchairs and neat built-in shelving let the beautiful blue patterned textiles take their place in the spotlight. The curtains and shades are in Quadrille fabrics with various cushions in designs by Pierre Frey, Schumacher and Thibaut. Drinks table by Jamie Young.
4. If there's room for a home bar…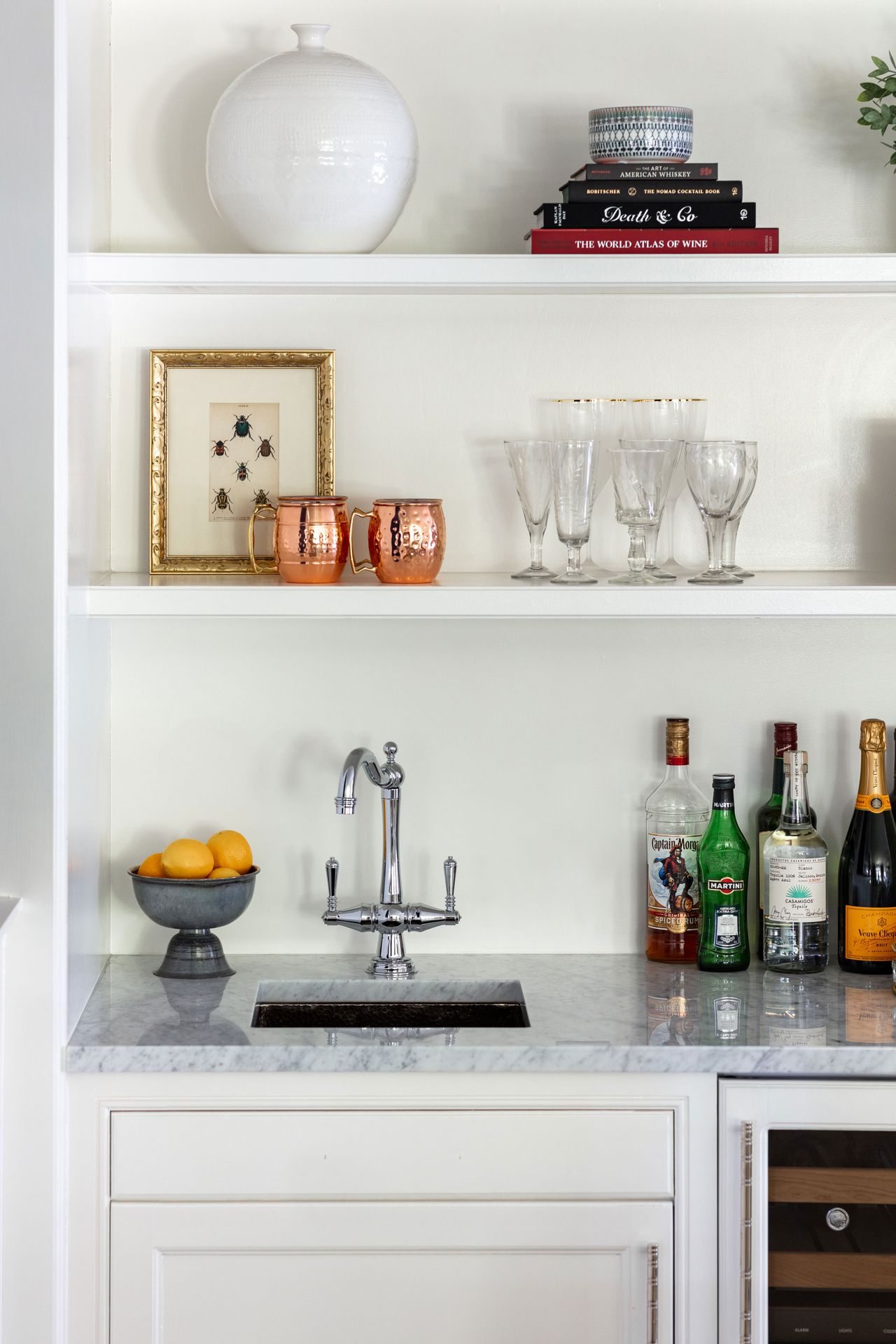 With room to play in their upscale family home, the couple wanted to add some fun elements. In the adult living room, this takes the form of a bespoke bar. After considering the Home Bar Ideas with Jennifer, they decided this understated yet extremely practical bespoke open shelving unit with built in sink and wine fridge would be the best fit for them. Designed to match the shelf on the opposite side of the living room door, it is not a conspicuous element in the room, but simply a useful addition to make entertaining easier and more fun.
5. Embrace color and pattern—together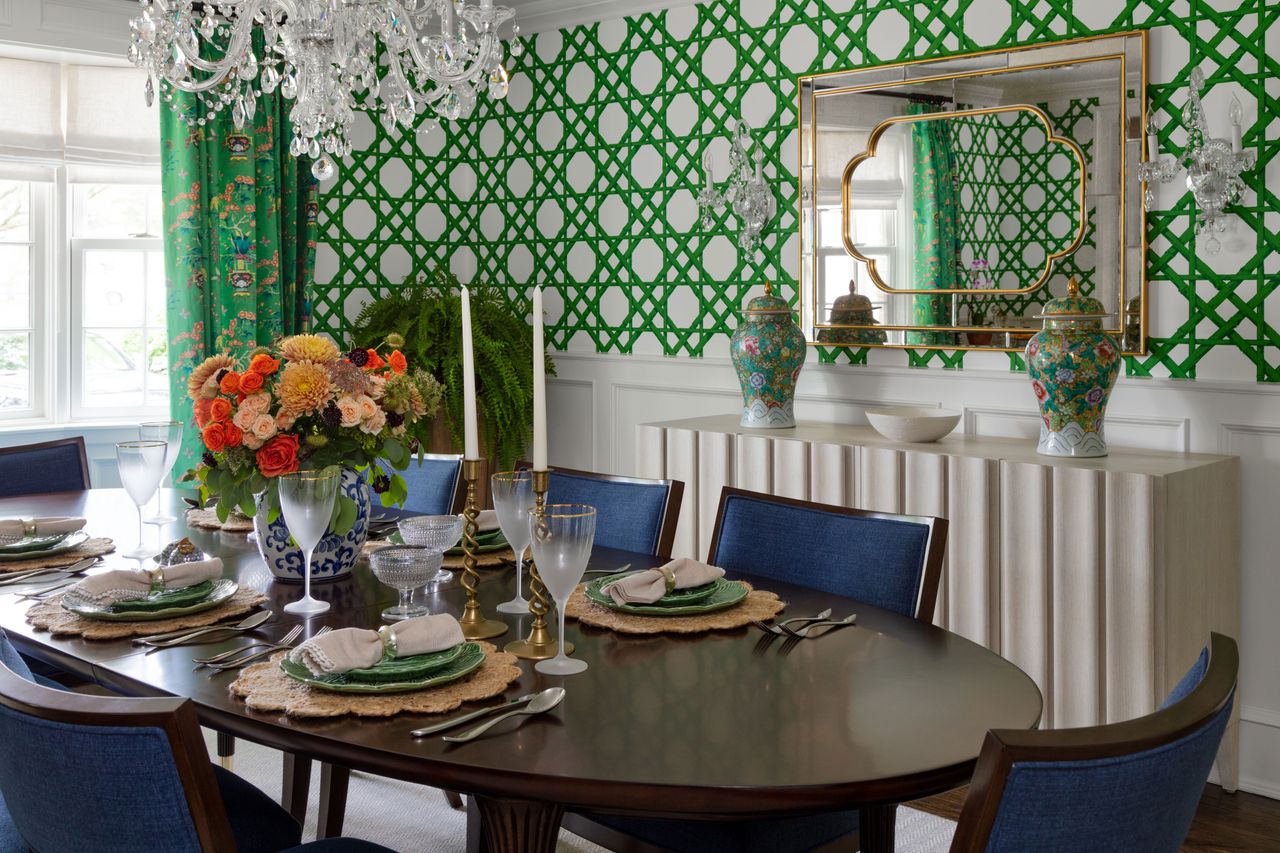 The colorful dining room was Jennifer's starting point as she prepared to guide her clients through the transition to their new home. The bright geometric trellis wall paneling was already there when the family moved in. The clients – and Jennifer – loved them and soon came up with more dining room ideas to complement the symphony of pattern and color in the room before considering how to use color in the rest of the home.
"A young family should live in color!" says Jennifer, and luckily her clients agreed. "We took the dining room wallpaper as a starting point. I chose a similar green for the curtains with the beautiful chinoiserie pattern Ming Vase by Schumacher to complement the geometry in the wallcovering. From there we brought hits of blues for the windowsill and the chair cushions to match the living room color scheme.'
Dining table by Caracole, chairs by Hooker, buffet by Bernhardt and mirror by Bungalow5.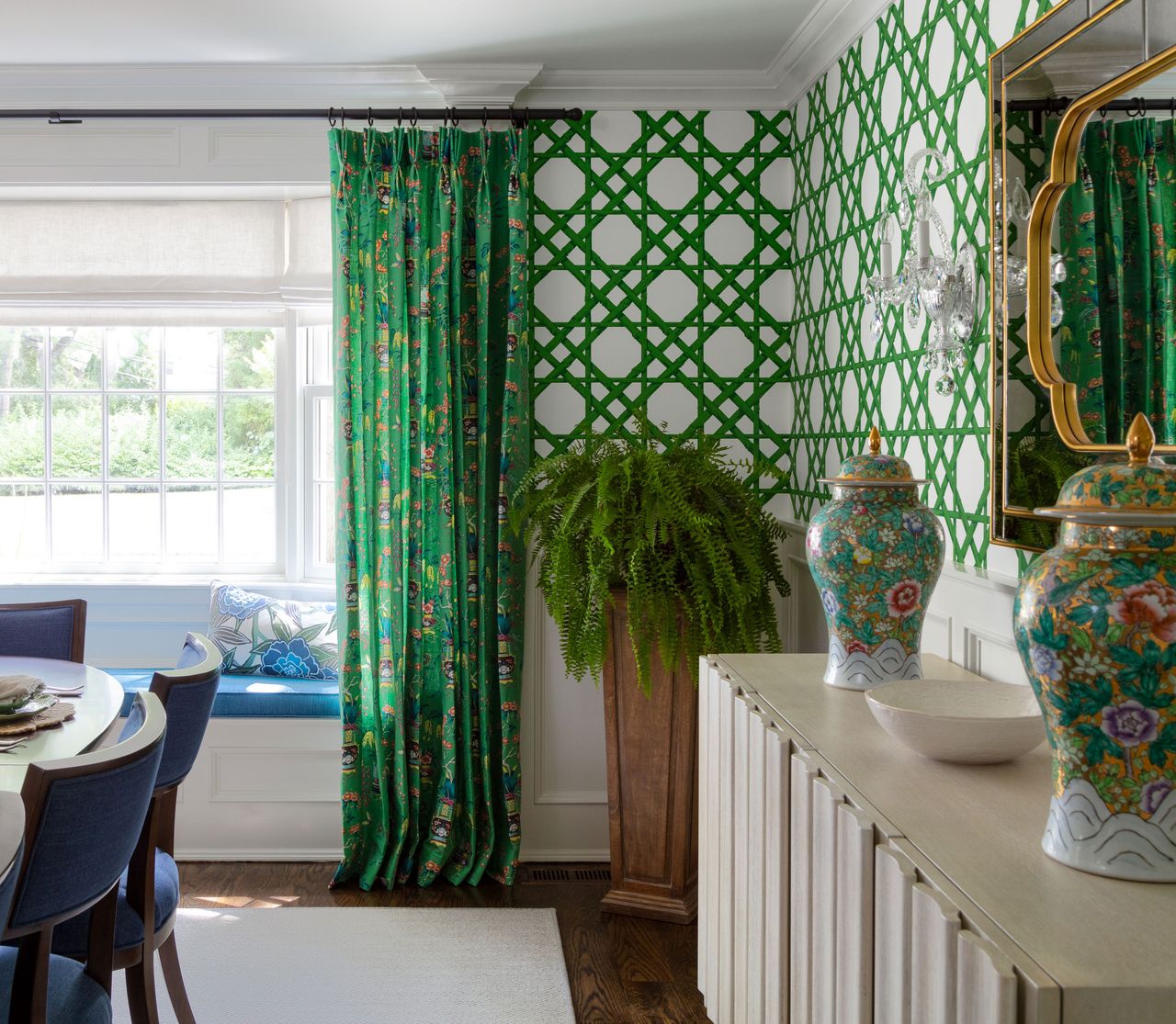 6. Bright ideas and cozy textures for a child's room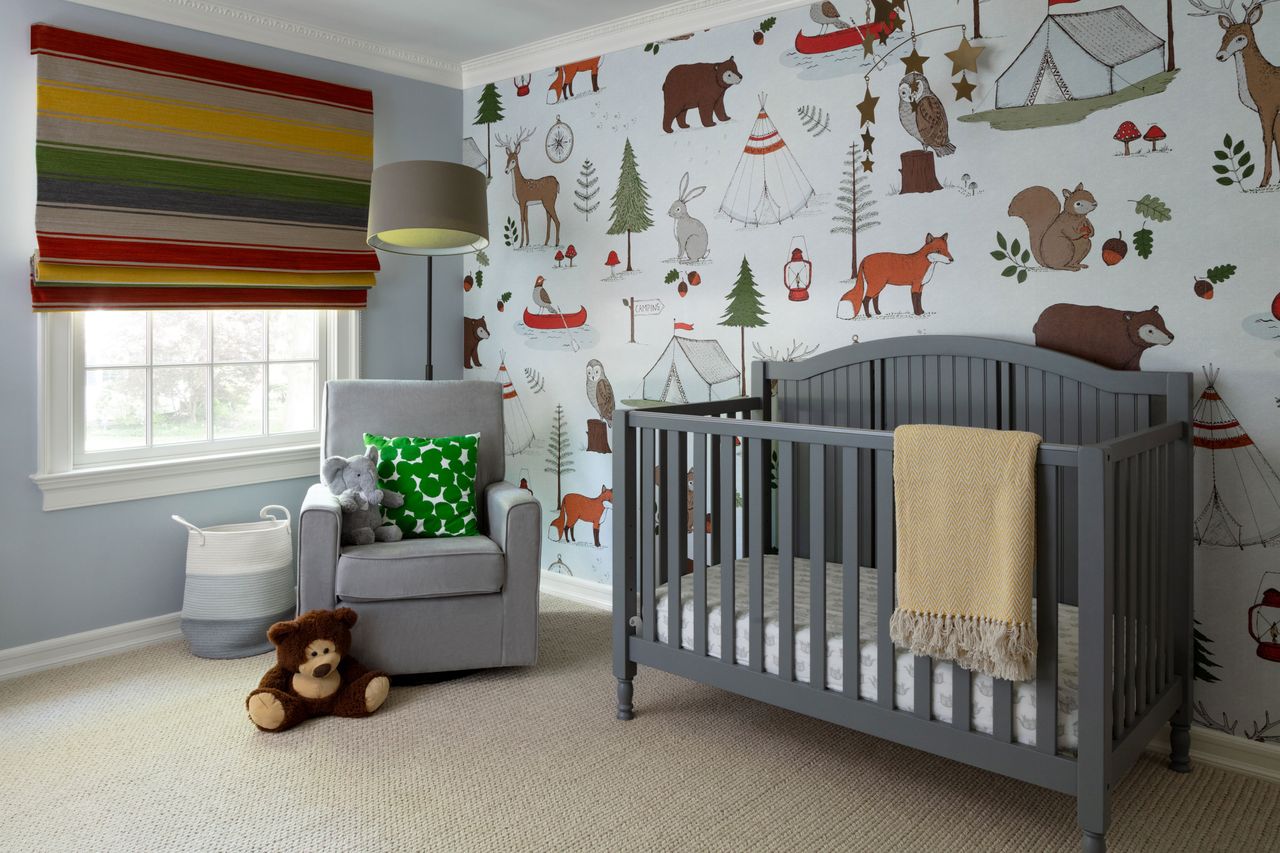 Although Jennifer says she has a hard time choosing a favorite room in the house, this nursery ticks all the right boxes. What parent – or toddler – couldn't be inspired by the nursery ideas in this particular space?
"I love the wallpaper and the shades. You're just too funny!' She says. "I found the cutest woodland animal mural at Rebel Walls and decided it was the winner! I found shades that reminded me of a camping blanket and the rug we chose from Campbell's Carpet is so soft and reminds me of a cable knit sweater. I was so amazed at how cheerful and warm this bedroom looked!'
7. Opt for calm, neutral and natural textures in the master bedroom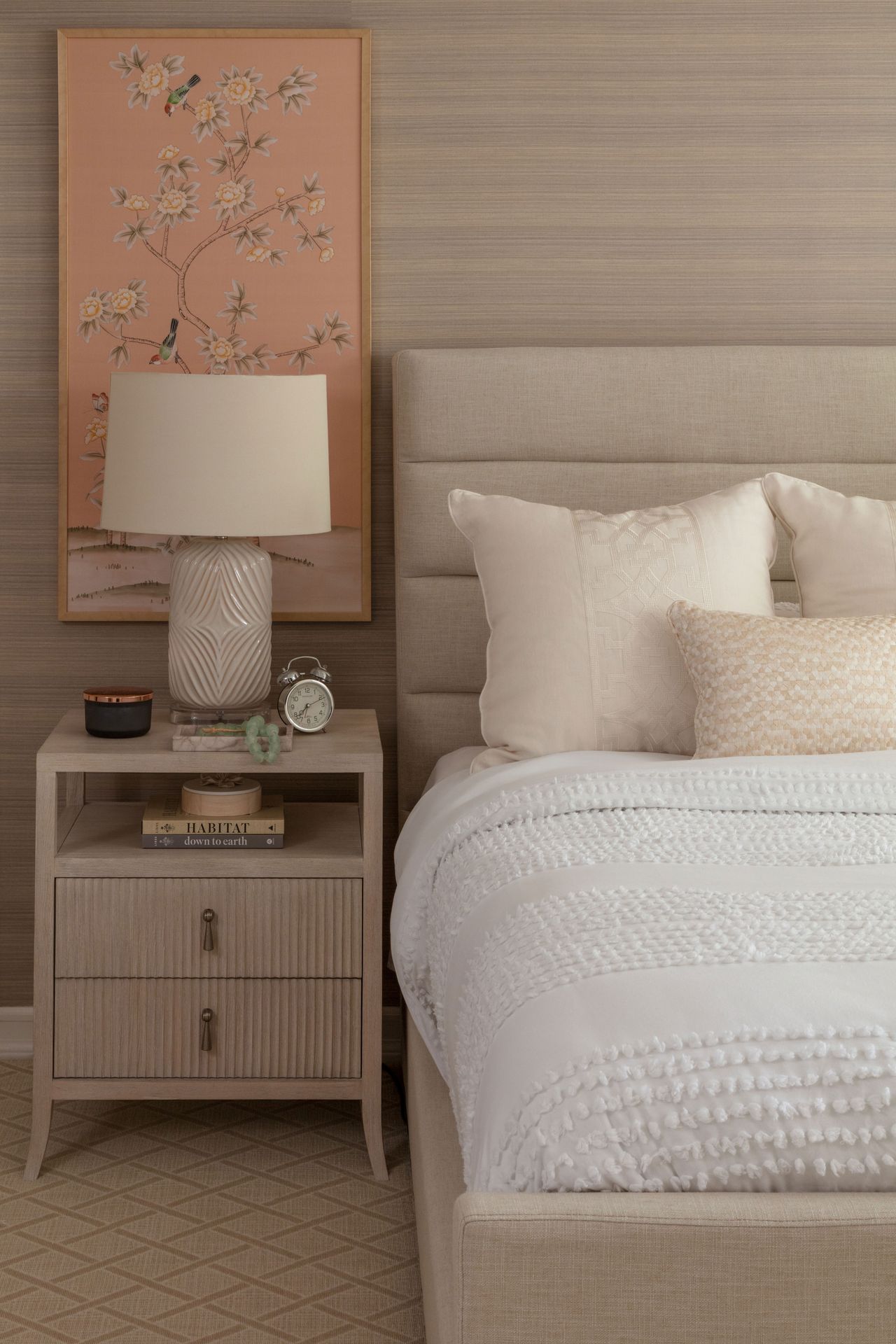 Part of using color confidently is knowing when to take it back and calm it down. That was certainly Jennifer's approach to the bedroom ideas for this home. "The only room where we went without color was the master bedroom. I often use neutral tones here as the primary color should be a calming retreat after a long day," explains Jennifer. "We wanted to give this couple a break from their hectic days, so I used a beautiful Phillip Jeffries grass towel to create a cocoon-like feel."
Soft taupe and blush fabrics create a tranquil space that's balanced with neat bedside tables by Bernhardt and more modern lighting by Jamie Young. A chinoiserie print by Chairish brings something very special to the room. The bed is from Four Hands.
From the vibrant dining room to the calm textured natural tones in the master bedroom, this home's journey of color and style offers inspiration for anyone looking to make the move into a larger home, and for those still finding their feet with colorful interiors.
"I'm amazed at how warm and welcoming this home has become. And happy, satisfied customers are the icing on the cake. I wouldn't change anything…except probably adding more pillows. More pillows!' says Jennifer.