I can tell exactly when I started rethinking living room design. There I stood in my new, empty apartment. Every bare wall in the living room felt like it was about to collapse very limited space feels smaller by the second. Wow – this living room is it tiny and impossible, I thought. But after standing there for a few minutes, I had a realization: the room wasn't lacking. It was an opportunity to get creative with my decoration. That's when I started to dive deep into small living room ideas that would make the most of my space.
Honestly, many of us fall into a living room rut. (The TV is there, the sofa over there, lamps on the side…) But space constraints that are so often present in city apartments and smaller homes can unleash a surge of creativity. A compact space challenges you to consider and appreciate every inch of your property. "Smaller spaces require a little more thought and planning, especially multifunctional spaces like a living room," says San Francisco-based interior designer Regan Baker. "It's important that the space feels inviting and comfortable given the space constraints, but also because it's so multifunctional and used frequently."
So where do you begin to tackle the living room when space is prime? Baker believes that you start by considering function, flow and proportion in space. And as the following other interior designers allude below, it's important to lean in and have fun with what you have. Stay with me as I unveil these designers' 10 best small modern living room ideas to implement in your home. As you will see, with a few tips and tweaks, limited space can actually be a catalyst for your interior design dreams.
Idea #1: Embrace built-in capabilities
Above photo courtesy of Regan Baker Design.
Famed architect Frank Lloyd Wright was known for the flow and functionality he infused into his homes. Much of this came from his love of built in shelving and seating. This tactic, in Regan Baker's eyes, is a huge win in a small space. Built-in shelving offers functionality in the right proportions for a space, says the interior designer and founder of Regan Baker Design. Additionally, built-ins "bring more texture to the space than a standout piece that feels like just another ornate piece of furniture," she says.
Idea #2: Honor every anchor piece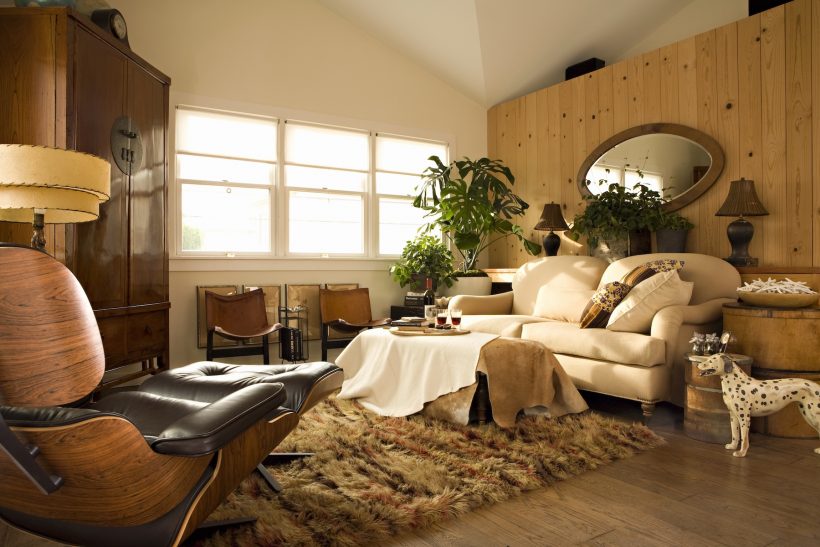 Photo above by Karyn Millet, courtesy of Hub of the House Studio.
Consideration is the goldmine of all positive interior design decisions. That means we have to love and appreciate what we want in our home. This approach is essential when space is limited, implores Karen Harautuneian of Hub of the House Studio. "Every piece of furniture has to be both comfortable and useful," she says of a small living room. "Always start with a solid, simple room plan that includes the key anchor pieces—then build around those pieces." In Harautuneian's case, those "anchor pieces" include a sofa, ottoman, and closet.
Idea #3: Encourage the flow with less furniture
It's a common mistake: trying to make up for the lack of space with additional furniture. Though it might seem like the right move, it uptights the flow and makes the room seem smaller, says Regan Baker. "Too much furniture or an item that's too big or small in a room can really change the overall feel of a home and whether it's inviting or not," she says. "The true goal for an ideal living room, no matter the size, is that it be welcoming and fluid for all the functions it houses," Baker continues. So think about that extra table and consider negative space a worthy accessory.
Idea #4: Say hello to a simple color palette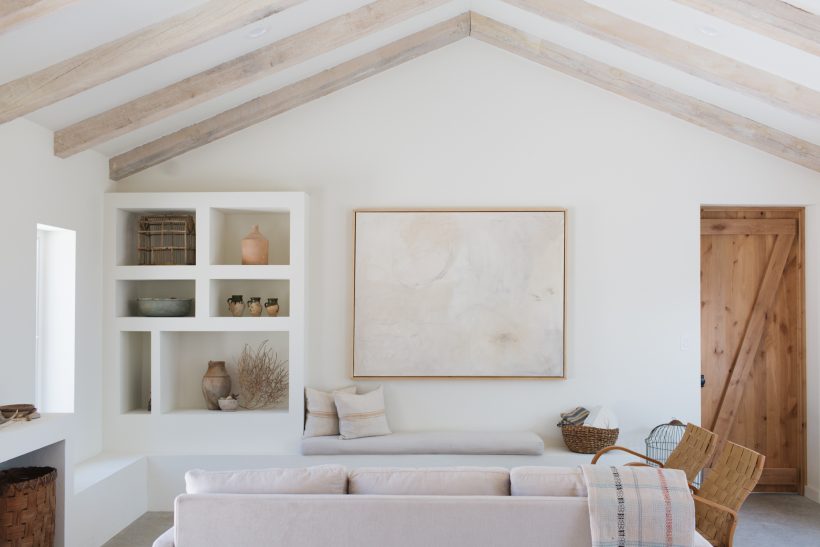 Photo above by Kate Zimmerman Turpin.
When it comes to smaller living rooms, simplicity is an asset. This applies to the color tones on the walls and the color of the decorative accessories. Uncomplicated is the ticket, believes Harautuneian, who tends towards natural tones in smaller living rooms. "In my living room, the rug, fabric, and leather palette were derived from the natural wood tones of the pine wall paneling, birdseye maple nesting tables, and antique wood hatbox stacked end table," she tells us. A note: plain can mean concentrated and saturated tones, such as deep greens or purples. Just try to keep them flowing and complementary to each other.
Idea #5: Plan Plan Plan
This is where the complacency sets in: it's common to think that a living room will shape itself, with the sofa against the wall, the coffee table in front of it, and so on. To be honest, a well-designed living room starts with taking a close look at the space. Planning the layout is "absolutely necessary," conjures Amy Youngblood, principal designer and owner of Amy Youngblood Interiors. Considering flow and size will help you decide what furniture to choose for a small modern living room. "It also avoids costly mistakes when buying furniture," says Youngblood. You can draw the room on a piece of paper or get more technical using design software like Autocad.
Idea #6: Incorporate stunning curtains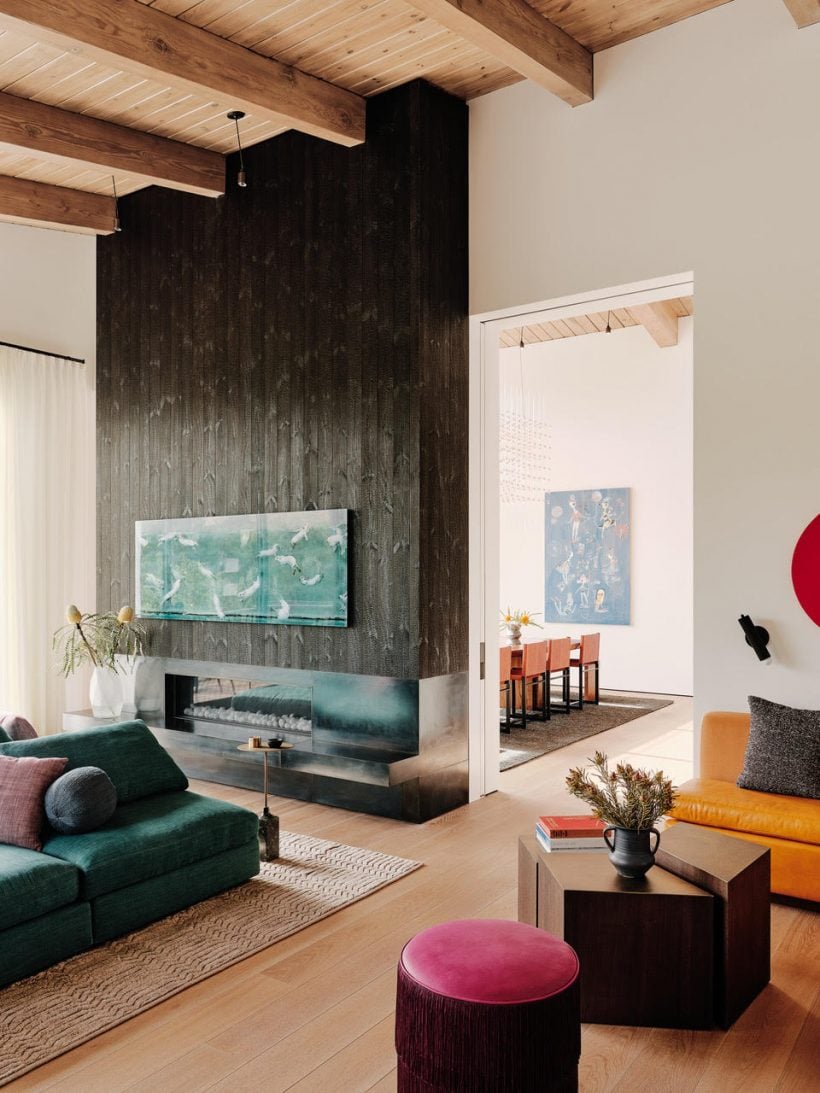 Photo above courtesy of Butler Armsden Architects; Design in collaboration with Katie Martinez Design.
Not just any curtains, of course. Consider floor to ceiling window treatments in sheer fabrics. The reason for length is because it adds height to a small living room, says Trisha Snyder of Butler Armsden Architects, and organically invites the eyes to look up (proving there's always more in a room appreciate). This tactic also lights up a room, Snyder adds. It allows natural rays to shine through and envelop a smaller space.
Idea #7: Bring in the multifunctionality
If there's a rallying cry for the design and interior trends of 2022, then multifunctionality is king. We work and play and relax where we live, so each piece needs to have a nuanced purpose. In small living rooms, strive for each large piece to play a dual role. Regan Baker is a big fan of large stools that double as footstools and can be stored under a coffee table. She reiterates the desire for built-in elements, explaining that a built-in bookcase can double as a desk in a smaller living room. And don't be afraid to use a large coffee table as a place to eat. Karen Harautuneian shares this sentiment: "Every piece of furniture must be suitable for both larger group gatherings and solo moments, like putting your feet up after a long, fulfilling day."
Idea #8: Maximize seating and lighting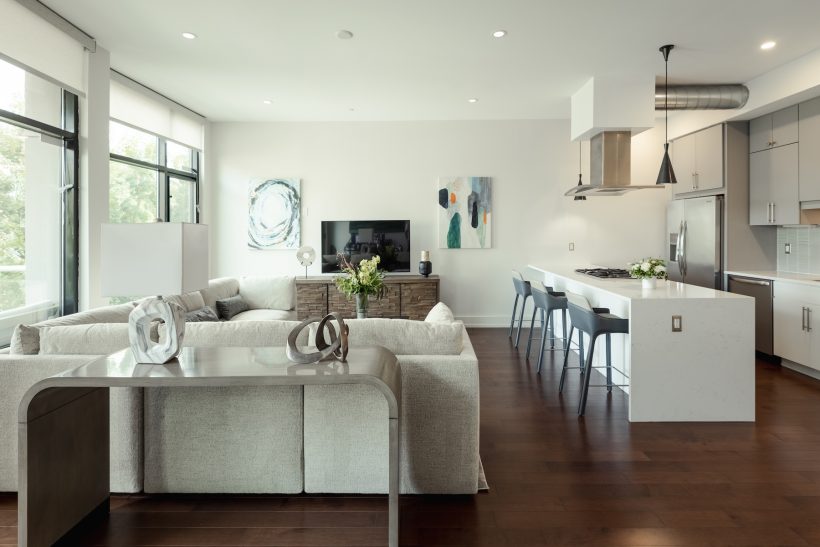 Photo above by Joe Binford, courtesy of Amy Youngblood Interiors.
Even if a smaller living room offers less linear space, there's always ample opportunity to work with vertical real estate. Amy Youngblood likes to do this by creating maximized seating for different activities – meaning everything from flat surfaces for drinks to comfortable spots to relax. Regan Baker expands on this idea by incorporating layered lighting that supports the multiple functions of the living room.
Idea #9: Think outside the box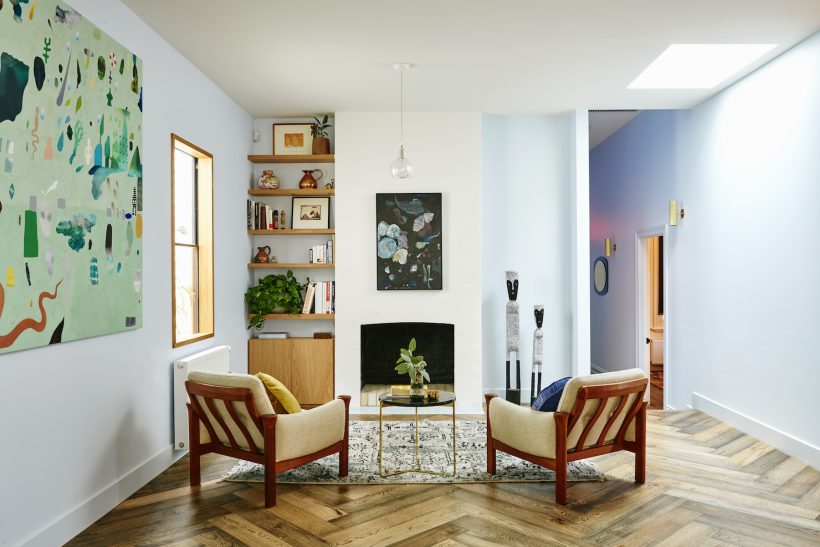 Photo above by Nikole Ramsay.
You might think you need a big sofa — but think again, suggests Amy Youngblood. She points out that if living room space is limited, you might want to skip an entire lounge suite and select a medium or small sofa. You can even ditch the sofa altogether and bring in a lounge chair or a set of accent chairs "for a better exit," she says.
Idea #10: Add concentrated paint cans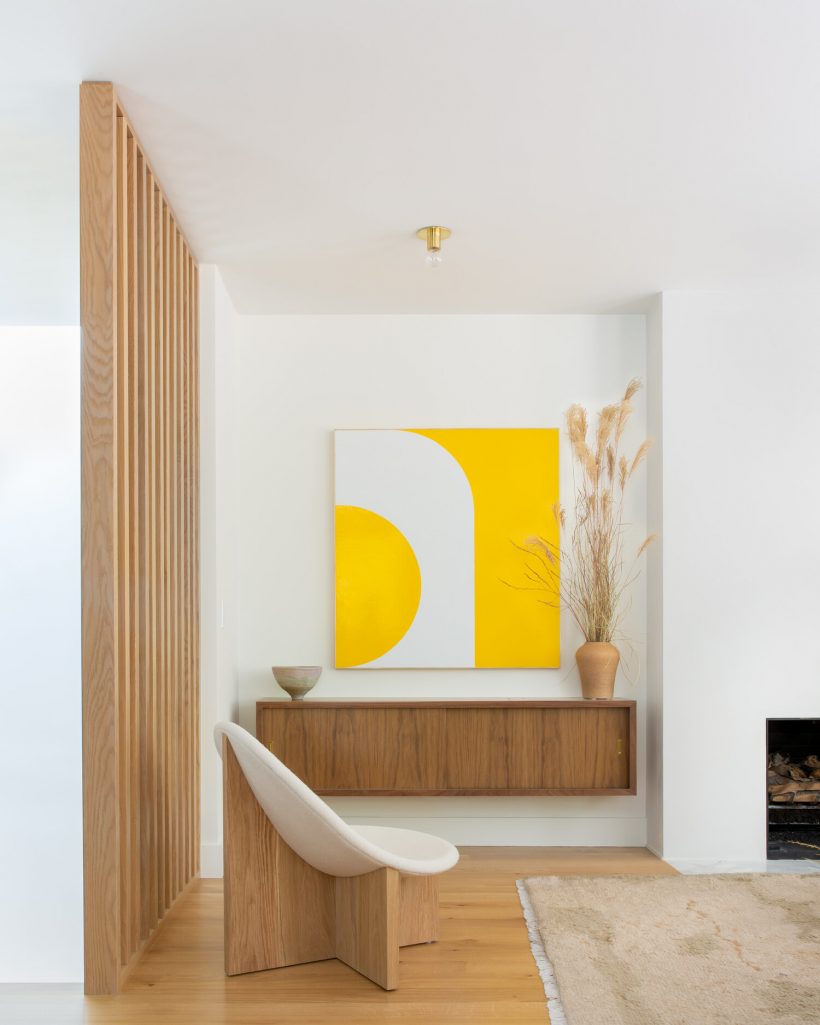 Above photo courtesy of Regan Baker Design.
While you follow tip #4, you can still incorporate bold shades. Amy Youngblood believes concentrated doses work wonders for small living rooms. She recommends adding bursts of color via artwork, throw pillows, and vibrant accessories. "It makes your space appear larger while still incorporating color," adds Youngblood. At her San Francisco home, Regan Baker takes a similar approach (see above), adding doses of yellow through artwork on the walls.
You love to decorate but have little space? Share which of these groundbreaking tips will bring you into your home.