With a million thoughts and feelings churning in her head, Taylor Gensolin sat in her car for hours, dissecting each one, letting each intrusive thought fight for recognition. Once collected, she took out her phone and had those thoughts and feelings vocalized to her followers.
Gensolin, a biomedical major, is a growing social media influencer on platforms like TikTok and Instagram. Gensolin uses these platforms to express her everyday life and feelings, while using her sense of humor as a connecting bridge for others who share her feelings.
"I'm an incredibly lonely person, I have no friends on campus and I live an hour away," Gensolin said. "I honestly let the intrusive thoughts win; I just say what I think. I'm going through what everyone else is going through, but the only difference is I'm speaking it out for the whole world."
Aliyah Garcia, a business major and a fan of Gensolin's content, said it's heartwarming and reassuring that she's not the only one dealing with a college student's struggles.
"It's really hilarious and warming that there are people who understand our struggles as a full-time student but are able to find such humor in the situation, and coincidentally she happens to be a fellow student," Garcia said.
Garcia believes that being able to connect with their audience in a genuinely emotional and unfiltered way makes it more realistic for content creators.
Gensolin said it was hard at first when she started uploading her content.
"I think a lot of those hyper-confident first posts you see at the top of my account are genuine attempts to stand up for myself in a way that's still comedic and still light-hearted and still humorous finds. ' Gensolin said.
Letting her thoughts and feelings out has always been something she did long before creating content.
In 2019, Gensolin won the South Florida Youth Poet Laureate. Due to her success, she was able to publish her book "Non Compos Mentis" in March 2019.
Featuring poetry about deeply personal and vulnerable aspects of her life, Gensolin's book gives readers glimpses of her thoughts and thoughts well before the birth of her social media accounts.
"I won what I didn't expect. These people who judge the competition don't know anything about you, which I think is one of the most important things to me today that they didn't know about me and still appreciated it," Gensolin said. "I felt like I could bring something useful to the conversation."
Gensolin's content isn't enough to pay the bills right now, but as for recent growth, she's hoping this hobby blossoms into something more.
"I hope that at least it will be or that it will lead to a new path for me professionally; I've always loved performing," Gensolin said.
Gensolin's following is large, but for her her mother is the most important of all.
"They drop in on me occasionally, especially my mother; She keeps track of my follower count," Gensolin said.
Elizabeth York, Gensolin's mother, is extremely proud of her daughter's achievements and how well she has managed to balance both growing aspects of her life.
"She has learned over the years to allocate her time appropriately to her academic needs. Her artistic endeavors were 100% self-motivated. I usually found out about her benefits after she received them," York said.
York has been a single mom since Gensolin was 3 years old. She has two other daughters who were also active outside of school.
"As a full-time nurse, I was unable to provide her with the resources to fully develop her artistic skills at a young age," York said.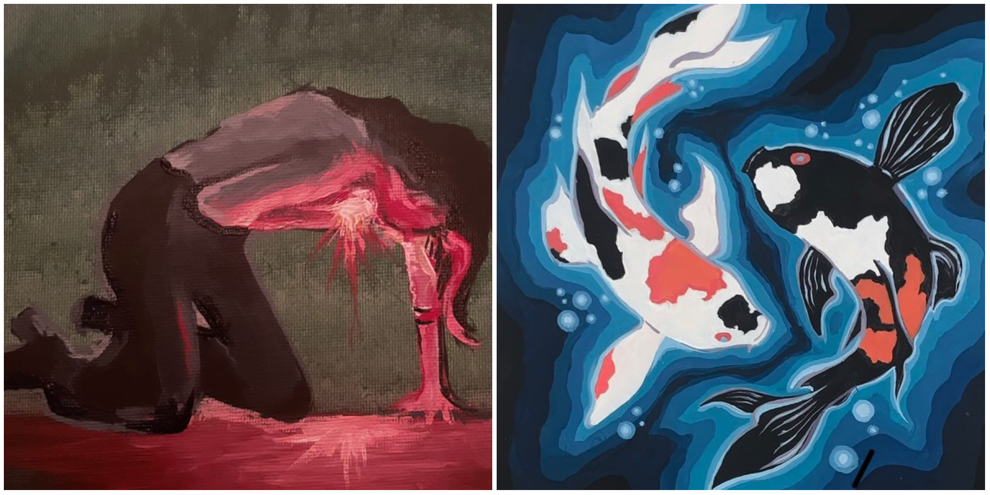 York was initially a little skeptical about her daughter because her life was visible to over 200,000 people.
"To be honest, I had mixed feelings. Generation X parents have been given the unprecedented task of raising children in an immersive digital environment," York said. "My only wish for Taylor is that she can express her creativity on social media and stay safe both physically and emotionally. "
As content creation has become more mainstream as a long-term career goal, many stereotypes and typifications have emerged for those trying to rise in the industry.
Once content creators gain a foothold in their jobs, particularly those already pursuing college education, many stereotype these creators as college dropouts and drop out of college. Gensolin intends to break that label for content creators.
"I need to finish school I guess just to prove it to myself," Gensolin said. "It gives you as much credibility in this world as it does in the public world, and people want to know that you've been able to get through something tough, like a biomedical degree, but it's not easy."
Gensolin's goals for pursuing biomedicine stem from her strong family influence and her need to have a solid foundation for her life as a successful adult. Gensolin's soul's call to help others was also a strong impetus for her to pursue this field. As much as she would love for social media to be her full-time job, she understands the realism of having a secure job.
"I have to choose something that I know will prepare me for the best possible future," Gensolin said. "As a healthcare professional, I've seen my adult role models have a direct positive impact on people's lives."
She also attributes her professional goals to her grandmother, who wants a sustainable career.
"Their only wish for me is to do something that supports me 100%, so 100% leads to something stable," Gensolin said.
Gensolin's busy schedule as a full-time college student and content creator doesn't stop her from pursuing other ventures. She finds time to pursue her other hobbies such as painting and singing.
Gensolin said her paintings are a source of income for her, bringing in some extra money. Although it's not a steady income, she still finds peace in working on it. Gensolin's peace also comes from singing and playing her ukulele.
"I've sung all my life. The first thing I learned to do with my body was sing, and I loved it," Gensolin said. "It just brings me the most happiness and joy."
Gensolin's aspirations don't stop there; She hopes to be able to make music herself. Gensolin sometimes uses her social media platform to serenade her viewers and showcase her soulful voice, giving access to musical traits as well as her deep emotional side.
"I think for a lot of writers, music is a kind of sanctuary," Gensolin said. "I think that's why I got the ukulele, because I wanted to be able to create my own songs and music."
As Gensolin's social media following grows and her educational career grows, she continues to break stereotypes and push the boundaries of what a college student can do and accomplish. She constantly impresses her peers, viewers and family, giving her thoughts and feelings a platform to grow.
"I've found a way to communicate with others in a way that makes them feel like it's moving or connecting in some way," Gensolin said.
.